The second in a brief series focusing on US albums compiled by cherry-picking a couple of already released UK albums to create something else – last time out it was O.M.D. by Orchestral Manoeuvres in the Dark, this time it's the turn of Heaven 17. Released in America and in Europe, this release pulled together much of the band's debut album, 'Penthouse & Pavement' along with a couple of tracks that would shortly thereafter be included on the second album, 'The Luxury Gap', plus the early single 'I'm Your Money'. There was no UK equivalent release for this album, so I came to it many years later as one of those interesting regional curiosities that the the record industry of the time would throw up, and which were exotic manna for collectors such as I.
For American fans of the band in particular though, depending on your point of entry to appreciation of the band and what it had to offer, this might either represent a bona fide debut release (if you were all new to the band and not familiar with the history), since 'Penthouse & Pavement' was not issued in the States at the time …or just sent to mix up matters if you were already tuned in and, keen as mustard, had bought 'P&P' on import. (In fact, since starting this post, the ever reliable font of knowledge PostPunkMonk has touched upon this very release in passing while looking at 'Let Me Go' and it's 40th anniversary.)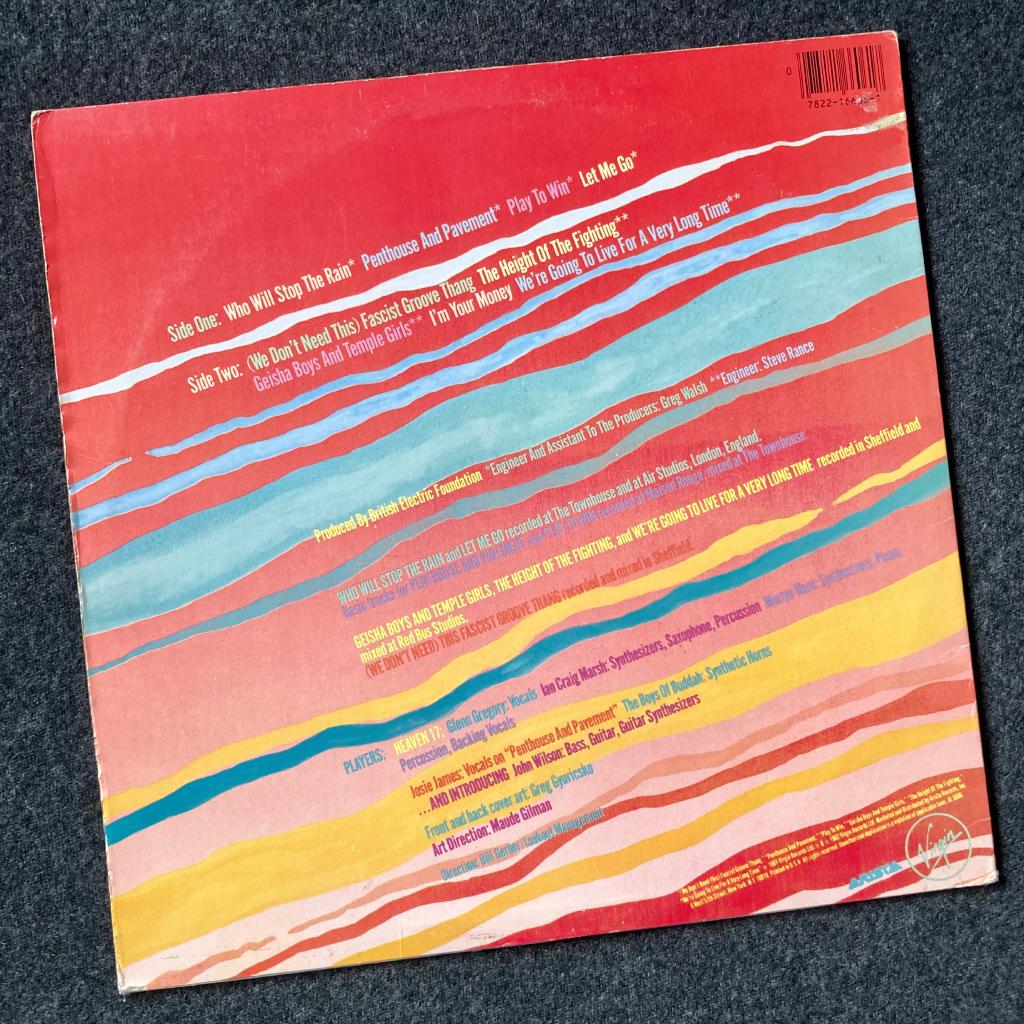 Although it states 1982  on sleeve and label, it looks more likely that the release date was January or February of 1983 looking back at the media of the time. (It was a new entry on the Billboard album charts of the time at number 115 on the chart dated week of 12 February 1983.
In terms of the Version craziness to be had – well, nothing exclusive really. It's not noted on the sleeve nor label but the version of 'The Height Of The Fighting' is the single version complete with additional brass section. The version of 'I'm Your Money' is the original vinyl 7" mix (without the B.E.F. Ident at the end though).
Tracklisting:
Side One:
Who Will Stop The Rain (3'01")
Penthouse & Pavement (6'20")
Play To Win (3'32")
Let Me Go (4'15")
Side Two:
(We Don't Need This) Fascist Groove Thang (4'16")
The Height Of The Fighting (2'52")
Geisha Boys & Temple Girls (4'30")
i'm Your Money (3'30")
We're Going To Live For A Very Long Time (2'54")