'Eardrum Buzz' was one of Wire's two single releases of 1989 (along with 'In Vivo') that seemingly had their mind focussed on the 'think pop' message that Mute label owner, Daniel Miller, had apparently made the message of the previous year's Berlin recording sessions (for what would be 'A Bell Is A Cup (Until It Is Struck)'). 'Eardrum Buzz' certainly was a catchy ear-worm of a tune, to be sure, and such were the hopes of this making in-roads to the charts of the day that its release (in the UK at least) saw Mute records issue a regular 7″ single, a limited edition clear vinyl 7″ single (withdrawn hastily, apparently), regular 12″ single, 3″ CD single (with a different selection of additional tracks) and limited edition second 12″ single with exclusive live tracks – oh, and one of Wire's most witty and entertaining promo videos, with a left-field star-studded cast in ear-waggling cameos. Despite the multi-format effort, it didn't break the upper reaches of the charts – a shame as it was without any doubt one of Wire's 'pop' numbers (well, the kind of 'perfect pop' that the NME's writers used to bang on about) they had periodically been feted for since early days and the video gained plenty of airtime on the likes of MTV (and even an elusive interview with the band on BBC 2's 'Snub TV').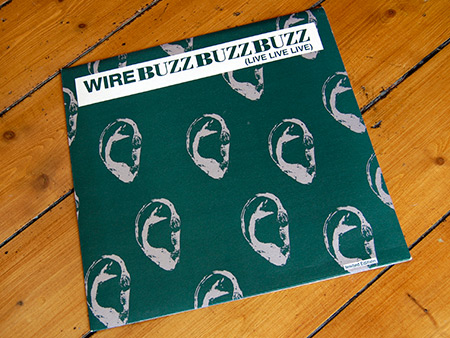 The featured release here is the limited edition 12″ single that came slightly later than the first round of releases. Titled 'Buzz Buzz Buzz (Live Live Live)' it featured three live recordings, hailing from Chicago and Portugal (all of which, as far as I'm aware, have yet to surface digitally on any release) – 'Eardrum Buzz' itself on the A side (in a significantly different arrangement from the more polished 7″ (Edit)/12″ studio recordings from the other single formats, as well as the studio-recreated-live hybrid 'It's Beginning To And Back Again' LP version), plus live takes of 'Ahead' and 'Kidney Bingos' on side two.
Wire's '80s 'beat combo' live configuration is somewhat noisier and less-polished than the carefully constructed, synth/sequencer enhanced studio recordings of the period, so these three tracks all come in a somewhat rougher-hewn form. 'Eardrum Buzz' is a more staccato polka in comparison to the machine-tooled, synth-smoothed easy on the ear studio outing of the regular single. 'Ahead' also jettisons the sequencer-propelled precision of its studio incarnation for a higher energy, guitar/bass-driven assault, you can hear this would have been a live highlight of the time. 'Kidney Bingos' remains the most similar, still something of a lush guitar painted dream of sound and surrealist lyrical imagery.