In the years before CDs became available and the eventually dominant format, record companies would tempt buyers into shelling out for cassettes by including extra tracks not found on the vinyl albums. One such example is New Musik's second album, 'Anywhere', released in 1981. It includes two extra tracks that never appeared on vinyl, neither on the vinyl album nor any of the single B sides.
However, there is a slight confusion there, since the sticker of the cassette case proudly states 'plus 2 free extra tracks not on the album – 'Guitars' & 'And". The track 'Guitars' DID actually appear on vinyl, as one of the B sides to the 'While You Wait' single. Turns out that the sticker is incorrect – 'Guitars' is not to be found on the cassette – the track 'Under Attack' is there instead, along with the other extra track, 'And'.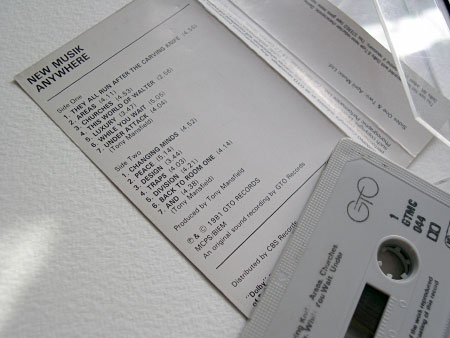 There have been a few releases of 'Anywhere' on CD over the years, but none have managed to include ALL the tracks released in 1981 from the 'Anywhere' album, cassette and accompanying single B sides. The first UK CD issue was on GTO/Sony (GTP 474615-2) and included the 12 tracks from the vinyl album plus three tracks from B sides – 'The Office' (B side to 'Luxury'), 'From the Village' and 'Guitars' (both B sides to 'While You Wait').
A later UK issue appeared in 2001 on Edsel records (EDCD 679) and was titled 'Anywhere… Plus' with the packaging altered to also display the sleeves for the two singles from the album on the front. Despite this, it included the same three extra tracks as the previous CD issue…. so still no tracks from the cassette.
The Japanese CD re-issue from 2001 (Epic EICP7016) manages to include four extra bonus tracks in the shape of the same three as per the UK CDs plus the 12″ mix of 'While You Wait'.
To find the two tracks from the 'Anywhere' cassette on CD it is to Japan once again you need to turn, but to a different album release – it turns out that these two tracks were included with the 2001 re-issue CD of the band's first album instead, 'From A To B' (Epic ESCA7850).
As for the tracks themselves – both are pretty decent and its a shame that for such a long time they were so obscure and difficult to obtain, in fact 'Under Attack' in particular is very catchy and would probably have fitted right in on the first album in particular as possible single material, at least I reckon so. What do you think…?