The seemingly evergreen Mr Foxx shows no signs of slowing down his progress and work rate and was in fine form this week, in the company of the Maths, judging by the two live shows in London that I managed to catch, part of a larger UK tour. The first two live outings for the Maths featured a larger complement of members, but these shows have seen a four-piece grouping with the core Maths duo of Foxx on vocals and keyboards along with Benge on electronic percussion (a great set of shiny red Simmons drum pads) and keyboards, joined once again with Serafina Steer (keyboards, bass guitar and backing vocals) plus new member Hannah Peel providing keyboards, violin and backing vocals.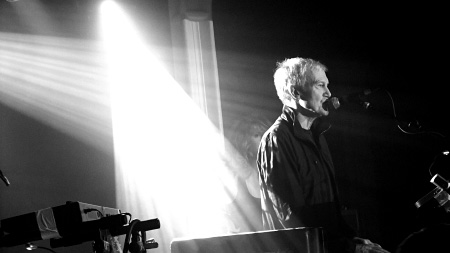 First up it was evident that the band themselves were clearly really enjoying the event, which always makes a difference, smiles all round at times. A very 'live' experience, for sure. The addition of Hannah Peel's violin in particular has brought another dimension to old favourites such as 'Plaza' and 'He's A Liquid'. The set list itself was largely from the 'Interplay' album, almost all of it played, plus a track from the just released second album from the Maths ('The Shape of Things'), 'The Shadow Of His Former Self'. Along with this were a fair few from Metamatic and some Ultravox! numbers such as 'Hiroshima Mon Amour', 'Dislocation', et al.

I hope that the band are able to tour again, particularly venturing overseas if they can, and I definitely encourage you to catch them if they do so, it was a great experience and I leave you with some photos from the event (with apologies to Benge, who it was difficult to catch from my vantage points).