There have been some great posts over at the PostPunkMonk and The Never Ending Search for the Perfect Beat blogs recently focusing on new wave era badges. Coming somewhat late to the party but keen to get in on the act, I present here a selection of OMitD badges from my collection – thought I'd do them justice and add something of a Peter Saville / Ben Kelly vibe to the backdrops!
Probably my favourite one because it is so unusual – clearly modelled after the original limited edition first album sleeve, this is grey plastic with the the 'lozenge' holes. Came across it on The World's Biggest Online Junk Cupboard – ie, eBay!
Staying with the first album theme, these numbers come in contrasting red and green prints – I wonder how many other colour combinations there might be out there, a la the first album?!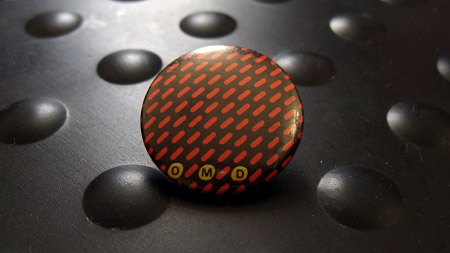 Another favourite working that first album theme…
Ahhh… the enamel badge… has there ever been a finer piece of pop paraphernalia to grace your lapel… A small portion of the fantastic Peter Saville designed 'Joan of Arc' sleeve fashioned into metal for this example.
Keeping with the somewhat abstract theme of the 'Architecture and Morality' album, this odd-shaped but beautiful enamel badge was another latter-day eBay find.
Definite 'Dazzle Ships' era styling sported by this button badge…
And to finish off this selection, a 'Crush' era tour badge pack – this was bought for me by a friend who was fortunate enough to see them then, alas they never toured near me at that time so this was a small but perfectly formed souvenir. I should point out that the enamel badge pictured in this set (ie, the one nearest the bottom) wasn't part of the badge pack, it was on sale separately.