Included for no other reason than it happens to be one of my all-time favourite sleeve designs, graced with an artwork from none other than Russell Mills [http://www.russellmills.com/], who is identified with the Eno/Sylvian end of the musical spectrum more often than not, I'd say.
This ended up being the third single release from 'Days in Europa' – I'm sticking firmly to the original 1979 release when I say this – I know that the 1980 remix/re-release also includes 'Masquerade', so technically you might say it is the fourth single peeled off the album – but any Skids fan who knew the original first probably finds the 1980 version difficult to swallow, even with a tacked on single from a year before. (And, my goodness, a year was a long time indeed in the late '70s/early '80s – in the current era where bands take years between album releases, Skids themselves managed to release two original albums in 1979 – and they were far from the only band with that kind of work ethic.)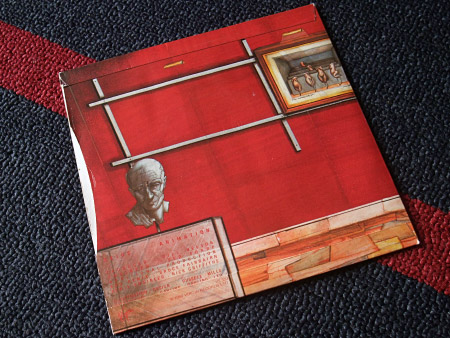 Ironically though, the reason for this single release was the remixed and repackaged 1980 re-release of 'Days in Europa' (touched on in an earlier blog post here) – this was the single that preceded it. The version of 'Animation' is shorter than the original 1979 album mix, due to an earlier fade-out, though otherwise not much different. Meanwhile, the surgery that was meted out on the re-issue LP saw 'Pros and Cons' excised from the running order – criminally, in my opinion – to make way for 'Masquerade'Â  so, 'Pros and Cons' ends up being the B side here.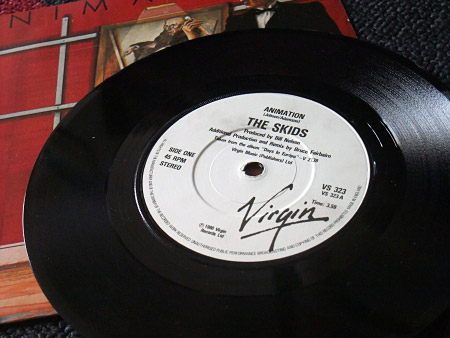 Sadly, the magnificent 'Animation' stiffed as far as the charts went, stalling at number 56 on the UK hit parade, bringing to an end the run of top 40 UK singles that had seen them score hit after hit from 'Into The Valley' through to the preceding 'Working For The Yankee Dollar'.