An impeccable slab of early Antz, which has been resurrected in the live shows that Adam Ant has been playing in recent years. While I've known for a long while that there was the famous 'mis-pressing' that featured a take of 'Physical (You're So)' on the B side instead of 'Whip In My Valise', it was much later in the day that I realised some small differences to the A side as well on different issues of this single.
The mis-pressing first. This apparently hails from early 1980, in a run of 3,000 copies, and although 'Whip In My Valise' is still credited on sleeve and label, the music it plays is a Do It records recording of 'Physical (You're So)'.
According to http://www.adam-ant.net/zerox.html:
"In the first half of 1980 Do It secretly released an initial pressing with the song Physical on the B side although Whip in my Valise was still credited. Although commonly labelled as a mis press this wasn't an accidental pressing. The only way to identify the pressing (other than compare the grooves) is by the matrix etching. The "Physical pressing" has either DUN 8 B1 or W-1KD DUN 8 B1 whereas the "Whip pressing" has DUN-8-B2-*"
The discogs.com entry for the mis-pressed B side version lists the following details for the possible B side matrix numbers found in the run out area: W-1KD DUN 8 B1 and also W-3KD DUN 8 B1. For clarification, having checked my own copy which has 'Whip In My Valise' on the B side it's matrix number is DUN 8 B1.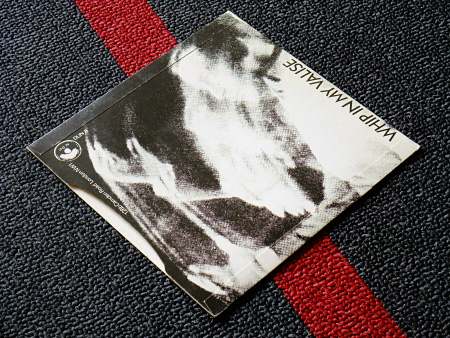 More subtle a difference though is the alternate mix used on a later re-press. Once Ant-mania had well and truly kicked in late in 1980 with the success of 'Dog Eat Dog', anything recorded by the Ants was seem as fair game for re-release to cash-in on the success. First off the blocks were Decca records with their one and only release, 'Young Parisians', which was the biggest hit of these numerous re-releases from past labels, reaching number 9 in the UK charts. Do It were not far behind, and in early 1981 they re-released both of the previous singles, 'Zerox' and 'Car Trouble'. 1982 would see even more catalogue re-cycling from Do It, along with E.G. records climbing on the bandwagon too with 'Deutscher Girls'. But it is the early 1981 Do It re-releases where the alternate mix for 'Zerox' surfaces. To confuse matters more, all of the CD re-issues that feature 'Zerox' feature the later 1981 mix, with one exception – the 'Antbox' boxed CD set from 2001 features the original 1979 mix. Now, the differences are subtle, for sure, and are mostly spotted on the intro and the outro. Referencing the excellent http://www.adam-ant.net/zerox.html again, this summarises the differences:
"The original release from 1979 has the opening bars of the song in both the left and right channels, the later mix from 1981 starts in the left channel then has a small fault at approximately 2.5 seconds into the song in the right channel before the track continues in both channels. Also on the original there is a crashing cymbal at the very end of the song and what appears to be a dripping sound as the song finishes. The later mix, from 1981, has the same feedback that is in the original mix, but this covers up the cymbal and dripping sounds that are on the original. The 1981 version can be identified by the matrix number on the Zerox side
DUN-8-A-2-*. All CDs that include the song Zerox feature the 1981 (or later mix/non drip) version of the single except for Antbox which features the drip version."
For yet more differences with sleeves, labels and so on, best point your browser to the entry on 'Zerox' on Adam-Ant.Net, if you haven't done so already…