The original release of the 'Wheel In The Roses' EP was one of the earliest 4AD releases, coming after the initial batch of four singles that had gone under the label's original name of 'Axis'. It was the only release from Rema-Rema, a short-lived band but from whom the seeds of a good few other acts would evolve or intersect, including Wolfgang Press, Renegade Soundwave, Psychic TV and of course most famously Marco Pirroni's saddle-up with Adam Ant.
What I love about this small object of desire is that despite it being so wilfully obscure and the band's only proper release (two other songs did appear as live recordings on a tape-only compilation, 'The Men With the Deadly Dreams') (the songs from which can be heard on the Rema Rema MySpace site), 4AD saw fit to lovingly reproduce it in CD form. Perhaps it could be down to the fact that despite it's obscurity, two of the songs had been covered subsequently – 'Fond Affections' appearing on the first This Mortal Coil album, 'It'll End In Tears', with Big Black taking on 'Rema-Rema' itself.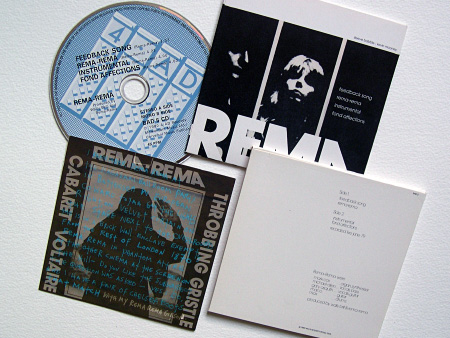 Tracklisting;
Feedback Song
Rema-Rema
Instrumental (Recorded Live)
Fond Affections (Recorded Live)
As well as the original sleeve design reproduced in miniature, the CD comes with an inner sleeve design and additional gatefold insert.
The track 'Feedback Song' itself had also appeared on the Japanese-only compilation album, 'Natures Mortes' (4AD CAD 117) in 1981, in a slightly extended form. This extended version (by virtue of its wailed intro) is what appears on this CD EP too, which is the major difference to the original 12 inch vinyl. 'Natures Mortes' itself was given a later CD release (CAD 117CD), with a number of additional tracks not present on the vinyl edition, and is certainly one of the most signature-style works of the 23 Envelope design house.