A stray single that put a full stop on the initial period of Colin Newman's solo releases, 'We Means We Starts' followed shortly after his third album, 'Not To' in early 1982, but was not included on the album. Though sonically it shared a lot of the same DNA as the long player, it seems to have been put together by a different grouping. 'Not To' had included a good number of songs that Wire had first performed live but never recorded or released, so it inevitably had a great deal of comparisons to Wire from the off. In particular, the more overtly 'pop' side was always bandied about as if this were the sole preserve of Colin Newman – despite his previous solo album, 'Provisionally Entitled The Singing Fish' straying into the kind of outer fringes sonic areas that erstwhile colleagues Gilbert and Lewis had been mapping as their own. Having said that, there's no doubt that this 'poppier' side was in the sights with this album's sound.
'Not To' was self-produced by Colin Newman and it couldn't be denied that the production tended to sweeten up the sound, with what sounds like plenty of chorus applied to both the chiming guitars and even bass guitar. One might describe it as clean and precise – polite, even – certainly in comparison to the later sonic barrage that latter day Wire specialise in. Having read Colin Newman's comments in both the 'Facing the Other Way – the Story of 4AD' and 'Everybody Loves a History' books, it sounds as if this isn't a period he looks back on with too much in the way of fond affections. But for those with a taste for the refracted glorious pieces of pop that Wire were noted for, this period is one to investigate.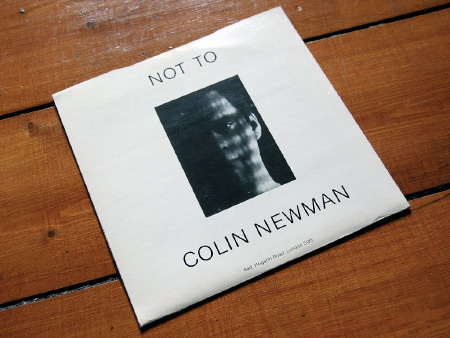 So, the A aide of this single is another of those 'poppier' moments, you can easily see why it would have been earmarked as a single release. It doesn't sound like it was left over from the album though – it sounds more like it was recorded especially. The additional players are different from the album, with only Simon Gillham retained, moving from bass to guitar and the drums of fellow ex-Wire member Robert Gotobed missing entirely, replaced by a Linn drum machine (programmed by Scritti Politti's Tom Morley), still early enough in the day when seemingly all were convinced the Linn really did sound like having a real drummer, no doubt!
The splendid, subdued elegance of the 'Not To' album title track appears on the B side in such an ever so slightly remixed form you can barely tell the difference. This single was the last release from Colin Newman for some years. Seemingly disillusioned with the music industry, other than some notable production work for the Virgin Prunes, an elongated stay in India would see no further musical activity until Wire's reformation and live return in mid 1985 and a fourth solo album in 1986… I'm sure we;ll get to that before long though, it's a good one alright.