Regular visitors will most likely know already my fondness for that '80s staple, the mini-album and in 'Jesus Egg That Wept' we have a prime example. Six new tracks (plus the addition of a track from the previous 'Pop Eyes' LP, for some reason) was a good introduction for me to the wonderfully unique oddities of Danielle Dax. Sleeved in an eye-catchingly odd cover, this mini-album was at a good time all round for Danielle Dax, with 1984 also seeing her brief but significant role in the film, 'The Company of Wolves' as well as an appearance on the primetime 'The Tube' TV show (performing 'Hammerheads').
Largely self-performed on a variety of instruments both regular and obscure, as well as somewhat ahead of its time sample looping, the minimal recording facilities that might have been involved are overcome by the unique atmospheres conjured – swinging between some kind of swampy tribal stomp ('Hammerheads', 'Evil Honky Stomp', 'Fortune Cheats') through oddly beautiful minimal electronics ('The Spoil Factor', 'Here Come The Harvest Buns') and oppressively unsettling ('Pariah'). My own particular favourite is 'Ostrich', which would get another recorded outing the following year as part of a Janice Long session (along with 'Pariah'). A few years later, I'd see Danielle Dax perform live a couple of times and the show around the 'Inky Bloaters' period remains one of the best gigs I've ever seen, really something unique.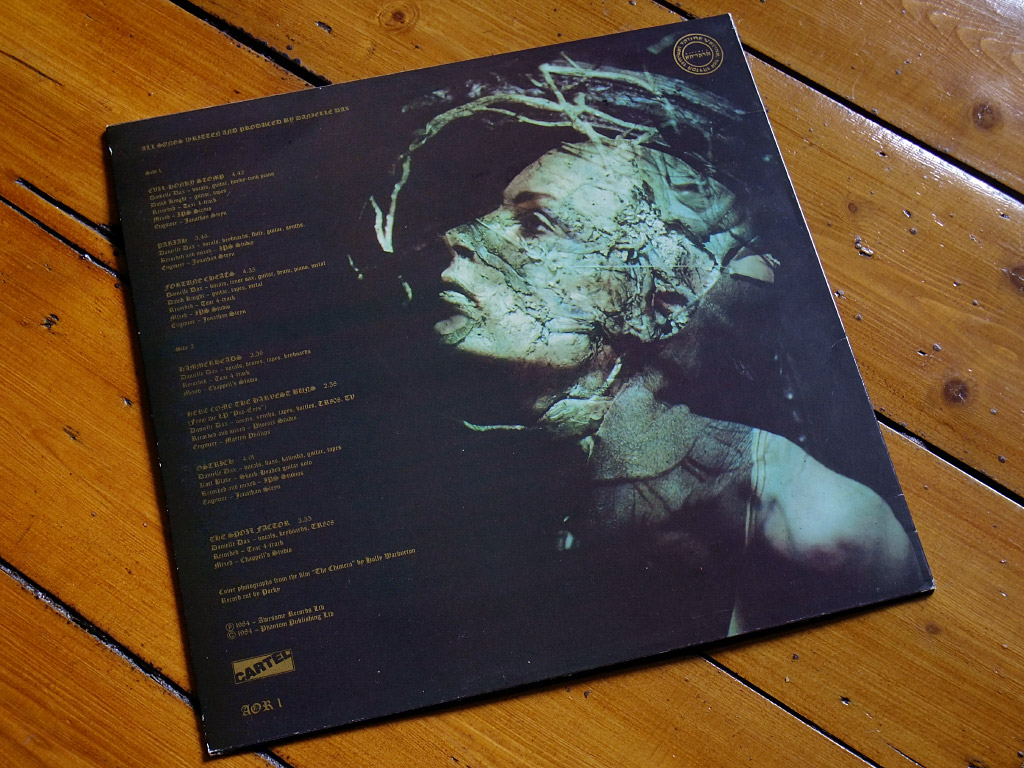 The original vinyl issue contains the following track-listing;
Side One:
Evil-Honky Stomp (4'42")
Pariah (3'46")
Fortune Cheats (4'35")
Side Two
Hammerheads (3'36")
Here Come The Harvest Buns (3'04") (Originally included on the 'Pop Eyes' LP)
Ostrich (4'01")
The Spoil Factor (4'00")
The sleeve is a gloss finish and the typography is in gold print, all in all a nice quality. One of the unique properties of vinyl to be found on this original release is that 'The Spoil Factor' never actually ends (should you choose) as it runs out into a locked groove.
The mini-album was re-released on CD in 1993 on a new label, Biter Of Thorpe (BOT131-02CD). The CD edition omits 'Here Come The Harvest Buns' and while retaining the cover photographs from the original, the typography is in a more lurid magenta and rather takes over the cover somewhat (whereas the original was somewhat more understated). The CD does benefit from reproducing the lyrics though, which is more than welcome. For some reason, 'Fortune Cheats' is slightly edited and ends prematurely compared to the vinyl version.