The second long player from 'He Said', the solo nom de plume of Graham Lewis, one quarter of Wire, deep into the digital synth territory of the late '80s. This runs along the same timeframe as Wire's 'A Bell Is A Cup (Until It Is Struck)', an example of the Wire canon that has tended to divide fans with its clean-lined and exaggerated production hallmarks of the time. If that Wire LP has you reaching for your revolver in reaction to the polished, layered, synth-scaffolded sonics, then be warned – this album takes such approaches not only to the edge but well over, with quite the sizable running jump beforehand for good measure.
To be fair, the latter part of the album is all instrumental and veers closer to what might seem more familiar Dome-patterned constructions of earlier works. In fact, the album started off on this tack originally – two of the instrumental pieces, 'Get Out Of That Rain' and 'Hole In The Sky', were originally worked up to soundtrack a ballet piece by Michael Clark (according to Lewis, quoted in the 'Wire… Everybody Loves a History' book by Kevin S Eden). Even the 'conventional' sounding pieces are a well warped take on pop, the sounds always that bit sour rather than sweet.
Unlike much of the earlier solo releases that Graham Lewis had been involved in, from Dome though Cupol, Duet Emmo and P'o, this work brought in a far more dance/pop oriented foundation to the customary noise/samples that were familiar sonic hallmarks. Plus of course the ever-familiar, instantly identifiable, deep, dark Lewis voice. Not alone on this occasion though – no, somewhat incredibly, there is a soulful vocal troupe of backing singers on 'Not A Soul' – almost inconceivable on a Wire-related record. Mind you, Cabaret Voltaire were equally as unlikely home for such embellishments, but their'Code' era had previously seen such embellishments too. Elsewhere Tackhead's Keith Le Blanc is found sprucing up 'A.B.C. Dicks Love' with finely tooled machine rhythms and keyboards.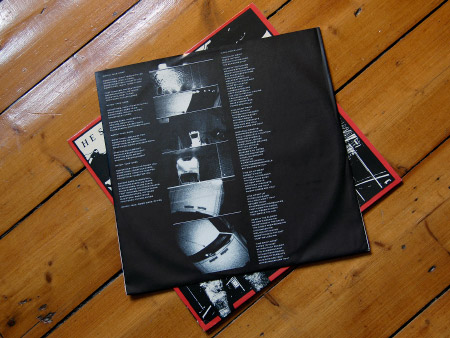 My first listen of this album came in the long-running institution that is Edinburgh's 'Vinyl Villains' – the opening track, 'Watch, Take, Care', came on and it sounded incredible – slabs of radiophonic reverb-drenched noise drifting over sledgehammer beats. I had no idea who this was until such time as the familiar Lewis vocal emerged – it was immediately recognisable. Listening on, it wasn't too long before enquiries behind counter were made and a few pounds exchanged for this copy you see in the photos.
If you could buy into the synth and samples style and overtly dance/pop sensibilities on display, then this made for a fine album on vinyl and that was the version I lived with for a fair old while after first buying it. However, when it comes to versions, the CD came with a good deal of extra tracks and variants. In the equivalent of the regular album tracking, 'Tongue Ties' is noticeably different by dint of the fact that it fades out here on the LP, whereas the CD version is conjoined with the additional instrumental track 'Screen'.