This was actually a relatively straightforward release in fact, but I highlight it here via this post for the curiosity of what might have been…
Released as the single immediately before the 'Tin Drum' album in 1981, 'Visions of China' with its faux-oriental styling was certainly a departure from all that had gone before from Japan as far as A sides go, though the clues were there on the B sides from the two preceding singles ('Life Without Buildings' and 'A Foreign Place'). With 'Tin Drum' itself, the ante would be upped even further, it verging on something of a concept album in theme and sound. Even 'The Art of Parties', which earlier in the year had firmly hitched its wagon to the in-vogue white funk sound, complete with brass section and backing singer troupe, saw itself stripped down to a somewhat more cold-blooded, oriental tinted reworking by comparison.
As a single however, 'Visions of China' barely consolidated the previous re-release of 'Quiet Life', whose Moroder-esque synth-sequencing and precision-tooled backbeat had provided Japan's first foray into the upper reaches of the UK singles chart and fame at last. 'Visions of China' by comparison was a somewhat more relaxed workout and its rather dry sound, lacking reverb, and precise, stabbing oriental synths, while different, didn't quite click with the record buying numbers in the same way.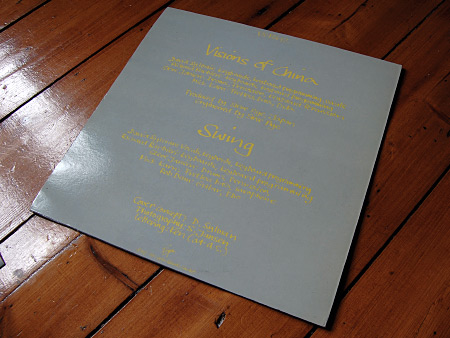 What might have helped was some more unique selling points perhaps – and it did look like the single would have that at one point. Reproduced below is a period advert for the single (from 'Smash Hits', no less) that clearly states that a forthcoming 12″ version would feature an extended mix of 'Visions of China' as well as a 'Dance Mix' of 'Swing' (a highlight of the previous 'Gentlemen Take Polaroids' album and which might itself have provided a second single release at the time, given that a promotional video was made for the song, featuring a slightly remixed edit of the track).
However, the 12″ single itself failed to deliver on either of these. The version of 'Visions of China' clocks in as per the 7″ and album mixes, while 'Swing' is simply the same as the album version. The only tack to see any attention was on the flip side of the 7″ single, which saw a Steve Nye remix of 'Taking Islands In Africa' that was more of a re-edit than a remix, to these ears at least – no radical changes, more some some nips and tucks here and there.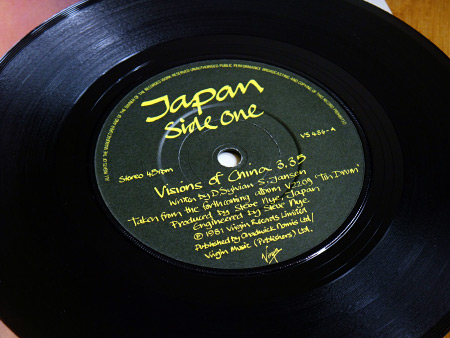 An extended version of 'Visions of China' would eventually appear over a decade later on a compilation CD titled 'Kult Klassix Volume 3' – upping the duration from approx 3'35" to 4'20" or so. I've not heard this myself, but it is intriguing that the mix would see light of day in such a low-key way. As for a Dance Mix of 'Swing' if that was ever put together then it remains firmly under lock and key and there has never been so much as a hint of it to date.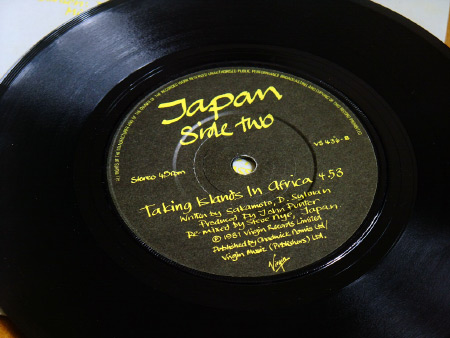 One further oddity with the 12″ though – some copies have the same version of 'Swing' pressed twice – as a second track on side one after 'Visions of China' and then taking up all of side two, even though the labels still list one track apiece per side – curious…