Dating from late 1985, this single originally came in two variants which swapped around the running order depending on whether you went for 7″ or the more luxurious 12″ versions. Perhaps it was down to budget, but the 12″ version seemed to get the better deal – as well as the extra track, for the packaging it came with full colour print on the cover and gold ink on the record labels, whereas the 7″ came with black and white print on the edited cover (though metallic ink for the type) and yellow ink for the type on the labels. It even found space to include the lyrics for all three tracks, whereas the 7″ could only make do with the musician credits.
The 12″ extra track, 'Fizzing Human Bomb', occupied side A exclusively. Meanwhile, side AA featured the two tracks that formed the 7″ single, 'Yummer Yummer Man' and 'Bad Miss 'M". Does that make this a triple-A side single then?!
Well, the 7″ was a double A side then for sure, with only 'Yummer Yummer Man' and 'Bad Miss 'M" (Dax's jibe at the then incumbent UK Prime Minister, Margaret Thatcher). All versions seem pretty much identical on the 7″ and 12″ and their subsequent appearances on CD with one notable exception. 'Fizzing Human Bomb' and 'Bad Miss 'M" were both included on the 'Inky Bloaters' album. The CD version of the album also added 'Yummer Yummer Man' as an extra track and it is here where is the variation, as for some reason it appears to have been included in mono only, whereas all other appearances of the track ('Dark Adapted Eye', 'Comatose Non Reaction' compilations and the 'Gothic Rock 3 – Black On Black – Best Of 80's Collection' various artists compilation and of course the original vinyls) all get it right with the stereo mix used.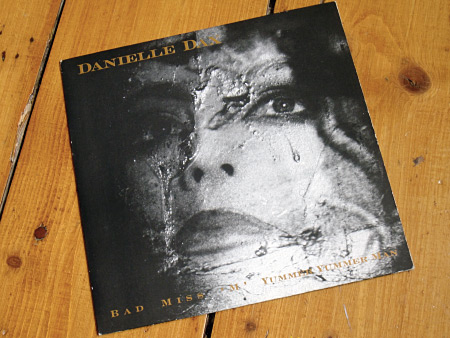 Finally, there was also an outing for 'Yummer Yummer Man' on a Japanese 7″ promo-only single that featured 'Inky Bloaters' on side A [VAP Records, PR-110]