A unique 4'08" edit of 'Confusion', released as a promo-only 7″ contemporary with the original release of the single, which commercially was only available on 12″, released August 1983. This 4'08" 're-structure' is to be found on both sides of the single, same labels each flip too and it all comes housed in a black, round hole cut-out sleeve. Somewhat plain in comparison to the now somewhat iconic 12" sleeve design.
The label design for this promo release comes with quite a difference from the commercial release 12″. Silver on black text, 'For Heavy Rotation' only is stated in capitals. It goes on to note 'A Factory Re-Structure. Fade begins – 3:52; Final out – 4:08'. The version of the track remained exclusive to this promo 7″ for many, many years, but eventually saw a release on the 'Singles' compilation CD – well, it did on the second attempt. In further version craziness, the original 2005 release of the 'Singles' compilation (London Records, 25646 2690 2) contains a 4′ 56″ edit of the 'Rough Mix' from the original 12″ and NOT the promo 7″ edit. Not that the sleeve or booklet made any reference at all to the version of the track contained within. When the 2016 Remastered 'Singles' came along (Warner Records 90 Limited, 0825646069637), once again there was no mention about which version was contained, but this time it was the 7″ promo edit for the first time on CD. Depending on your view of the song, the edit may be a good thing or a bad thing – it is certainly no straight simple fade out after 4' 02" of the regular cut of the song. Much of the more unique elements are snipped out, leaving a relatively straightforward run through.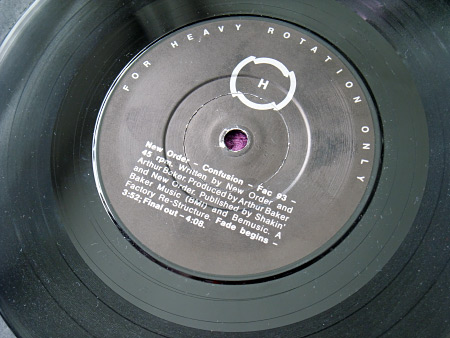 The Factory Records Catalogue page for Confusion states that "7" sleeves & labels were designed but never used". The Cerysmatic.Factory entry page for Confusion goes into far more detail on this, exclusively quoting the original designer – Phill Pennington, who states;
"I did also design a seven-inch version of the sleeve, which consisted of a set of different parts of the 12 inch cropped to seven inches. A full printer's proof was produced, but for some reason the sleeve was never used. The record label used a blown up sample of dot matrix letters (fairly new technology at the time)."
I have never seen any sign of this proof, perhaps one day it might appear – it sounds tantalising, while the blown up sample of dot-matrix letters sounds remarkably like the label design for the promo-only 7″ of 'Thieves Like Us' instead.