The Cure were no strangers to giving fans a bonus side of music to their cassette releases, with 1981's 'Faith' cassette coming with the long form 'Carnage Visors' soundtrack piece as a cassette-only exclusive. By 1984 and their renaissance as a more pop-oriented act (on the surface at least as the Sturm und Drang outings from 'The Top' such as 'Shake Dog Shake' and 'Give Me It' would attest), time was ripe for their first live album in the shape of the faux bootleg look and feel of 'Concert' (The Cure Live)'. Limited to a single album rather than the more traditional sprawling double, it was a fair trawl through various highlights, heavy on the singles and a side order of more recent album tracks. Fair enough. But of more interest, certainly for longer term fans, was the cassette-only 'Concert and Curiosities'.
While the main live album was drawn from concert recordings over three separate nights in London and also Oxford from 1984's tour to promote 'The Top' and therefore has a consistent sound, 'Curiosities (Cure Anomalies 1977-1984)' was a fascinating selection curated from Robert Smith's live tape collection, from some very early, noisy and embryonic thrashes (such as 'Heroin Face', recorded live at The Rocket in The Cure's home stamping ground of Crawley, December 1977), through the first four albums and on to a couple of otherwise unreleased tracks.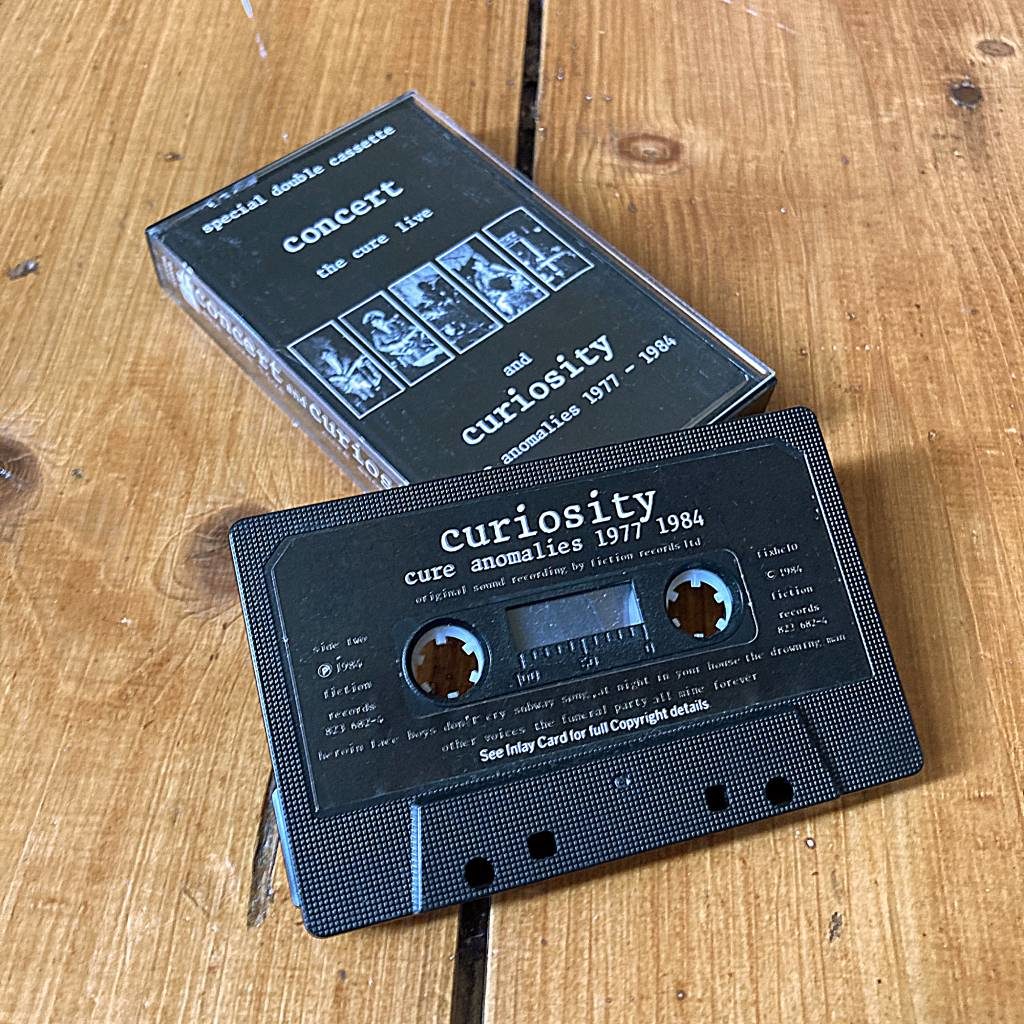 For my tastes, the high points are the tracks from 'Seventeen Seconds' and 'Faith' era tours. 1984 in particular I got quite hooked on collecting bootleg tapes by the band and those from 1980-81 were particularly satisfying. Reduced to a three piece line-up, you would have thought it might hinder their sound, but 1981's 'Faith' era tours saw a less-is-more approach work wonders. The tape was rounded out with this two unreleased pieces, 1982's quietly menacing 'All Mine' and 1984's 'version' of 'Forever', the first outing for which I remember from a murky sounding bootleg LP that a friend from Belgium traced to being from a late 1980 tour.
'Curiosities (Cure Anomalies 1977-1984)' has never been reissued in its original form – its tracks have however been released across the second discs of the 'deluxe remaster' releases from 2004 through 2006 for the releases of 'Three Imaginary Boys', 'Seventeen Seconds', 'Faith', 'Pornography' and 'The Top'.