In the first of what will likely be an occasional series, rather than post something new, time to rewind and revisit earlier posts where since first publication new information has come to light either via valuable reader comments or subsequent info coming to light.
---
Gary Numan – 'Telekon' 2015 double album reissue
At the the time of publication, I noted that one of the unique things about this latest (of many) re-issues to Gary Numan's 1980 album 'Telekon' was that it included a previously unreleased 'Alternative Mix' (as listed on the cover) of 'I Die: You Die' which was a much earlier, less developed version – and that this release appeared to be vinyl only, so no easy way to get a digital format. Since then, I note that the full double album re-issue has become available to download in high quality (or stream) from Qobuz.com. Check this mix out for yourself here: Telekon 2015 on Qobuz.com.
Read the original article: Gary Numan – 'Telekon' 2015 Double LP re-issue (Beggars Banquet, BBQLP19, 2015).
---
Wire – 'Exploded Views' book and CD
As a quick recap on the original post, I was unsure whether this release was official, semi-official, unofficial or what and if it counted as one of those 'objects' that numbered up to 47* at one point in Wire's grand scheme of things. (* Referencing Wire's 2007 album, 'Object 47'.) A very informative comment from Alessandra Libutti, who noted the following in response to some of the speculation I'd aired in my original post.
I wrote it with Wire backing between '93 and '94. Even if not officially, the band had already disbanded, or at least those were the feelings of each one of its members, especially Colin Newman. There is a 'dead end' feel that permeates the interviews; it's always in the air, a lack of direction and purpose that sought the Mute era to an end.
The only two members living in London at the time were Colin and Bruce. I met both on several occasions and got on fairly well with Colin, however since Bruce was the one with the strongest views about the book he was put in charge of the liaisons. Unfortunately, he was not interested in the content itself (intended as the logic sequencing of memories and considerations). He wanted (in his own words) to make an 'object' of it; he aimed for something where the content would emerge through the form, and Wire would be represented through cryptic dissonances.
Stampa Alternativa's Sconcerto books were very popular in Italy at the time and sold fairly well in the UK too mainly because of their original bilingual format and unreleased CD tracks, so although there was a certain degree of flexibility from their part and mine, a cryptic text hidden behind graphic 'ventures' was out of the question, it simply clashed with the format.
It was a difficult book to make. Its nature and outcome was strongly affected by Wire's different personalities, views and frictions. I guess, in that respect, it fulfilled the purpose of representing each individual and offer an insight onto how those differences had resulted in a strongly creative ensemble. The book was a photograph of Wire at that point of their career. It was good and unique. Wire however did not feel that way, so I guess that, unless they changed their mind over the years, it was not one of the 41.
Read the original article: Wire 'Exploded Views' Italian Book / 'Live – May 1990' CD (Stampa Alternativa, SCONC.25, 1994) .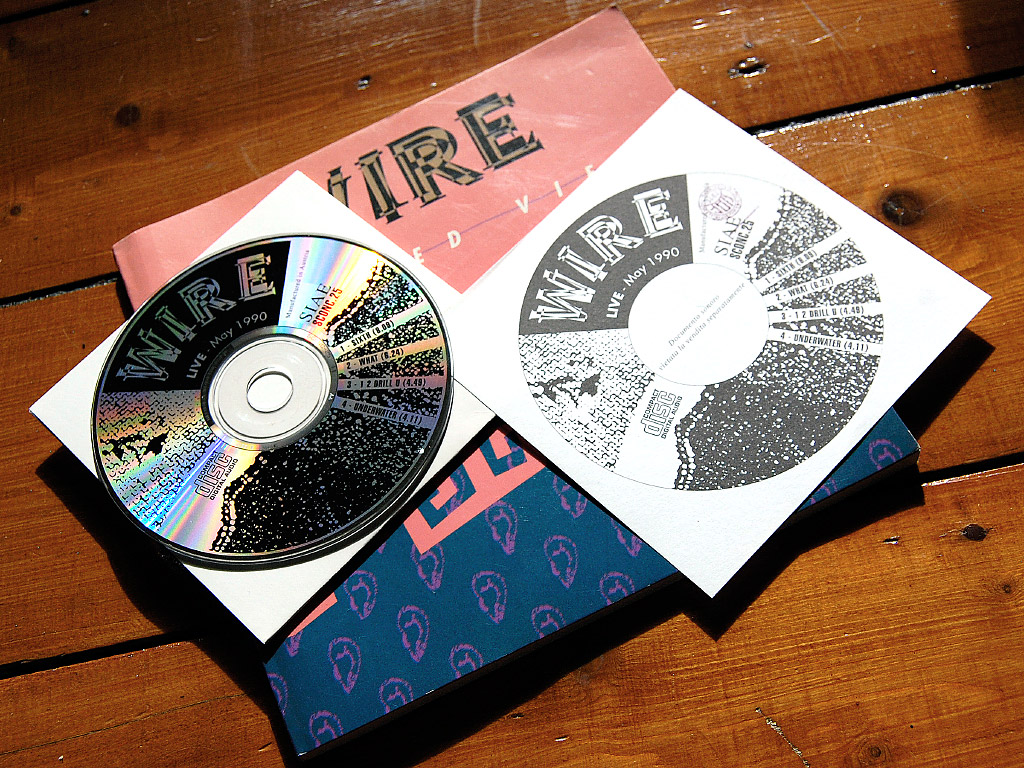 ---
US $4.98/$5.98 Mini-Albums
As well as finding time to write his own excellent, witty and well-informed blog Post-PunkMonk, Jim also finds time to comment here too for good measure. Choosing one small nugget that just goes to show how valuable reader comments can be in filling in those contextual points that make sense long after the fact is tricky… but this was an early one that I found fascinating, as this original article I had mooted around the concept of the mini-album made up from earlier single releases, 12″ remixes or the like into a more substantial offering (referencing earlier posts such as examples from Flying Lizards, John Foxx, Ultravox! and also US specific examples from Gang of Four and Visage).
Ah yes, the almighty foreign market EP! Not only did this provide many a UK band a way to release their goods in the album friendly/singles hostile US market. Crucially, as one who lived in The States during the rise and fall of the EP, let me state, unequivocally, that two factors beyond what you have stated are responsible for the EP boom of the early 80s in the USA.
1 – The record industry had been in a sales slump from the end of the disco era through to the rise of the compact disc. Pricing of EPs was typically a few dollars less [$4.98 – $5.98] than a full album list price [$8.98], meaning that for the buyer, it was less outlay than an album, increasing the chance that they might take a chance on this new band. Also note, $4.98 for 4 tracks is far more profitable for the label than $8.98 for 9 tracks.
2 – the US rock radio industry by the late 70s had chosen to ignore everything that had happened after 1975 and become incredibly conservative. Punk, New Wave and synthpop movements, not to mention goth, were all relegated to the margins of the industry. The mid-price EP was an effort to bypass the locked-up playlists of rock radio using price during an economic downturn as incentive.
The rise of MTV in many ways, was the death-knell for the US EP boom, which flourished for the years of 1981-1984 before MTV became the ideal way to market – weird – UK bands to the breadbasket of Reagan's America. Hey – I need to blow this up into a post on my blog!
Read the originally commented article: Specimen – 'Batastrophe' US Mini-Album (Sire, 1-25054, 1983)
---
Tones On Tail cover stars
For years I was sure this was an image Daniel Ash or Glenn Campling had somehow made themselves – but latterly I had managed to work out the image was a still of mime artist Lindsay Kemp…
As for the cover, this was a photo by Joe Gaffney who did a lot of portrait pictures (including the last ever picture of Man Ray). He was very prolific during the '70s and '80s especially with artists of the glam rock scene. this may be a bit of assumption on my part but, because he never took 'on stage' pictures like Mick Rock, this is actually a staged portrait picture.
Read the original article: Tones On Tail – Burning Skies/OK, This Is The Pops versions