A companion release from the same series as the Flying Lizards 'Move On 'Up' 12″ documented in a previous post. Taking the usual cavalier attitude to track selection and sleeve design that many Japanese releases of this period had, this little beauty gathers together a selection of tracks from three of John Foxx's 1980 singles ('Miles Away', 'Burning Car' and the extra single from the 'No-One's Driving' double-pack 7 inch) in a sleeve/label design unlike any other Foxx release.
Along the way, it has also managed to include a different mix of 'Miles Away', the same one as used in the promo video for the single, I believe. (This mix finally made it on to CD with the late-2008 2-disc re-issue of 'The Garden'.)
Tracklisting;
Side One
Burning Car
20th Century
This City
Side Two
Miles Away
A Long Time
Mr No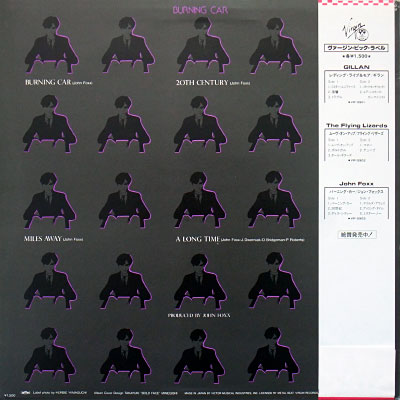 The sleeve has a large die-cut hole on the front for the label design to be seen through plus an obi strip. The large picture label design is the same on both sides of the disc, except for the different A/B side track titles in small type. It comes with an additional one-sided black and white insert sheet with info, lyrics and photo plus a small text-only (record company?) card.
Until the 2008 re-issue, it was the only place to find the alternative mix of 'Miles Away' on disc, as far as I'm aware – still a very nice item for any Foxx collection regardless. Quite what John would have made of the whole aesthetic of the release is a moot point however, given the particular air that he strove for with his own fantastic designs for the 'Metamatic' era sleeves.