---
1982
'Life In Tokyo' (Remix) (6'15")
'Life In Tokyo' (Special Remix) (4'02")
'Life In Tokyo' (Extended Remix) (7'05")
'Life In Tokyo' (Theme) (3'55")
'Life In Tokyo' ('Street Scene' K-Tel compilation LP mix) (2'58")
---
'Life In Tokyo' (Remix) (6'15")
This wildly different version of 'Life In Tokyo' first saw light of day as the opening track of side two of the 'Assemblage' Special Edition Double Play cassette-only re-release in the UK. I think this was released October 1982, based on this advert from Record Mirror magazine, issue dated 30 October 1982. On the cassette's card inlay it was listed as 'Special Remix' (and wrongly listed with a duration of 7'05"), whereas the cassette shell itself listed it just as 'Remix'.
As for the music… oh my! This is a VERY different version compared to the original, smooth disco-beat 1979 mixes. A totally different feel with harsher, vaguely oriental synth sounds from the start, very prominent rhythm box throughout and harsher, crashing electronic percussion beats – they really get going towards the end (verging on the Gary Numan 'Cars' type repeat strike Synare hits by the time it gets into the outro). Apparently an alternative mix by Giorgio Moroder, so presumably actually of 1979 vintage in fact – was this released by accident or design (since the cassette inlay card gets the time wrong)? Wish I knew more about the background to this mix.
Its first outing on vinyl came on the 1983 Japanese release of 'Assemblage', which had a very different selection of tracks compared to all other 1981 editions of the album. This Japanese release also muddled mix naming matters once more by also referring to it as 'Special Remix' on the back cover tracklisting and 'Remix' on the record label.
The next appearance on vinyl for this mix came in 1987 on an Old Gold label (OG 4031) 12″ single release that combined it on the A side with the regular album mix of 'Quiet Life' on the flip side.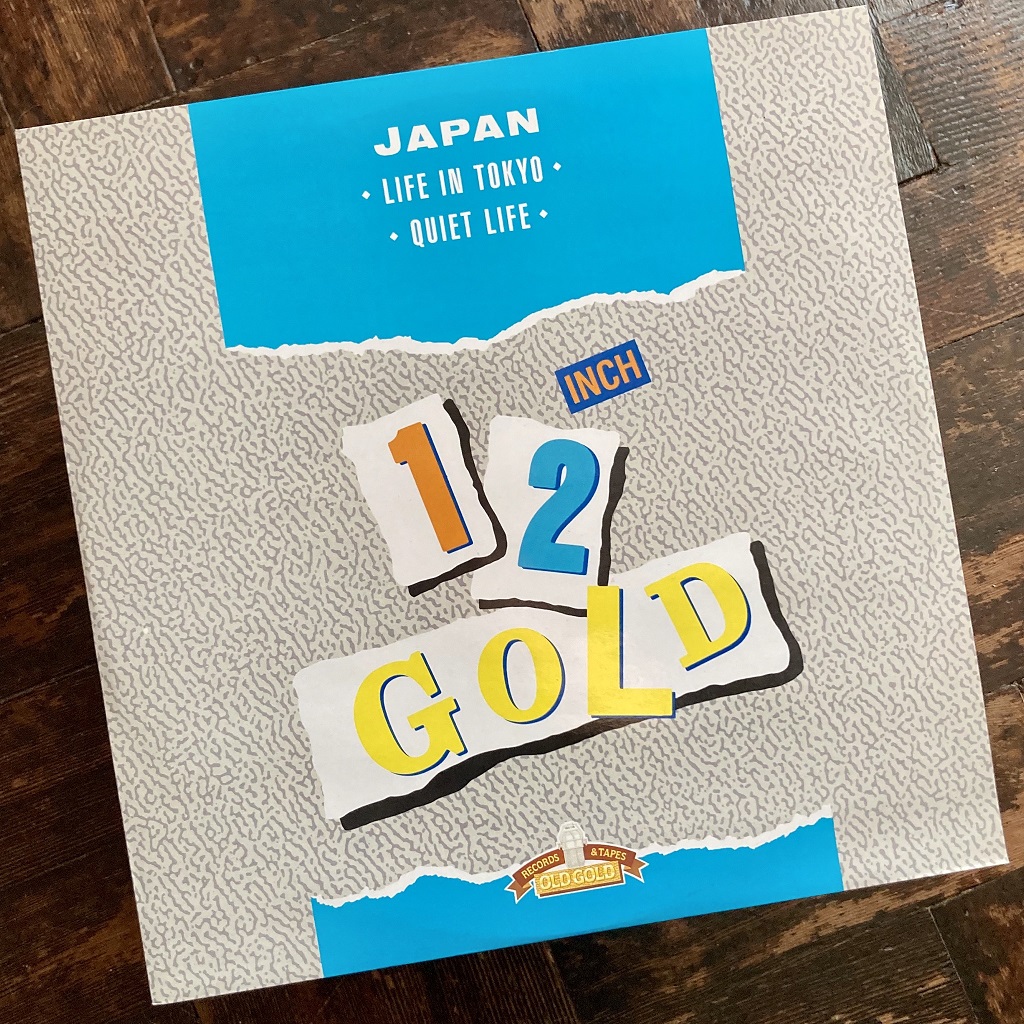 On CD format, this mix has been released far more often than you might imagine for something so obscure, with the peculiar Old Gold label once again leading the way in 1990… had to wait a long while before a Japan-only CD included it and when it did, it wasn't quite complete.
Japan CD releases:
1996: Japan 'In Vogue' compilation [Camden/BMG 74321 393382] – AVOID! Unfortunately, this whole compilation is a write-off as the mastering has been messed up, big time. They are not in their original stereo – somehow, only the right channel from the original has been used, which is then duplicated to form a mono mix that in some cases means elements of the original are lost. This produced some odd effects on some tracks where some instrumental pieces are missing (due to having been panned to the left on the original stereo mix) – most evident on the intro of 'European Son', for example. A pity that this mix is wrong when it comes to 'Life In Tokyo', as this one goes to the full duration, unlike…
2004: Japan 'Assemblage' re-master [BMG 82876 566962] …on the digipak re-press and 2006 jewel case edition [BMG 82876 844462]. See part 1 of this series for the full details of this release and its mispressing variant. Unfortunately, assuming you got the version that includes this mix, the bad news is that as it fades out this mix ends abruptly, missing out the last few seconds of the original.
2009: Japan 'The Collection' compilation [Sony BMG/Camden 88697556792] – this time out, so as to avoid the abrupt ending found on the 'Assemblage' remaster, the mix fades out early – so, it is a few seconds incomplete compared to the original recording. Not the only problem that this compilation has – 'Halloween' mistakenly recycles the messed up mono right channel x 2 mix first heard on the 'In Vogue' compilation instead of the correct stereo mix.
It is likely that the forthcoming March 2021 'Life In Tokyo' CD EP that accompanies the 'Quiet Life' deluxe edition re-issue includes this, as what's described on that as 'Assemblage 12″ Remix 1981' – which is close, though not quite right, since that particular cassette version of 'Assemblage' was released in 1982.
Looking at the various artist compilation CD appearances:
1990: Various: 'The Best Of 12″ Synth Gold – Extended Mixes' [1990, Old Gold OG 3802] – if you are intent on tracking down this mix on CD as complete as possible then, at time of writing until we find out for sure what the forthcoming 'Life In Tokyo' CD EP actually contains, this is the one that is complete and in its originally intended stereo.
(TBC) Various – 'Champion Carnival – Group 2 Europe – September 1996' [1996, Japan, BMG Victor Inc. PDTD-1150] – I don't know anything about this compilation and I expect it is difficult to come by, but the track list timing seems to indicate it is likely to contain this mix.
(TBC) 2000: Various – 'Pop & Wave (The Long Versions)' [2000, Belgium, Sony Music Media SMM 497925 2] – again, another I don't know but is in the right frame timing wise.
2002: Various – 'The Sound Of The Crowd' [2002, UK, Universal 584 363-2] – unfortunately, this is one to avoid – it is the full duration BUT it is in mono (possibly the same source as used on the 'In Vogue' Japan compilation).
---
'Life In Tokyo' (Special Remix) (4'02")
Late 1982 and the Hansa label fancied one more campaign aimed at getting a hit single out of 'Life In Tokyo', hence this UK 7″ and 12″ re-release, packaged up in a stylish new sleeve design and with new mixes to boot. Third time the charm? Well, it got the highest placing of the three separate UK releases for the song, for sure, but 28 was hardly the same top 20 heights as Hansa's re-releases had managed with 'Quiet Life' (19) nor 'I Second That Emotion' (9).
This is the 7″ A side version, listed as 'Special Remix' on the back cover and on the disc label. Neither sleeve nor label provide any credit as to who did the remix, but the forthcoming 'Life In Tokyo' CD EP makes it clear from its track listing that once again Steve Nye was behind the mixing desk for this and 12″ companion. It's got a slightly harder feel to it as compared to the original disco glam of the 1979 version. An intro akin to the original 12″ Long Version that spotlighted the bass guitar, though very obviously re-recorded to spotlight Mick Karn's fretless bass work, plus a bit more reverb overall in the sound – but after that it doesn't stray too far from the original short version in its overall arrangement, it's most sonic differences with EQ and reverb, to my ears anyway.
It first appeared on CD on the 1996 Japanese double CD 'The Singles' compilation. It can also be found on the 2004 re-master of 'Assemblage'. Most recently it was on the 2006 Virgin label compilation 'The Very Best Of'. Incredibly perhaps, these all seem to be mastered from vinyl – likely all the same original source?
It has proved to be much scarcer on various artists compilations – I'm not certain, but this one may include it? 'Various – 100% New Wave' [2008, Belgium, EMI 50999 2425552 3].)
---
'Life In Tokyo' (Extended Remix)
Not content with remixing for the 7″, the accompanying 12″ also got the remix treatment. Again, no major differences to the overall structure, this is largely the same as the original Long Version. The differences come with a re-recorded bassline from Mick Karn – very obviously different from his original take, much more of his customary note-bending and sliding that latter period Japan featured. As well as the EQ and reverb tweaks (the drums toughened up a good bit sharper, for example), the female backing vocals troupe gets spotlighted more, with Sylvian's vocal removed for the first few repeats of 'Life In Tokyo' past the 4'46" mark.
On the 1982 12″ single, the sleeve and label just refer to this as 'Extended Remix'.
CD format outings for this mix have been fewer, but it can be found the 1996 Japanese double CD 'The Singles' compilation, as a bonus track added to 2001's CD re-issue of the 'Quiet Life' album on the Camden/BMG label (74321 895822) where it is listed as 'Life In Tokyo (12″ Version)'.
In respect of various artist compilations, it appears on the following (and these don't have any obvious vinyl mastering giveaways);
The 3 x CD various artists compilation '12″/80s Electro:Pop' [2009, Universal UMC 5320869].
'Hardest Hits Volume 4' [1993, Canada, SPG Music Ltd. SPG 004] – the packaging for this 1993 Canadian compilation lists it as including 'Life In Tokyo (Disco Mix)' with a timing of 7'05", so on the face of it, it looks likely to have been the original Long Version – however, it isn't the original, its the 1982 Extended Remix. 'Hardest Hits – Modern Rock Of The 80's' [2003, Canada, SPG Music Ltd. SPG-006/SPG-3009] is a later 3xCD release that includes the same disc amongst it.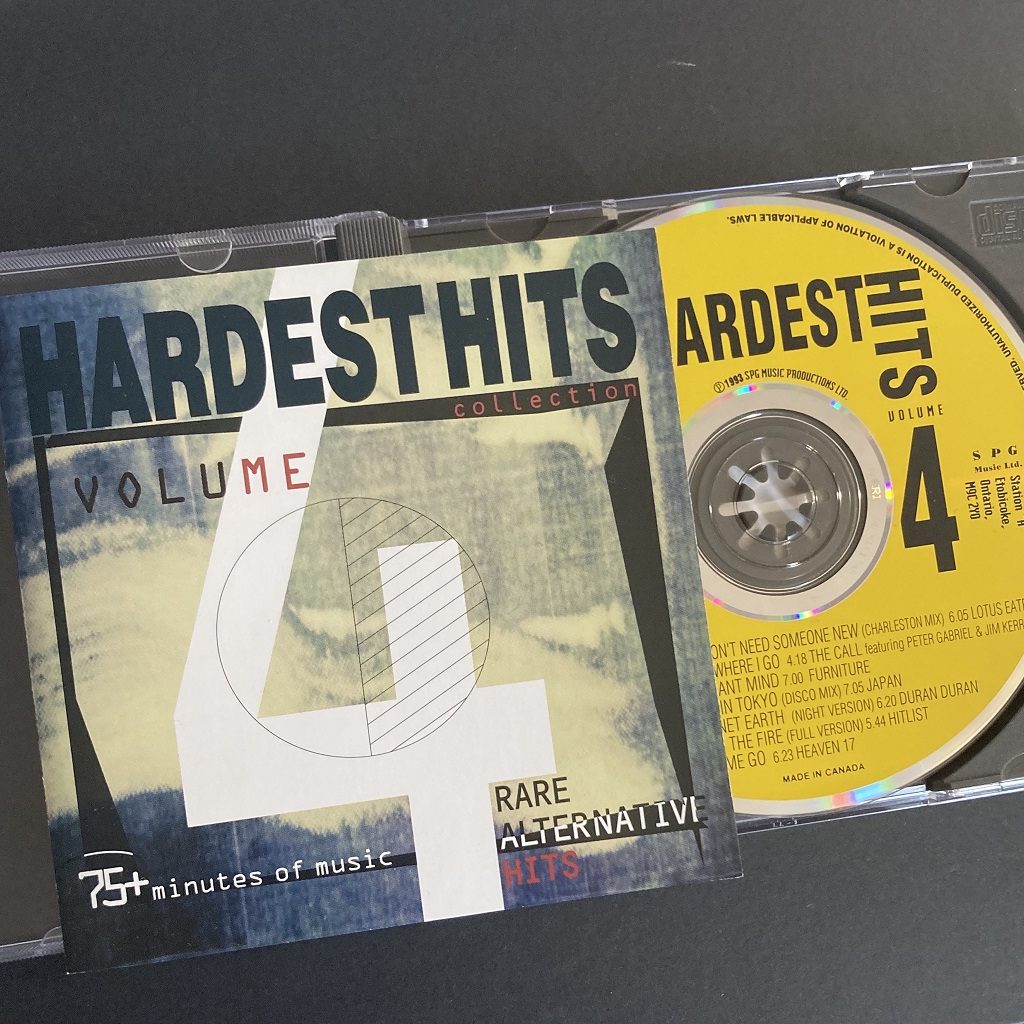 ---
'Life In Tokyo' (Theme) (3'55")
The oddest of all the mixes of the track, by far. Take a largely instrumental mix of the track and slow it right down to glacial speed. Sounds an odd idea that shouldn't work, right? But I loved it when I heard it. Back then, I still had access to a turntable that played 78, 45, 33 and even 16 RPM! – play this 45 at 78 RPM and it sounded like normal speed!
Its only appearance to date on CD is, inevitably, the 1996 Japanese double CD 'The Singles' compilation, where it appears twice (7″ B side, 12″ B side – even though they are the same). That's about to change with the forthcoming CD EP, which features along with the original ('Steve Nye Theme 1982', I assume) also a 'Steve Nye Theme 'Correct Pitch' 1982)' mix too.
---
'Life In Tokyo' ('Street Scene' K-Tel compilation LP mix) (2'58")
Released on the various artists compilation album 'Street Scene' (K-Tel, NE 1183) – the excellent Japan fan site, 'Nightporter', has noted the following about this version: "…this is a mix similar to the one that appears on 'A Souvenir from Japan" and the Japanese 'Assemblage' UK Special Double Play Cassette. The sleeve says it is remixed from the album 'Assemblage' and the label states that it is a 1979 recording." Vinyl/cassette only, never issued on CD.
---
Coming in Part 3… one more weird surprise from nowhere.