Three albums in to Peter Murphy's solo career, 1989's 'Deep' brought the ex-Bauhaus frontman a high degree of well-earned success in the US, having put in the stateside touring miles the year before and with the new LP. Success to such an extent that a series of single releases in addition to the pre-album single 'Cuts You Up' saw light of day in the US. These were of high appeal to a fan and collector such as I, on the other side of the Atlantic, where 'Deep' wouldn't even receive a UK release until 1990 and would merit only the one accompanying single release, such were the disparity in fortunes between homeland and the US.
'A Strange Kind Of Love' had already appeared in two very distinct forms – the contemplative, sparse and delicate album mix and the more propulsive and driven backbeat-heavy 'Version 2' mix that had been the B side to 'Cuts You Up' and found its way on to editions of the 'Deep' CD as a bonus track. This promotional only CD contains a third distinct variation of 'A Strange Kind Of Love' in two further mixes, one long, one short.
Tracklist:
A Strange Kind Of Love (Remix Version) (3'53")
A Strange Kind Of Love (Original Album Version) (3'51")
A Strange Kind Of Love (Remix Long Version) (5'08")
All Night Long (Live) (5'43")
This third, remix version is obviously based on the sparse and atmospheric Version 1, but there are a good number of additional overdubs to be found that fill out the sound. (Sadly, the packaging is very scant on credits, nothing to indicate who contributed the overdubs.) From the off, there is a new and very prominent rather tricksy lead electric guitar, for starters. A minute ana a half in, heavy duty drums start up and a minute later are joined by a new bass guitar line, locking into the groove. The longer version includes new vocal overdub by Peter Murphy for good measure – it's not the extra verse that Version 2 has though – that remains unique tobtest take.
These long and short versions got a release on promo CD singles in the US and Canada. The short version was also released as the A side of a 7" in West Germany, complete with unique picture sleeve. It's most recent outing was as a bonus track on the '5 Albums' CD box set in 2018 – though only the short version was included. If you want the king version, which I do think edges it, you'll have to track down this CD or the Canadian variant.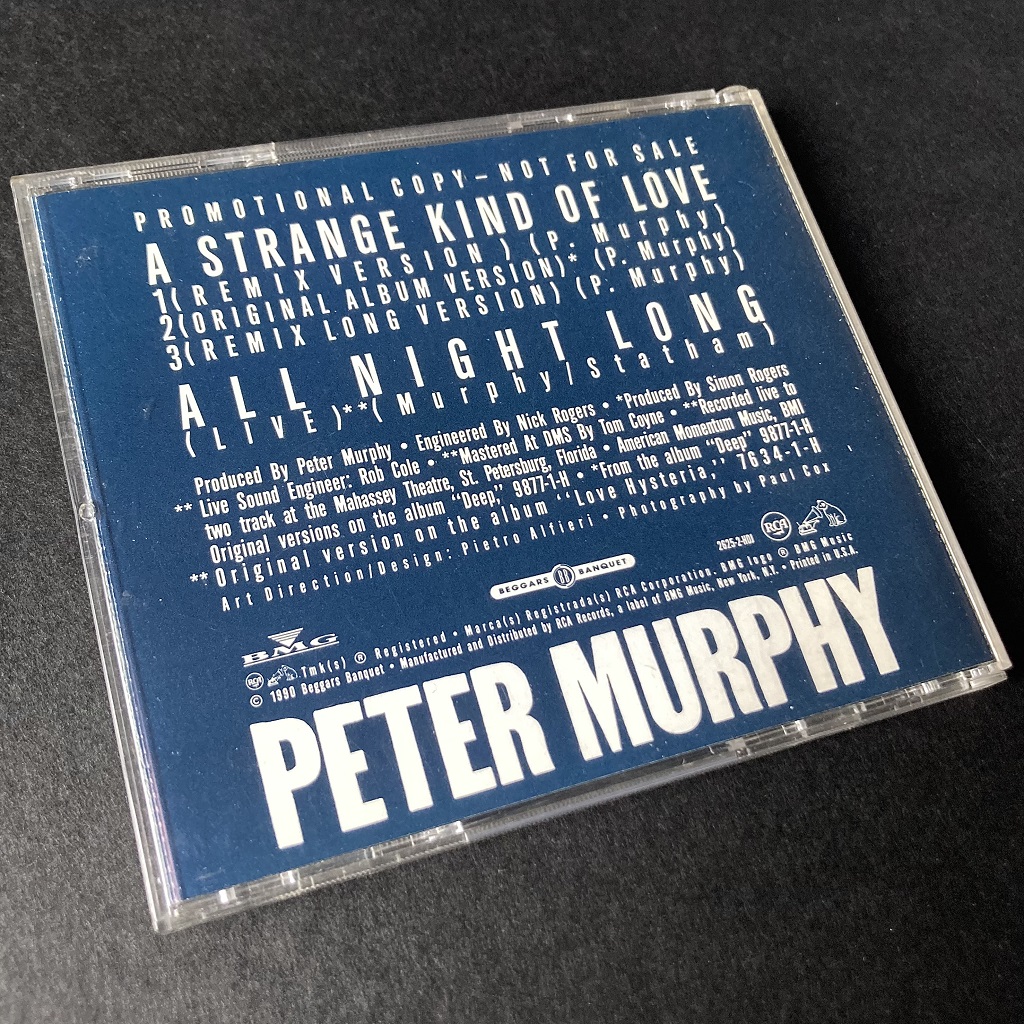 The US promo CD also includes a live recording 'All Night Long' from the Mahaffey Theater, St. Petersburg, Florida – I think it is unique to this CD, it's different from the live take on other singles.