This little curio has passed me by until recent times I must admit, since to my knowledge this particular remix has never been re-issued on CD format at all. For its release in the United States, Geffen Records had a remix of 'Cities In Dust' made and it found its way on to this 7″ single as well as a regular edition 12″ EP edition and promo-only 12″ single. Given that the sleeve and label credits quite clearly namecheck the 'Tinderbox' LP, I would wager that this single release is from 1986 rather than the UK's original late 1985 debut – but as I say, this particular variation passed me by altogether, so anyone else who knows for sure is more than welcome to comment.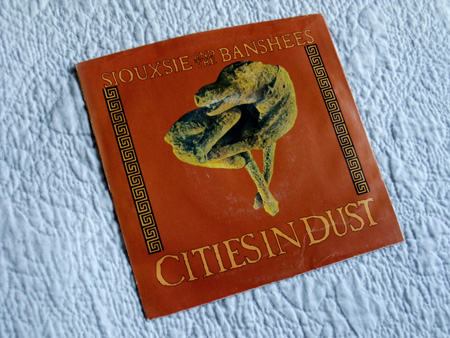 The remix itself is quite subtle and you really get the benefit of it if you break out the headphones and give it a listen, since the main difference lies in much greater stereo separation – it's a 'cleaner' mix in that respect – whereas the standard single and LP mixes are quite compact, punchy and bunched together in the stereo field, this mix spreads the instruments apart, particularly the guitars and keyboards. The most noticeable differences lie with John Valentine Caruthers' guitars. On the intro build up, there is a subtle, dampened 'chug' rhythm guitar (more what you'd hear from David Gilmour on e.g. 'Run Like Hell') present – can't be sure it's a whole new overdub or just an earlier appearance of what is already present but buried right down in the mix of the original mix. His main guitar contribution is panned hard left, while the 'bell' keyboard is hard right, with stereo ping-pong echo used occasionally on the final guitar strike at the end of the chorus. The whole mix itself is a good deal shorter than the regular single mix, by around half a minute (mostly sliced off the 'noise' intro).
As to why it was remixed… who knows? Perhaps Geffen felt it needed a bit more of a rock 'oomph' to it, perhaps it was something to do with the track's appearance (as well as the band on screen) in the movie 'Out Of Bounds'? I've never heard any of the band members make reference to this mix in any interviews I have come across, nor in any of the various Banshees biographies that are on the go.
UPDATE: I have subsequently come across a reference to the mix by Steven Severin, interviewed at the time of the remasters by Virgin Music, 07/04/09 Source: http://www.thebansheesandothercreatures.co.uk/downsideuppress.htm from which I have extracted this detail:
Bob Fear: Did you encounter any particular issues in going back and uncovering potential extras?
Steven Severin: Since we did the first batch I've relocated to Edinburgh so I couldn't just pop into the vault this time and look at then listen to things to determine their worth. I have to try to "spot" things from a vast computer print out then request a scan of the tape box then get a CD-R and of course each part of the process demands I fill out 15 forms in triplicate or rather it feels like that. It's a slow torture.
Bob Fear: Was there anything you remember which has been lost?
Steven Severin: Sore point. The lovely Hamburg branch managed to mislay the 'Dear Prudence' master of all things. On this batch the main one that got away was a 7″ radio mix Bob Rock did of 'Cities in Dust'. It's completely vanished.
So, that's why it never ended up on the 'Tinderbox' remaster then!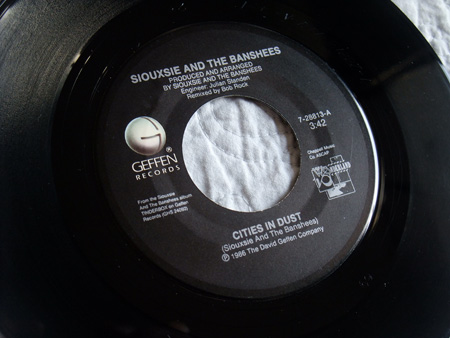 If you fancy tracking down a copy of the mix, watch out if buying the 12″ EP editions – it looks as if some of them have the regular single version 'Edit' as it is referred to, rather than the 'Remix' – check out discogs.com for more on that.