So, now that the long anticipated super deluxe re-issue of 'Quiet Life' and its accompanying supplementary extra 'Life In Tokyo' CD EP, has finally been released, time for a final instalment in this series and take stock of what's new and what's what.
---
Even more version craziness!
In a maddening example of baffling record company thinking, putting together a whole CD EP that was (seemingly) intended to gather up all official mixes of 'Life In Tokyo' into one place manages to come undone from the off by the inclusion only on the 'A Quieter Life' CD of the super deluxe box set edition of a newly unearthed version – and leave it off of the CD EP!
---
So, what are the new mixes?
'Life In Tokyo' (Theme Giorgio Moroder Version 1979) – included only on the 'A Quieter Life' CD in the 'Quiet Life' super deluxe edition box set.
'Life In Tokyo' (Steve Nye Theme 'Correct Pitch' 1982) – included on the 'Life In Tokyo' CD EP.
These both appear to be the same mix but play back at different speeds – the Moroder version is slower compared to the Steve Nye mix. There is no explanation in the box set booklet text about the background to these.
With either mix if you adjust its speed you end up with what was first released in 1982 as 'Life In Tokyo' (Theme) on the B side of the UK 1982 re-issue of the song. If you have access to the free, open source audio editing software Audacity, for example, you can recreate the 1982 B side as follows;
take the 'Theme Giorgio Moroder 1979 Version' and using 'Effect' > 'Change Speed' adjust 'Standard vinyl rpm' from 78 to 45 (so, that's a percent change of -42.308).
take the 'Steve Nye Theme 'Correct Pitch' 1982′ and using 'Effect' > 'Change Speed' adjust the 'Percent Change' value to -50.000.
Why the difference in speeds though? The 'Theme Giorgio Moroder 1979 Version' raises more questions than answers, for me. Sonically, it has more in common with Steve Nye's 1982 remixes than the original Giorgio Moroder mixes. Here's why…
the fretless bass is VERY different – its the 1982 remix overdubs* not the original bass, really quite flat that Mick Karn was unhappy about.
the drums and sequencer synthlines are treated with more reverb than the original Moroder mixes, which are much dryer by comparison.
So, I'm left scratching my head on these. I figured that the Giorgio Moroder 'Theme' mix was perhaps intended as a short instrumental 'sting', for reasons/uses unclear. But why the speed issue? And if this is really Miroder's work, why is the bass guitar so different?
It's interesting to hear the mix back at 'normal' speeds though and to note the elements of the track that were chosen for inclusion. It's by no means just snipping off a couple of minutes of an existing mix and slowing that down.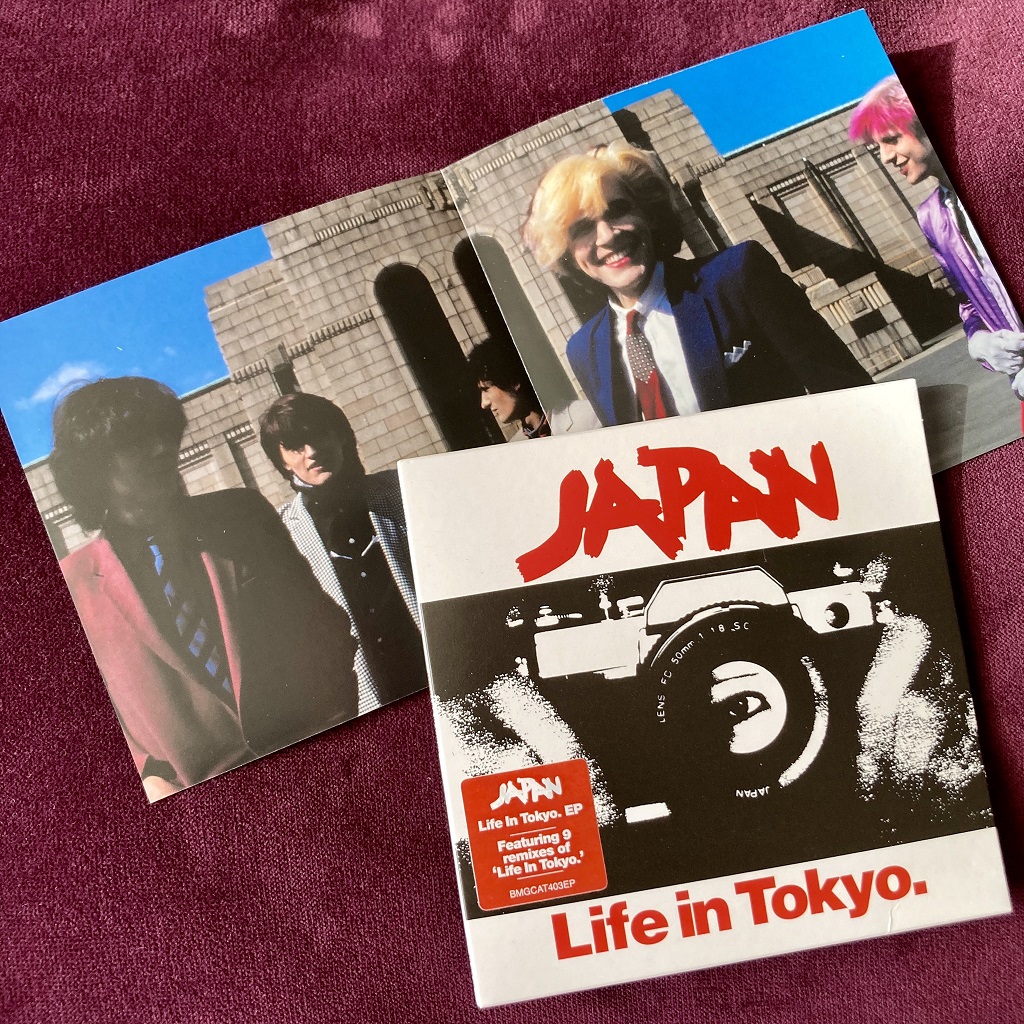 ---
…and the 'new' mix titles?
'Life In Tokyo' ('Assemblage' 7″ Remix 1981)
Turns out that this is the same mix that first appeared in 1989 on the 'Souvenir From Japan' compilation CD/cassette. So, it never actually appeared on any version of 'Assemblage' and certainly not back in 1981! Read more about this mix and it's previous releases back in Part 3 of this series.
'Life In Tokyo' ('Assemblage' 12″ Remix 1981)
This is the version that first appeared as the opening track of side 2 on the 1982 'Special Edition Double Play' cassette version of 'Assemblage'. The good news is that the master used is in full stereo, unlike some of the occasions it has featured on previous compilations where it was in a form of mono instead. The not so good news… it is once again a few seconds shorter in the fade out by comparison to what can be found elsewhere. Read about the finer details of all that back in Part 2 of this series.
But when do these mixes date from?
…is a question that is still a mystery, as I don't think I have ever seen some definitive info about the background to these Giorgio Moroder mixes – and why they occasionally re-appear on compilations seemingly in place of the 'regular' mixes. There's certainly nothing in the sleeve notes for either the CD EP nor the 'Quiet Life' re-releases that helps.
Were these mixes worked up at the same time as the more familiar 1979 7″, Part 2 and Long Version mixes as alternative candidates – but weren't chosen for release and therefore should have remained in the vaults? We know that Giorgio Moroder insisted on a co-write as part of his involvement, maybe these versions are more like his original ideas?
Or did these come later? Did Giorgio Moroder get a call in 1981 with a job to remix the tracks – perhaps for 'Assemblage'? – but they weren't used at the time? The somewhat oriental flavour to some of the synth sounds perhaps hints more of a leaning to a later remix (maybe even post-'Tin Drum'…??) – but that doesn't fit very well with the fact that Steve Nye was by then the go-to first choice as remixer for the band.
If it is the former, it makes more sense why they ended up being released by mistake on occasions due to poorly labelled tape boxes perhaps? For example, 1982 'Special Edition Double Play' cassette was its first release, but the insert card definitely lists the 7'05" Special Remix as what should be included.
Anyway, the mystery remains…
---
And while we're at it… other mix title version craziness from the box set…
'All Tomorrows Parties' (John Punter 7″ Mix 1979)
This isn't some newly unearthed mix after all – it is the same mix as first included in 1981 on the 'Assemblage' compilation album.
'Quiet Life' (Japanese 7″ Mix 1980)
Turns out that this isn't actually the mix used on the Japanese 7″ – it is yet another variant
---
Final thoughts on the box set
Various online forums/comments threads have generated plenty of vital discussion about the various releases (threads on Steve Hoffman music forums and Super Deluxe Edition, for example). Many of these have been summarised in a new post by Paul Rymer of the excellent Japan fan site 'Nightporter' in a blogpost on his Nightporter On Patrol blog post Here comes the "Quiet Life" again.