1982 into 1983 was when I first really got the Bauhaus bug. Summer of 1983 into Autumn of that year in particular it reached fever-pitch, with having been able to see Bauhaus live and with the release of the band's final album and various solo project releases from Tones On Tail and David J. This would continue for some time as I delved back into the band's previous releases and other solo project releases.
Amongst them was the release in focus here. It sounded intriguing, from what little I knew about it. René Halkett, original member of The Bauhaus (or Staatliches Bauhaus Weimar' to be more formal) makes contact with bass player of Bauhaus and a friendship emerges that leads to a collaborative single. Bauhaus were regular pilloried in the music press for their assumed pretentiousness and… oh my… this surely came with a capital P in their eyes!
---
Original 7″, 1981
Nothing (2:22)
Armour (2:50)
My copy came from writing off to 4AD records. Good old fashioned pen, paper, envelopes and stamps post… asking if they still had any copies left? They did indeed, and swifty a Postal Order to the amount for this single and the 'Natures Mortes' Japanese 4AD compilation LP (they still had some of those too) was sent off. Incredible now to think of that, in the era of the ultra limited pressing, sold out near instantly, where keeping a stock of back catalogue is almost seen as a crime.
Back to the record. The single comes in a picture cover and with an lyric/info insert, which gave a bit more background to the recordings and individuals. The words were Halkett's (as was the drawing that graces the front cover) and were recorded on a portable cassette recorder on his cottage in Camelford, Cornwall on the 28th of July 1980, on the occasion of the Bauhaus bass player's (first?) visit. David Jay (as he was still named then) recorded the music at Beck Studio in Wellingborough, a familiar Bauhaus and related haunt, on the 18th of April 1981. 'Nothing' is slower, quieter, more minimal piece of the pair. Its main instrumentation is a familiar David J octaving bass guitar line and a keyboard melody, punctuated by harsh Synare or the like electronic percussions strikes. The keyboard line is interesting in that it was produced by a Casio musical pocket calculator. (This actually predates the release, though not recording of, Kraftwerk's 'Pocket Calculator' – though not by much…) And of course it is all topped with René Halkett's poetry readings, wonderfully surrealistic in its imagery and intonation.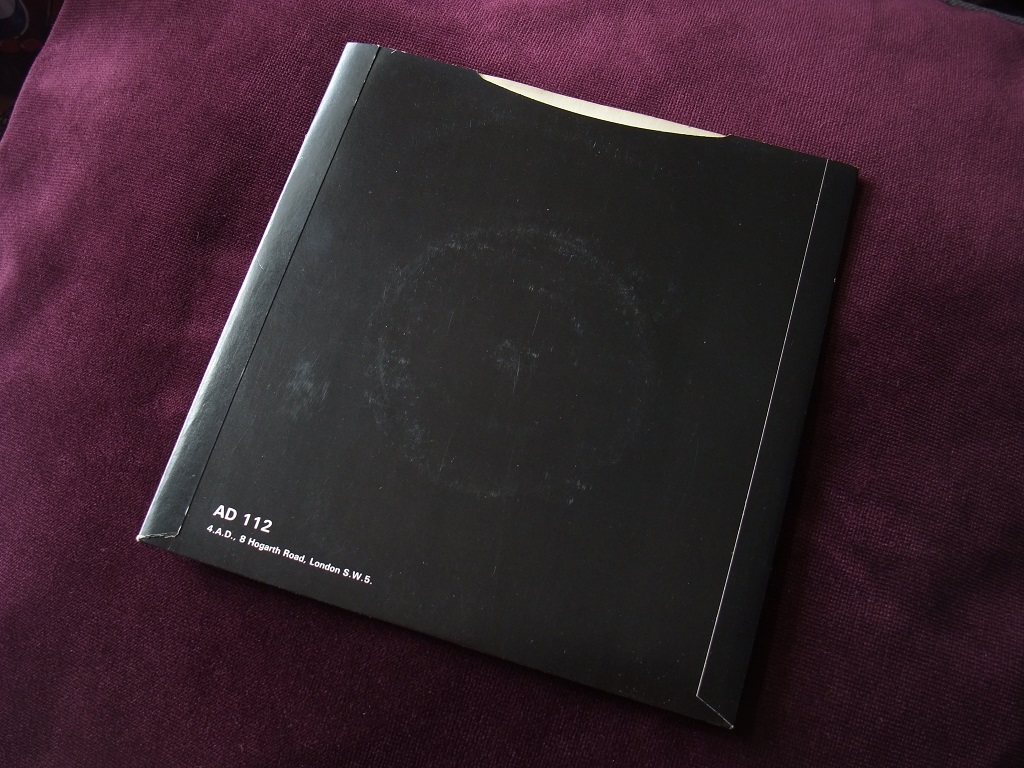 'Armour' is by contrast up-tempo – propelled by primitive rhythm box, again Jay's bass guitar present and correct but this time reinforced with paired piano lines – also in the mix some Wasp synthesizer atmospherics and occasional guitar chops. The fit of Halkett's reading into the music works especially well on this track, Jay made a good job of contrasting its various highs and lows with the musical variations. And, comparing it to the original sans-music spoken word only reading of Halkett from the later anniversary CD edition, hats off to Jay for fashioning such a musical accompaniment without recourse to latter day sampling and splicing edits.
Both songs have cropped up from time to time on various compilation albums and both together were most recently to be found on CD format as extra tracks on the 2013 Cherry Red CD re-issue of David J's 'Etiquette of Violence' album.
While no longer available on vinyl, the release remains documented at least on the current 4AD website, noting its original release date as 10th August 1981.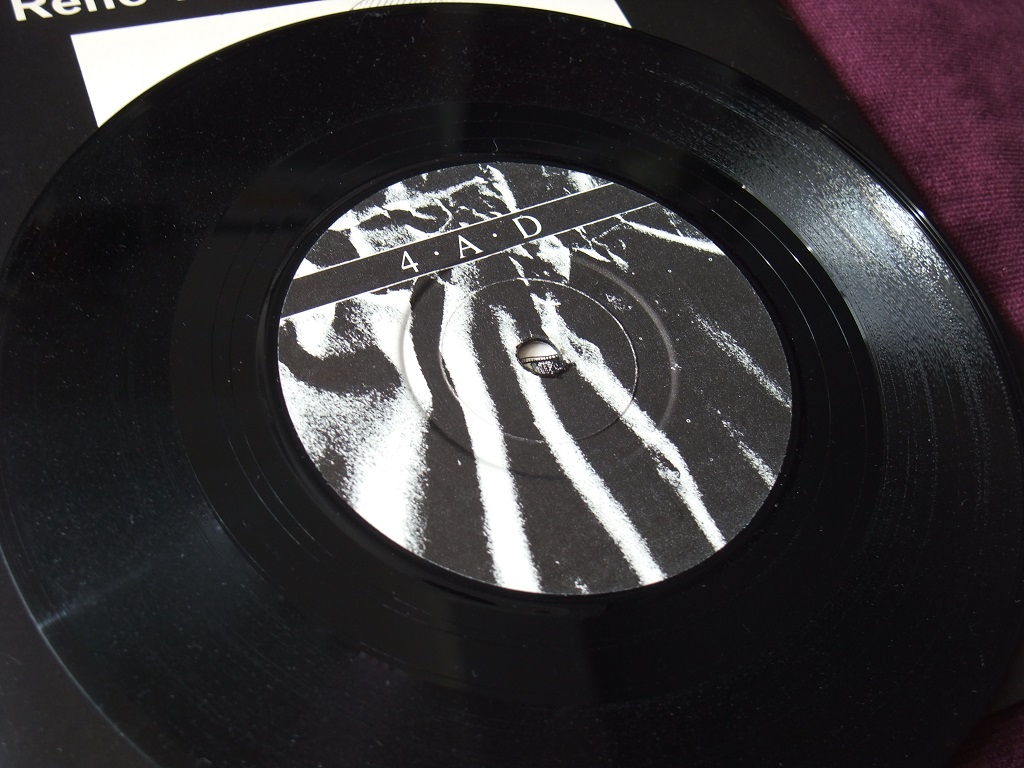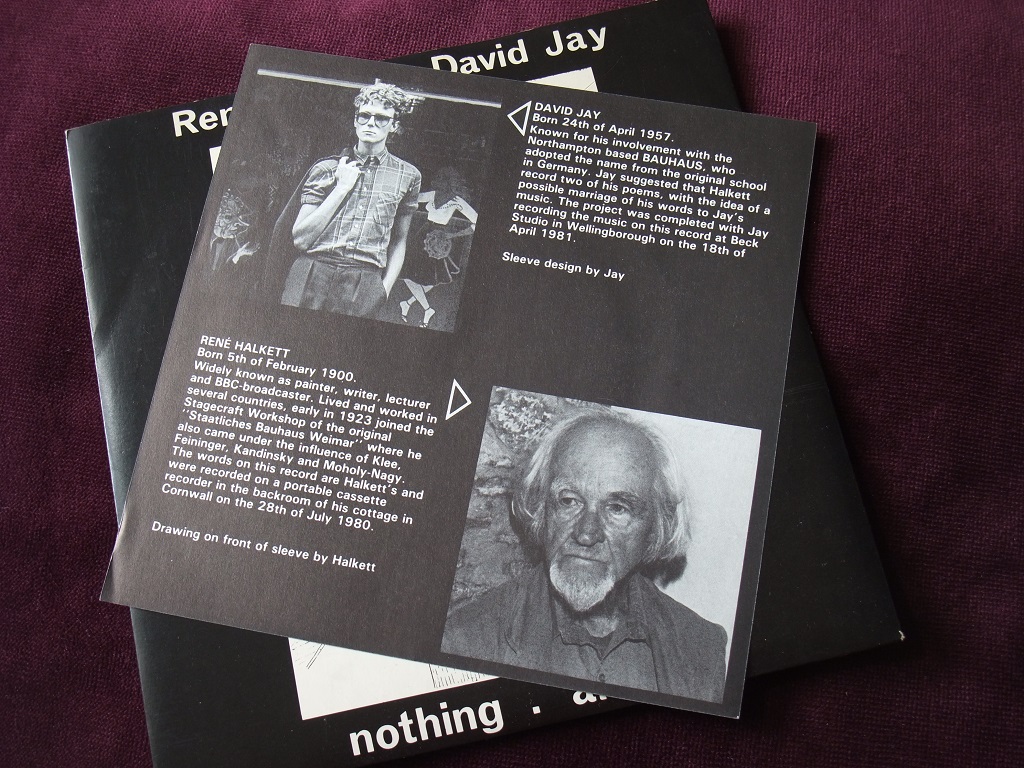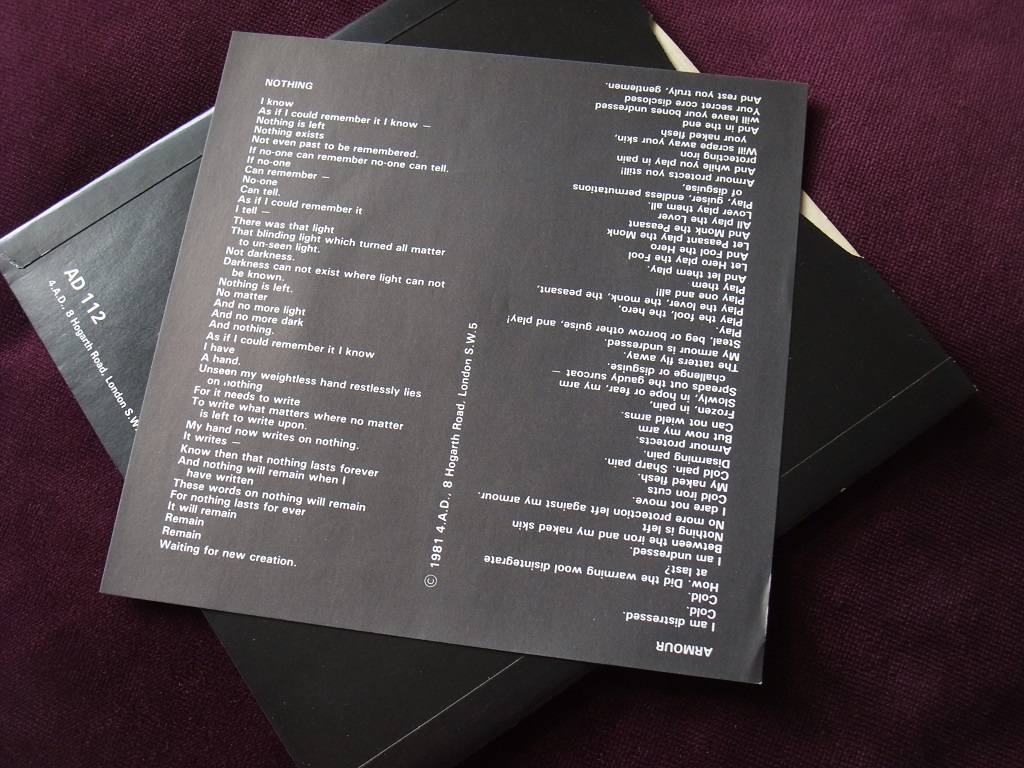 ---
20th Anniversary CD, 2001
Nothing (2:22)
Armour (2:50)
The New God (13:23)
Nothing (Spoken Word) (2:26)
Armour (Spoken Word) (2:53)
The collaboration lives on, despite René Halkett's death in 1983. A third reading had been made back in 1980 and David J fashioned this into a new piece in 2001, using the Luta that had been bequethed him after Halkett's death (which J describes as "a cross between a guitar and a lute that dates back to the mid-Nineteenth century" in his book, 'Who Killed Mister Moonlight?').  Limited to 1,000, machine-enumerated copies in a card sleeve, the CD came with the two original tracks, the new recording, 'The New God', and also the original voice only recordings of 'Nothing' and 'Armour'.
For more detail about the collaboration I highly recommend David J's book, 'Who Killed Mister Moonlight?', which gives a wonderful, warmly recalled tale of their friendship and the recording of 'The New God' in particular, urged on by the spirit of Halkett. And, my goodness, of the three spoken word readings that Halkett supplied this is quite a remarkable piece and a warning to the folly of worship. Musically very different indeed from 1981's recordings, the voice and its tale is quite the captivation here.
And some good news… you can still buy this anniversary edition on CD or digital download from David J's Bandcamp.