A simple joy of physical format products – the ability to pinpoint precise times and places associated with them. For me, Brian Eno's 1997 album release 'The Drop', (All Saints, ASCD32), always takes me back to a summer morning on the ground floor of HMV's flagship London Store on Oxford Street, on a brief city break, where I was loaded up with a shopping list of records to look out for across the many and varied record shops of the great city. New and exotic, second-hand and scarce – the list was long. This album had only just come out and was on that list…
It is, perhaps inevitably, one of Eno's more theoretical releases. 'Drop' music, 'unwelcome jazz' music, as an earlier title for the album had it – angular, mechanistic, jazz made by machinery, bereft of any of the Eno vocals that had made a welcome return from out in the cold on the previous Eno/Cale 'Wrong Way Up' LP and Eno's own 'juju space jazz' 'Nerve Net' LP. It's an acquired taste. Eno had a long-established interest in self-generating music and by now had the software/machinery for it. While the Koan Pro software lent itself to the more drifting, beat-less, ambient works, and there is no shortage of quiet, minimal pieces to be found on the album, much of 'The Drop' is beat-heavy and repetitive, melodies conjured with a seemingly ill-fitting randomness. While some melodies may be long and evolving rather than short and catchy, pieces as a whole tend to repeat, drop out, repeat… rather than build and branch. 'Sour' was a word that Eno used in comments to support the release and it's not an inaccurate way to describe the eeriness of a good few of the pieces. He also name-checked the work of Fela Kuti and it's percussiveness. If you're a fan of Eno's '70s works such as 'Another Green World' and 'Before and After Science' and their gentle watercolour funk, the music on 'The Drop' is crafted from somewhat alien coloured felt tips slotted into grid-like squares by comparison.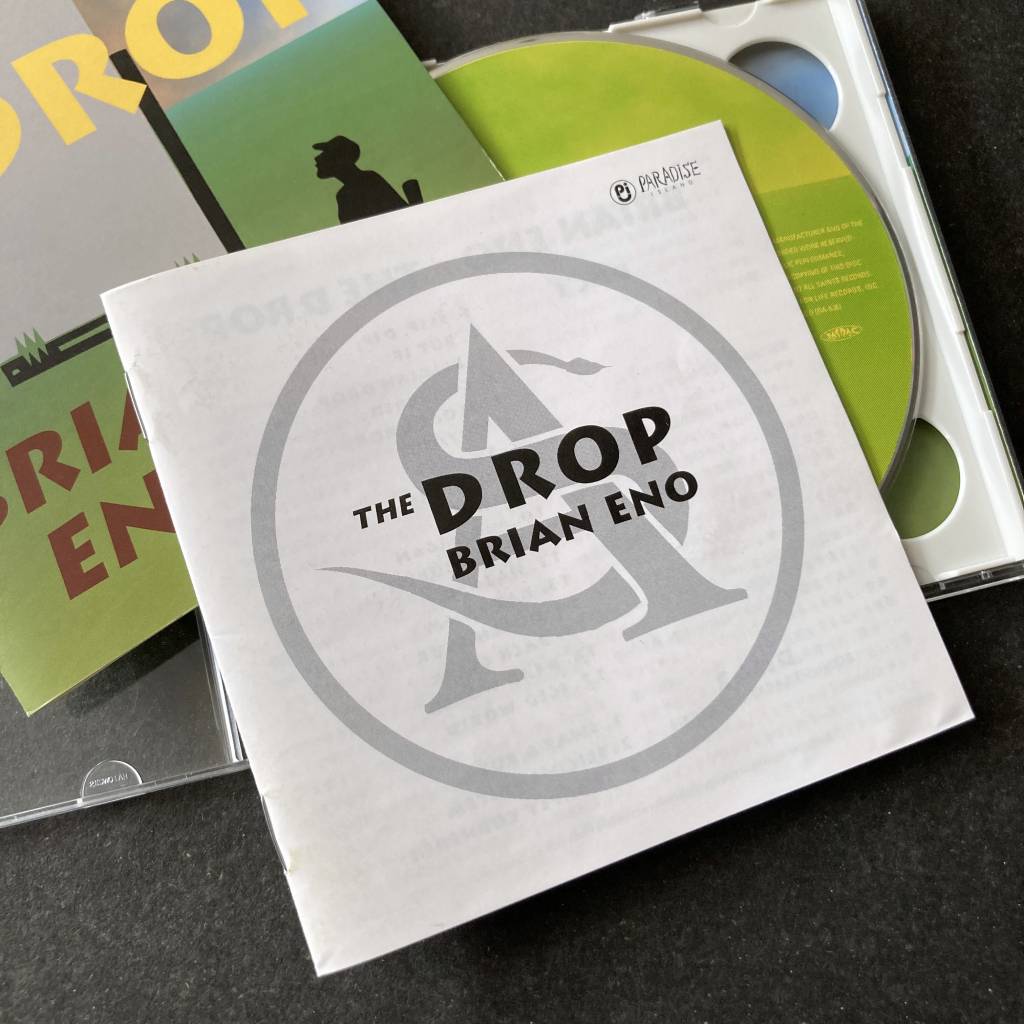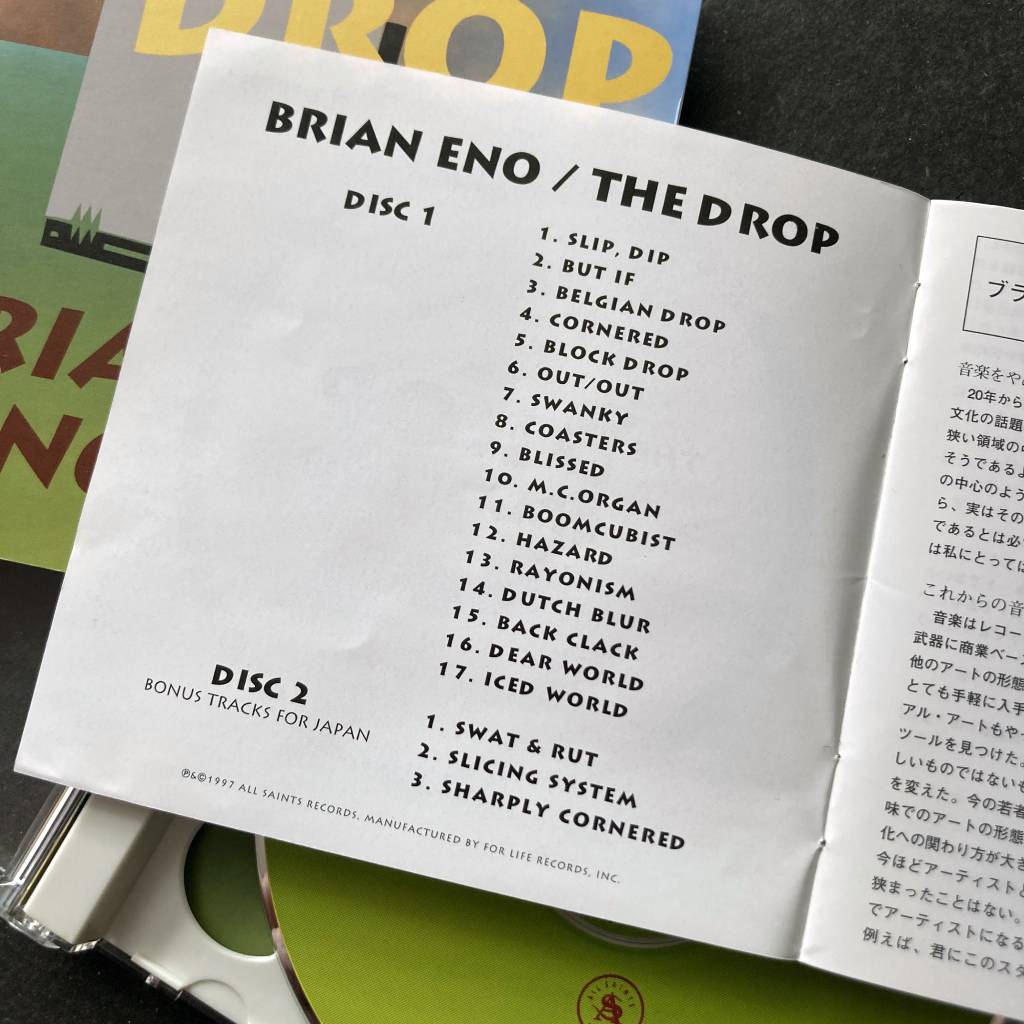 At some point the album was planned to be called 'Swanky', at least it was titled that way on the notes that accompanied the All Saints compilation CD 'Glitters Is Gold' (see below). 'The Drop' came in one of the ugliest covers ever, which didn't do it any favours either – some kind of comical clip-art fest coupled with some random finger stabbed choice from the Letraset catalogue for its typography. It didn't bode well, that summer morning, stacked in the racks of HMV. And of a reasonable budget but a long and competing wants list, it was tempting to leave it where it was. But the music contained has its moments. It's too long of course, but what 1990s CD album isn't, I would say… When it works it works well – 'Swanky', 'Coasters', 'Rayonism', 'Dutch Blur', all good stuff – and the closing 'Iced World' is another world of chilled, mesmerising repetition altogether.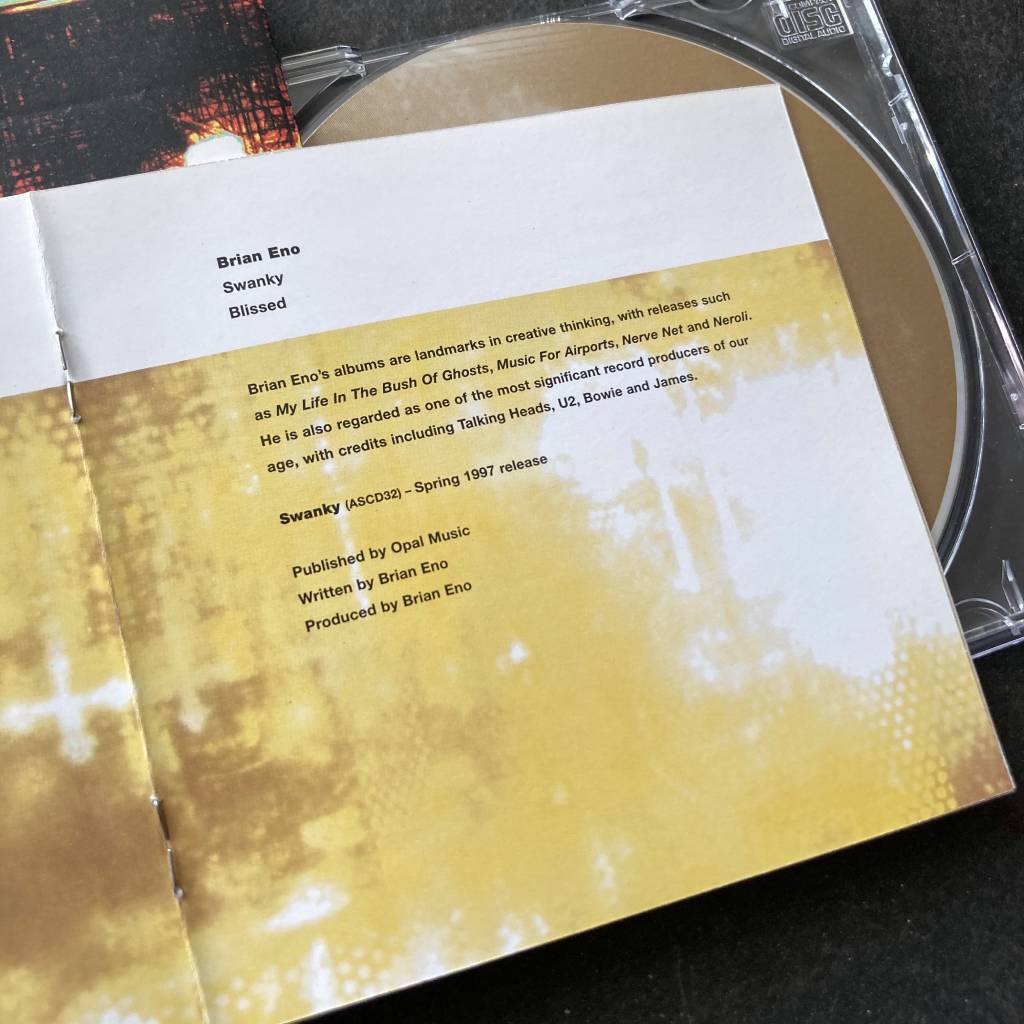 If has intrigued me enough to buy it on several occasions since that first summer, prompted by my version craziness. First off, a Japanese double disc edition also released in 1997 (Paradise Island, FLCP-1005). It wasn't even until many years later I even heard of this version – the fact that it came with three exclusive tracks unreleased anywhere, on a second 3″ mini-CD was too tempting to pass up on.
Of those three bonus tracks, they are all clearly of the same period and bear the same hallmarks. Two of them would later re-appear on a US 2005 reissue of 'The Drop' – one of the tracks, 'Swat & Rut' looks to only ever have been released on the Japanese 2 x CD.
Along the way, I also came across the All Saints label various artists compilation CD 'Glitters Is Gold' (All Saints, ASCD31), also originally a 1997 release. Amongst the selections to be found on this album are longer versions of two of the tracks from 'The Drop' – namely 'Swanky' (5′ 13″ compared to the album version of 2′ 50″) and 'Blissed' (4′ 26″ as compared to the 2′ 53″ album version).
Eno's 1990s era releases came in for some deluxe reissue treatment in 2014, of a double CD and double vinyl LP format that rounded up many previously unreleased or hard to come by tracks. Naturally, amongst these was 'The Drop'. The odd thing was that the second CD chose not to include any of those Japanese bonus disc tracks, nor the extended versions from 'Glitters Is Gold' – instead the second disc comprised the '77 Million (Laforet, Tokyo March 2006)'. Of these tracks, a few have very definite crossovers with 'The Drop' – for example, 'System Piano' is clearly built upon the same foundations as 'Rayonism', 'Little Slicer' is very similar, though not identical, to 'Out/Out', while 'Cold' is a 2′ 35″ excerpt of 'Iced World'. In general, I find this bonus disc hangs together really well – like the tracks just have an extra level to them compared to the rigidity of much of The Drop'.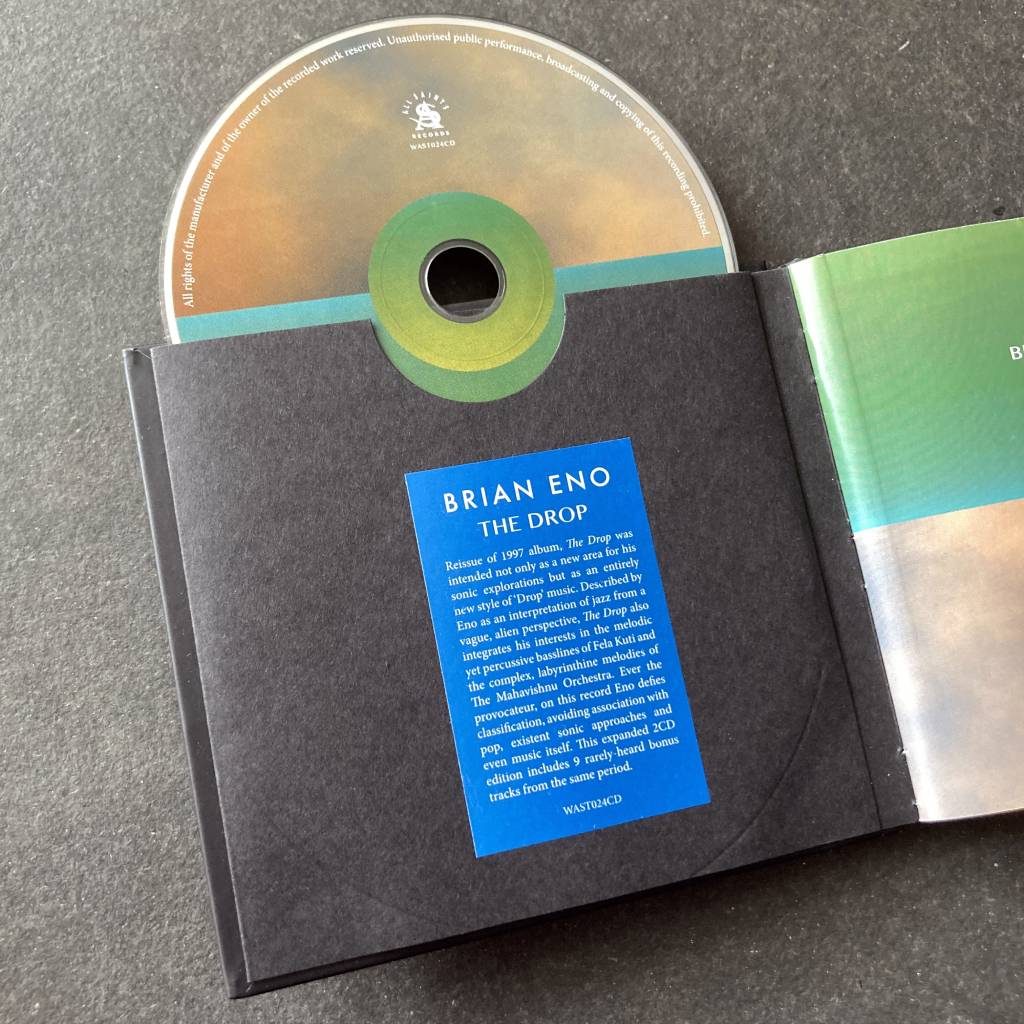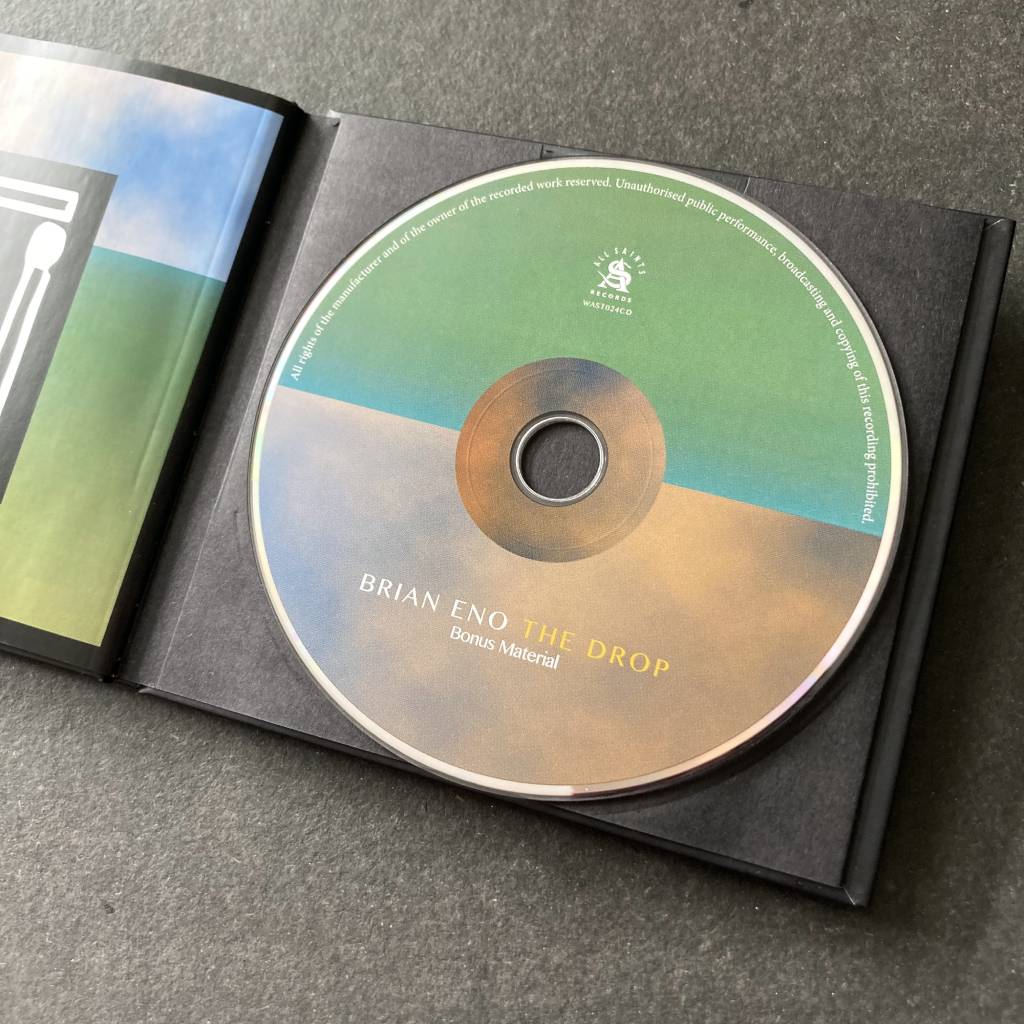 On the 2014 vinyl edition, two of the bonus tracks from the Japanese double CD were included. Both the vinyl and CD also chose to include an altered version of the album's closing track, 'Iced World' – which leads us nicely on to…
---
The version craziness of 'Iced World'…
Oddly, the first appearance for the mesmerising, hypnotic rhythmic chill that is 'Iced World' was back in 1995 as a 'hidden track' on the CD releases of the Brian Eno / Jah Wobble album 'Spinner' (All Saints, ASCD23). On this occasion, it was unlisted and there was no mention of a track title – but this first outing clocked in at a duration of 8′ 39″. Some may well argue it's as long as you need…
With the release of 'The Drop', this time round 'Iced World' closed out the album and had swelled up to an incredible 32′ 48″ in duration. Many an evening of headphone listening drifting to the repetition of track would be in order, for me…
Then in 2014 and the double disc reissues, the editing scissors were out once more and both the vinyl and CD editions feature a version timed at 18′ 48″ (and described as 'Vinyl Edit' on the double LP release). Meanwhile, disc 2 of the CD has a 2′ 35″ miniature of the track under the new title of 'Cold'.
Take your pick then from four durations, depending on your fondness/tolerance for this particular Eno track…
…but wait, we're not done yet – you want some vocals with that?! Then may I point your way to the release Metropole Orchestra – Amsterdam Festival 1999 – a semi-legal(?) release of a 1999 live broadcast – 10 mins duration this time out and actually a whole different live arrangement too!