This small object of desire was initially available for sale from the merch stall upon the occasion of Wire's second 'reactivation' (their third coming, I suppose) – a concert at the Royal Festival Hall [RFH], London on 26th February 2000. By that time, despite their absence after having reverted to the three-piece format of WIR and it having come to an end in the first few years of the '90s, the band's critical stock had risen, no doubt thanks to obvious Britpop admirers such as Elastica, Blur, et al, through the mid to latter half of that decade, but also along with the good work that Wire Mail Order [WMO] had been doing in curating the recorded legacy meantime. The vibe meant that selling out a venue as large as the Royal Festival Hall was possible in order to welcome back Wire on returning, once again. (Such a venue and audience was not necessarily a good thing, in my experience, but more of that later…)
By the end of their first incarnation (1977-1980), Wire's live concerts were largely focussed on playing hitherto unreleased material. The second period (1985-1990) started off as a year zero, where only new material was played, from day one and their concert at Oxford's Museum of Modern Art in June 1985 – though by 1990 a couple of radically reworked elements from the first period were included, such as 'Underwater Experiences' and '12XU' morphing and absorbed into 'Drill'. But you get the idea – Wire tended not to work that back catalogue in performance. For this reincarnation however, that diktat was abandoned as the RFH concert offer had a 'living legends' theme and the concert, and this calling card from the third day of rehearsals (and hence the title), openly embraced the band's past, perhaps even with a spirit of Glasnost.
Musically, this is pretty rough and ready… rehearsal recording for starters rather than studio, by the bands own acknowledgement (as referenced in the text that accompanies the recent 'PF456 Deluxe' 2021 RSD release), Wire did not routinely play guitars outside of studio and performance duties and certainly hadn't done so since ceasing operations through the 1990s. Refamiliarising themselves with not only their past material but their instruments too, this is the sound of the band by the third day in of rehearsals (in preparation for the RFH gig), which is listed being 29 November 1999.
There are two takes of 'Pink Flag' found on the disc. In both cases the music is stripped down to an even finer minimalism than the original – the guitars find one note and stick to it without need for even the already meagre chord progression of the original, while Lewis's bass anchors and throbs underneath with the occasional run. Excised altogether are the original's opening and closing varying speed rallies, this time out a simple 1, 2, 3, 4 count leads in to full flow and both end with an animated Newman shout of the final line, "how many dead or alive?!" and a cold finish. You can hear by the second take the increasing confidence – it is going to work out, after all.
'Mercy' in its original form on 'Chairs Missing' has always been one of Wire's more accomplished pieces that balances quieter, pent-up passages with ferocious, full-flight let rip moments. It's all here, little change from the original and its wonderfully oblique and mesmerising text (a longtime personal favourite of mine) – "crooks lie in a weighted state, waiting for the dead assassin" – indeed.
'Blessed State' is, perhaps unsurprisingly given that it is one of Wire's more straightforward tracks of the period, largely a reproduction of the original '154' build, though transposed to a new key, perhaps to aid now maturing voices…
'Art Of Persistence', originally an exclusive to this release for twenty years, has an interesting history all of its own. Amongst the new material that Wire were routinely playing live in 1979-80 was 'Ally In Exile', which was never recorded in studio form, but is found as a live recording on 1981's 'Document And Eyewitness' album (rough as hell, mind). As described, again in the text for the recent 'PF456 Deluxe' 2021 RSD release, it has since come back to life in reanimated form time and time again;
"Lewis took the text from 'Ally In Exile' and Wire ended up using it for an entirely different song. 'The Art of Persistence' (First Draft) was heard in its embryonic state on 'The Third Day'… But Wire would end up using the original musical components of 'Ally In Exile' to create a new iteration of the material. By the end of 2000, this idea was in the process of becoming 'I Don't Understand'…" (which was included first on 'Read and Burn 01' and later on 'Send Ultimate'). "Ten years after the release of 'Send', Wire would present a fourth exploration of the 'Ally In Exile' template, in the shape of 'Doubles and Trebles'. Using the original lyrics and and developing a sound more closely based on the original composition, 'Doubles and Trebles' would be chosen as the opening track on the 2013 album, 'Change Becomes Us'… In one further twist, in 2020, a new studio version of 'The Art of Persistence' was released on Wire's '10:20′ album. What had been a roughed out demo twenty years earlier was turned into a bright guitar pop tune."
Quite the journey then and fascinating to cue up all of these various incarnations and take a listen to each and spot the similarities/differences: 'Ally In Exile' (found on 'Document and Eyewitness'> 'The Art of Persistence (First Draft) (found on 'The Third Day') > 'I Don't Understand' (found first on 'Read and Burn 01' then on 'Send Ultimate') > 'Doubles and Trebles' (found on 'Change Becomes Us') > 'The Art of Persistence' (found on '10:20′). Phew!! The difference between the original, live, hot take of 'Ally In Exile' and smoothed out, high gloss finish of 'Doubles and Trebles' not nearly as radically different as may have been imagined. The text of 'The Art Of Persistence' a masterclass rewriting while retaining the narrative intact – the twenty years between the First Draft and the '10:20′ revision hardly different other than a bit more finesse and polish. And the real outlier, 'I Don't Understand' – a version of the original 'Ally In Exile' music in there somewhere, as if hidden by cipher.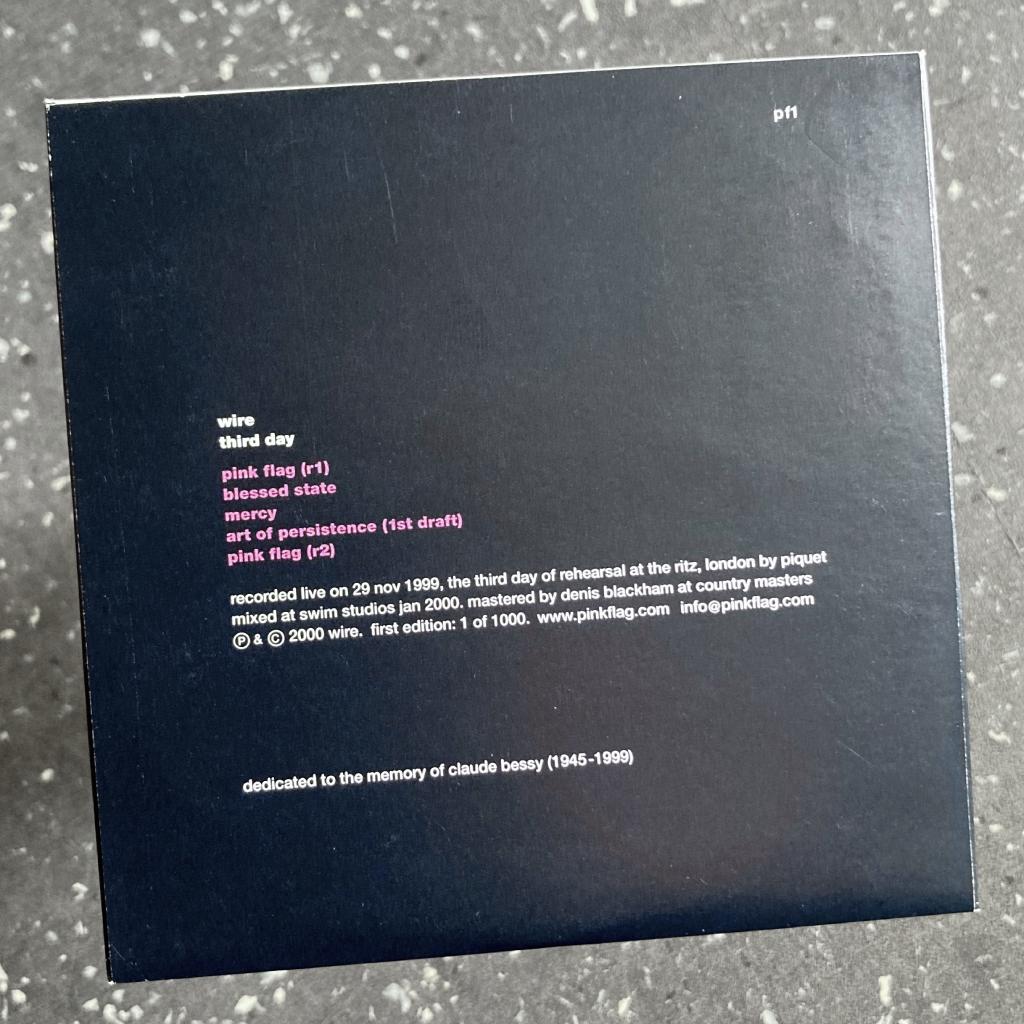 Printed on the reverse of the cover is the phrase 'First edition: 1 of 1000', a neat trick to play with the 'edition' numbering convention – the ultimate in low number exclusivity, just for you… Also inscribed, 'Dedicated to the memory of Claude Bessy (1945-1999)'.
Tracklist:
Pink Flag (R1) (3:56)
Blessed State (3:23)
Mercy (5:28)
Art Of Persistence (1st Draft) (4:34)
Pink Flag (R2) (3:36)
It's difficult to come by the CD nowadays though it is available digitally from Wire's PinkFlag site.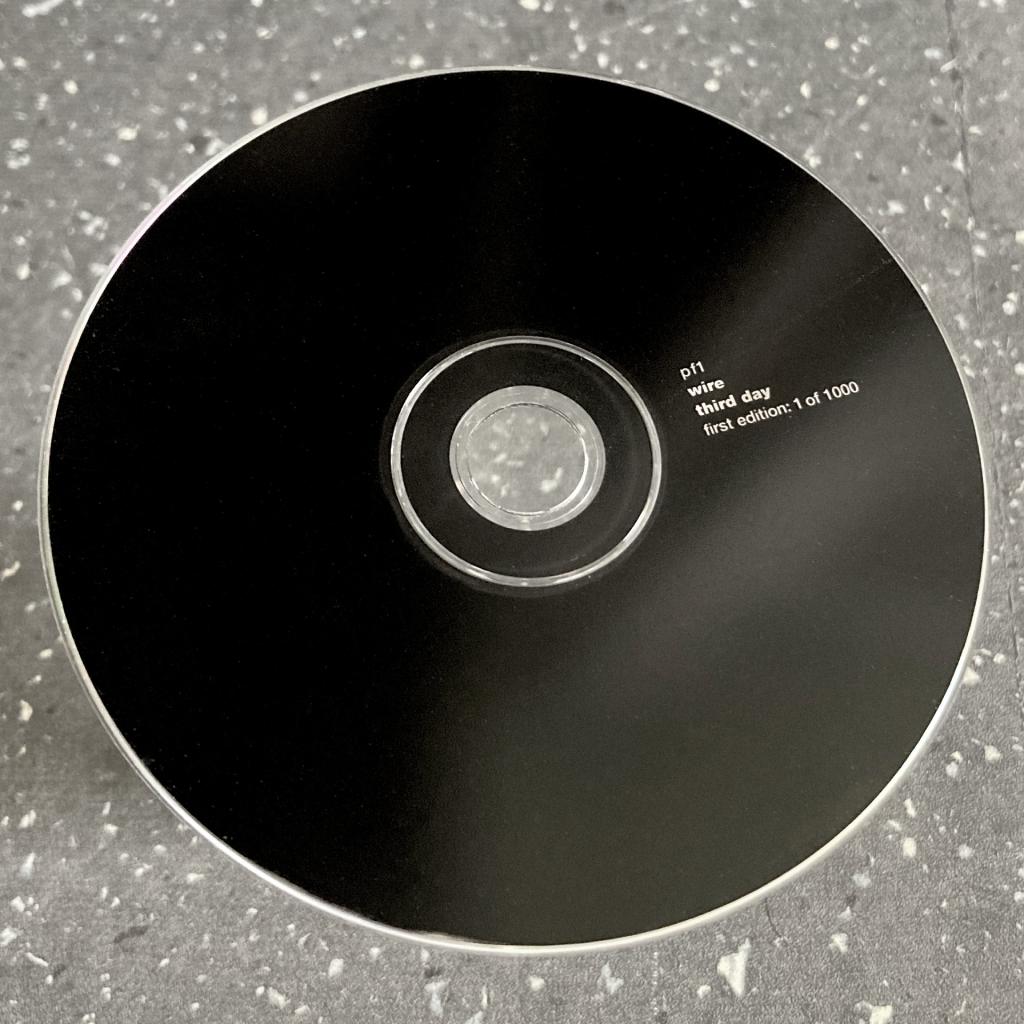 So much for the release then. The gig itself I look back on with mixed views. It was good to see Wire live but the even, on such a scale, tended to attract an audience with more of a passing interest, I don't think I'm being too unkind in saying. Seated in the balcony as I was, the amount of bloody chit-chat and comings and goings for drinks and snacks were not what I came for, for sure. Perhaps the 'now we've done Wire' crew could tick this off the gig list. I left early, it was doing my head in. Fast forward a few months and Wire played The Garage in London for three nights over a bank holiday weekend – and it all made so much more sense in the smaller scale of that venue. It was glorious stuff that they were back in full flight. I had booked to see the first night, but was so taken with it that On the way out I immediately got myself a ticket for the third night too (the middle night already a sell out). A well stocked merch table meant I left with a few hard to come by Graham Lewis related releases on CD too, for good measure – and of course the CD documenting the RFH gig – 'It's All In The Brochure' – but that's for another time.
Wire's gigs of 2000 were the one time that their set list would concentrate on the back catalogue by and large. By 2002 and the 'Read and Burn' / 'Send' period, the focus was back on new material once again, though a few older pieces for the encores. Since then and in latter years Wire have made greater peace with the back catalogue, mixing and matching the old and the new note frequently.