When looking out these CDs to photograph for this post, and looking back on previous VersionCrazy posts for XTC… I was surprised to find nothing other than a passing mention in the 'Machines' 1980 compilation album on Virgin! How could I have managed not to feature this wonderful band in any detail in the 14 years of the blog so far? Anyway, what was exercising me was the various versions of a later period single, from when the band's star was much higher stateside than in their native UK – 'King For A Day'.
Lifted from 1989's glossy album production, 'Oranges and Lemons', it seemed a fairly surefire selection from the album's tracks as a radio-pleasing drive-time number in much the same style as Tears For Fears has scored a few years earlier with 'Everybody Wants To Rule The World' – it has quite a resemblance to that track. What's interesting here is that there were major differences between the UK and US releases – the American release also saw fit to procure some radically changed remixes of the song for its outing.
---
UK CD single: Virgin VSCD 1177
This was clearly the era of the 3" CD single as format of choice for Virgin Records as not only were all three of XTC's singles lifted from 'Oranges and Lemons' issued on that format but the album itself came in a limited edition 3 x 3" CD pack – plus there had also been a 3" CD re-issue of 'Senses Working Overtime' too the previous year. Crazy for it! Virgin Records were famously also indulgent of elaborate and quirky packaging for XTC releases and this extended to 'King For A Day', coming in a die-cut crown-shaped cardboard sleeve for this UK release.
The UK CD single contains two mixes of the track – the '7" Version' and the '12" Version'. The 7" Version appears to be identical to the album mix as far as I can tell. The 12" mix goes on quite a diversion with extra synth bass and drum machine elements as well as some quite dated digital synth brass stabs and frankly awful jerking around in a sampler with some of the vocals. It has not aged well…
The two home demo tracks are interesting but you can see why they weren't promoted towards the 'Oranges and Lemons' first eleven, let's say. They were originally exclusive to the 3″ CD single, since the 7″ and 12″ vinyl editions instead included 'Happy Families' as B side fare instead.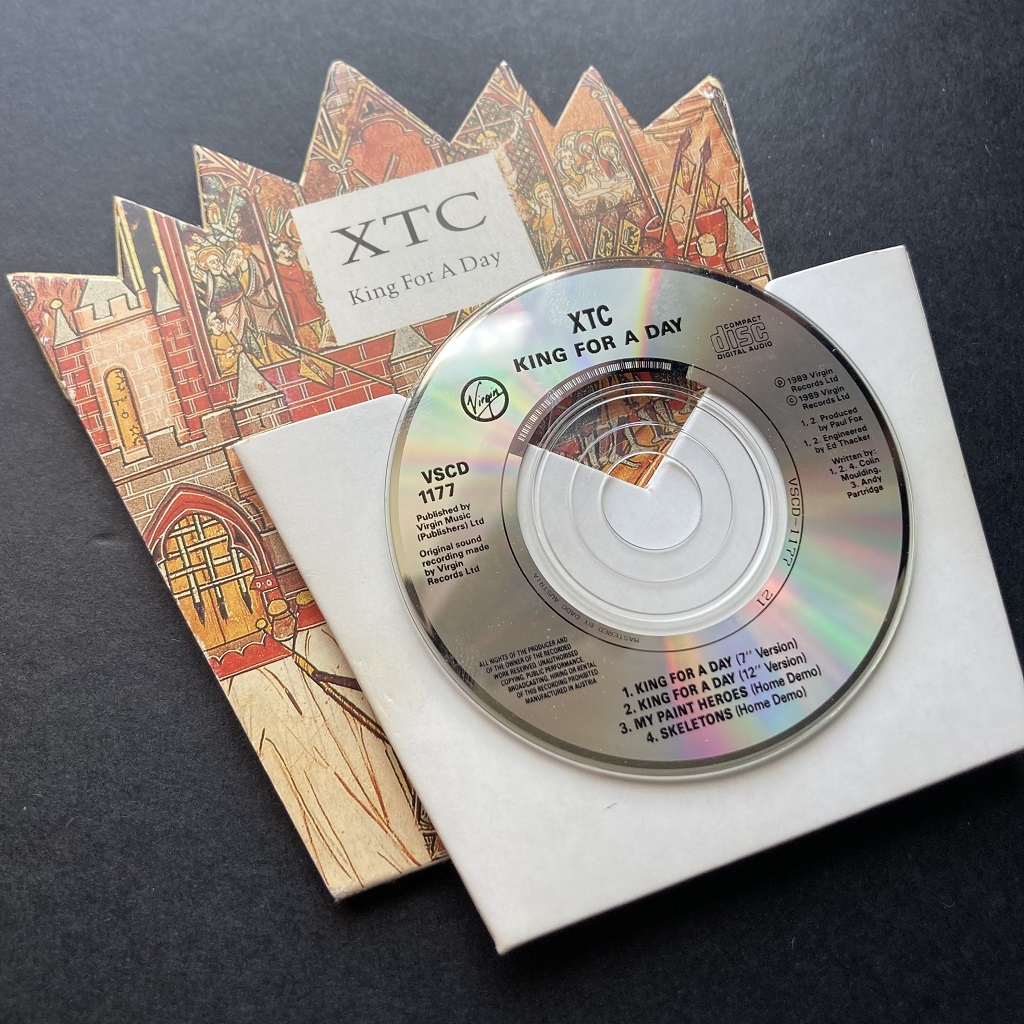 Tracklisting:
'King For A Day' (7" Version) (3:39)
'King For A Day' (7" Version) (7:15)
'My Paint Heroes' (Home Demo) (3:31)
'Skeletons' (Home Demo) (2:35)
US CD single: Virgin / Geffen DIDX005188
Going with the familiar 5" CD format and standard jewel-box case design, this release dispenses with the mixes used on the UK equivalent as well as the B sides. Instead, two all new remixes that strip down the track and rebuild it altogether are presented, much to the horror of the band themselves judging by comments subsequently made in the book XTC: Song Story: The Exclusive Authorized Story Behind the Music by Neville Farmer.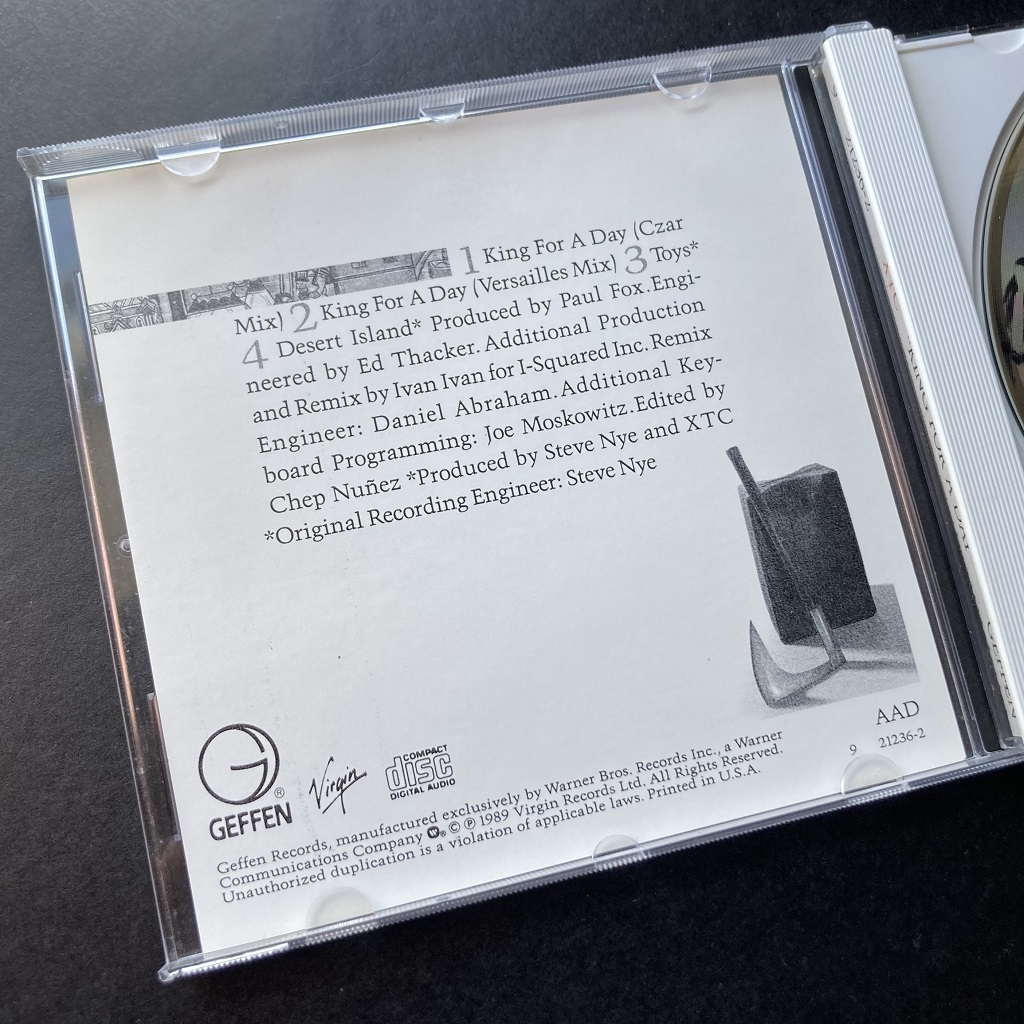 To my ears. while obviously a product of he fashions of the time, they have aged better than the UK 12″ Remix. The 'Czar' mix goes for it with a four-to-the-floor kick drum and manically weird time signature bass sequence synth and then layers up vampy, dancey piano on top as well as more of those synth brass stabs so beloved of the late '90s. The 'Versailles' mix is a gentler update and keeps most of the fixtures and fittings from the regular album mix but treated and again with drum machine and bass synth sequencer aplenty.
For the B sides two tracks that had originally appeared back in 1983 on the double pack 7" of 'Love On A Farmboy's Wages' were dug out from the archive – I guess since they had not previously been issued in the UK.
There is another remix out there from the time, but it looks like it remains exclusive to vinyl – a five-track US 12″ Promo from Geffen Records (PRO-A-3522) includes 'King For A Day (I Dub Thee Sir Mix)' is remixed and produced once again like the two mixes found on the US CD by by Ivan Ivan.
Tracklisting:
'King For A Day' (Czar Mix) (6:30)
'King For A Day' (Versailles Mix) (5:07)
'Toys' (4:20)
'Desert Island' (4:47)