The second single to be lifted from XTC's 1982 mammoth opus, 'English Settlement'. Despite being of equal merit, 'Ball and Chain' failed to repeat the success of the preceding 'Senses Working Overtime' single, much to my bemusement at the time, as this release came packed with XTC goodness in its EP form. As it turns out, the various tracks have a very rich version crazy history to delve into…
No major changes to the A side, culled from the album, a solid piece of Colin Moulding's craft – the remaining tracks on the EP were from the pen of Andy Partridge and included two new tracks in the shape of 'Punch and Judy' and 'Heaven Is Paved With Broken Glass' on the 7″, while the 12″ release squeezed in an additional dub mix of an 'English Settlement' album track ('Down In The Cockpit') suitably retitled as 'Cockpit Dance Mixture'.
I originally bought the 7″ only – but the B side tracks nearing 8 minutes in length crammed on a 7″ at 45 rpm was a little quiet and the 12″ was a much better experience.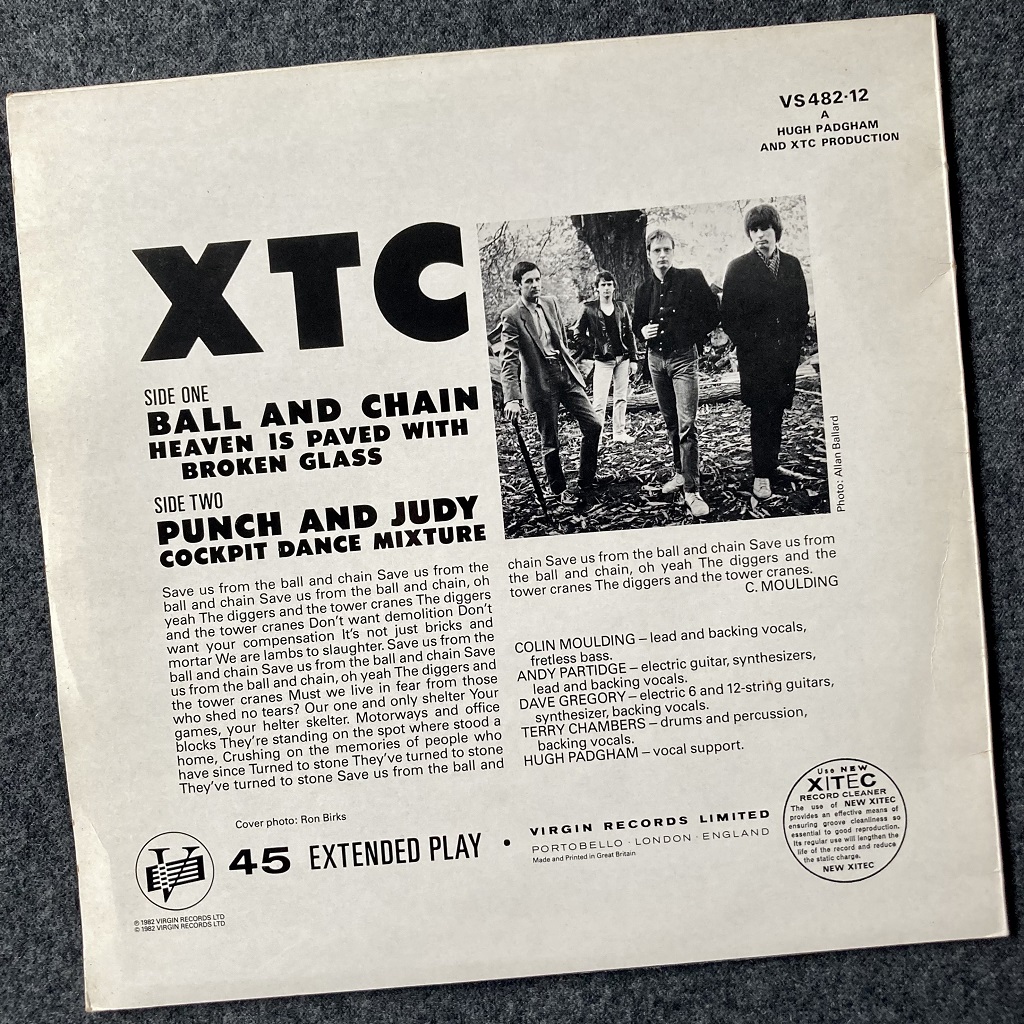 As it happens,'Ball and Chain' and 'Punch and Judy' had originally been recorded for an intended double A side single in March 1981 long before the 'English Settlement' sessions – with the team of Clive Langer and Alan Winstanley, who had famously steered Madness to enjoy a welter of chart success, producing these shelved takes. More on that later…
The main version crazy interest I'll focus on here comes from 'Heaven Is Paved With Broken Glass', since the original recording featured on this single has never re-surfaced on any later releases by the band, as far as I'm aware. Late 1982 saw XTC's first hits compilation album, 'Waxworks', early copies of which came packaged with the additional 'Beeswax' compilation, selecting some of the band's many excellent B sides.
Now, I already liked 'Heaven Is Paved With Broken Glass' a lot – it has a rather charming, slightly off-kilter drive to it. When I listened to the version on 'Beeswax' though – my goodness – it was a whole different matter. With XTC, you've already priced in some pretty heavy-duty steam-hammer propelled force with Terry Chambers in the drum stool, but this version takes that to a whole new level of, dare I say it, funkiness. The 'Beeswax' version of the track just tightened everything up and got into the groove pronto. Looking back on the book XTC: Song Story: The Exclusive Authorized Story Behind the Music by Neville Farmer, the entry for 'Heaven Is Paved With Broken Glass' reveals that the band were never happy with this original rushed mix by Hugh Padgham with the band, which I presume was why the band chose to make a new mix of it for 'Beeswax'.
By the time of the wonderful 'Rag & Bone Buffet' compilation CD in 1990, it was the 'Beeswax' version of the song that was included, meaning that this original B side mix has yet to resurface on CD, as far as I know. Its worth a listen if you get the chance – much less focussed than the later mix, who knows, you may even prefer it…
The versions of 'Punch and Judy' and 'Cockpit Dance Mixture' from this EP, both produced by the band along with Hugh Padgham, would also be included on CD format on 'Rag & Bone Buffet'.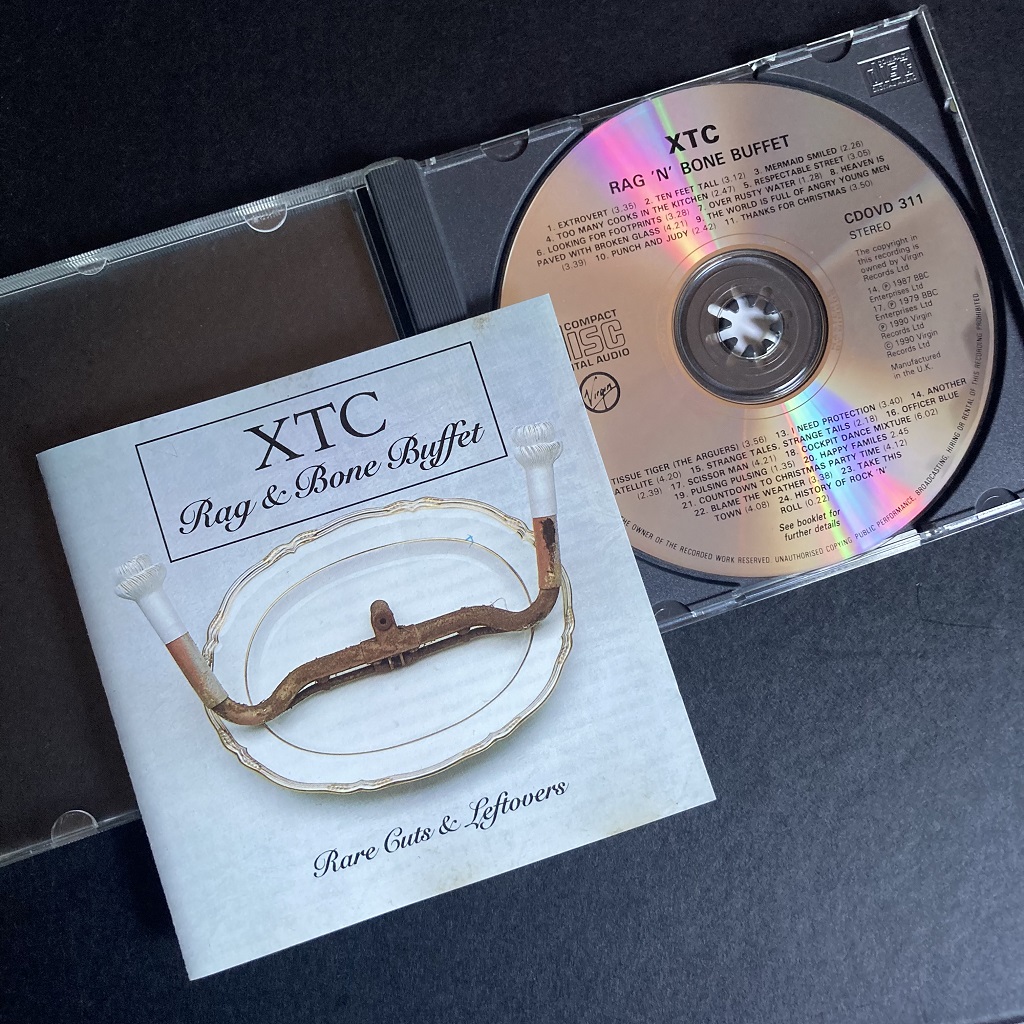 As mentioned earlier, there are however other versions of 'Ball and Chain' and 'Punch and Judy' to be found, the unused single versions produced (notionally, though as it happens, not quite…) by the team of Langer & Winstanley. These versions would see a release on the 2002 CD boxset 'Coat Of Many Cupboards' alongside some frank sleeve notes from the band explaining their feelings on the sessions and why these versions remained in the vaults until eventual compilation on the box set. These versions definitely come complete with a certain swagger that you'd finger from the Langer & Winstanley's Madness productions, I think it's fair to say – and the band openly state they prefer them, but production politics led to them being locked away until the 2002 box set.
Finally, the sleeve design is a wonderfully retro piece of faux-'60s EP style sleeve design – XTC would hardly be alone in dipping into such nostalgic indulgences like this, many another early '80s UK popsters would too – such as this, this and this – but its a nice design all round, from sleeve to labels.