So, farewell Vangelis – in a long life, we have been richly rewarded with his music for so long and the grace of how he went about his art. He may now be gone, but there remains so much of his music to explore and be thankful for now.
I feature this CD since – well, it is VersionCrazy after all and its always about the obscure details of versions and variations – so, why not… 'The Collection' on the face of it is yet another compilation CD of the man's work – and there is no shortage of them to choose from over the years. But I'll focus on this one today as it is the one official outing on CD for a version of the opening titles theme for 'Blade Runner' that has remained strangely elusive from the multiple variations of the main soundtrack release over the years.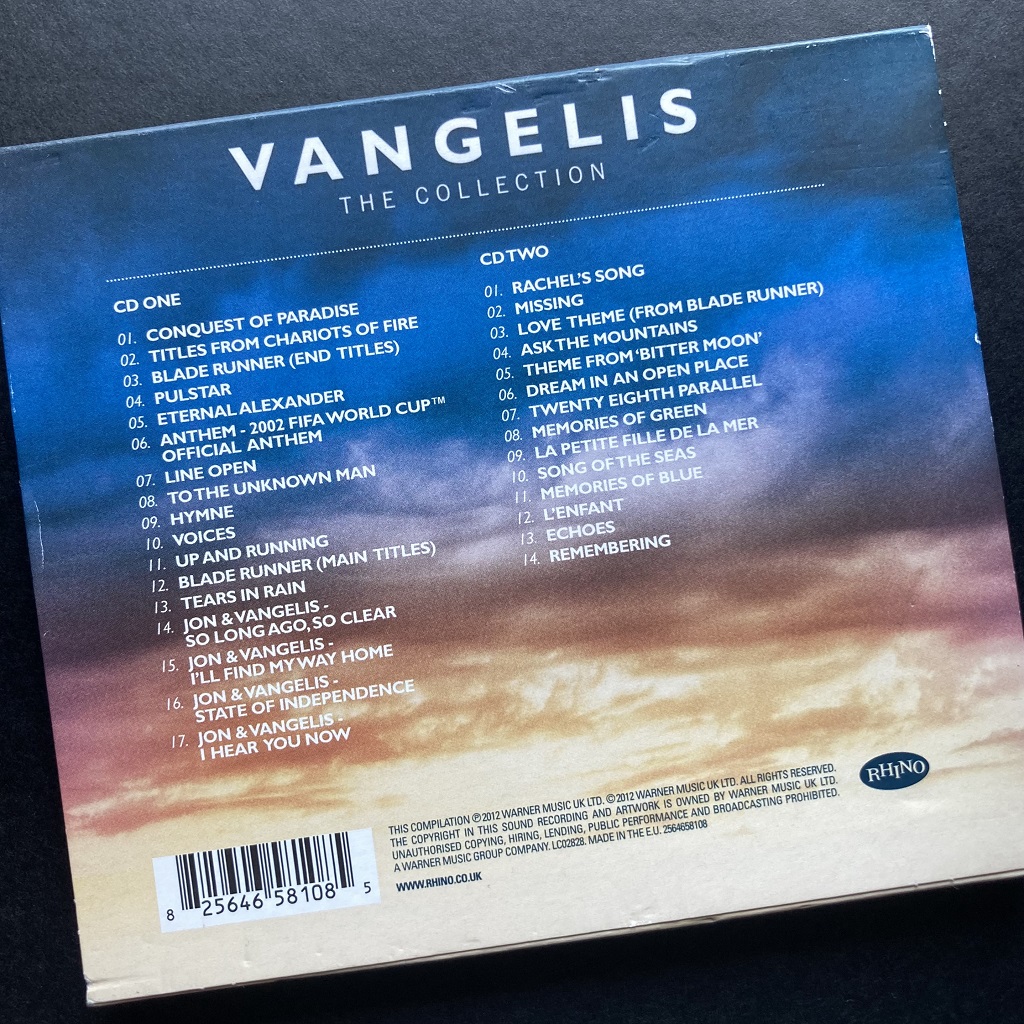 You see, this CD features the track 'Blade Runner (Main Titles)' with a duration of 5'34" that differs from the version released elsewhere – on the (eventual) 1994 CD release of the 'Blade Runner' soundtrack on EastWest and the later 3 x CD 'Blade Runner Trilogy' version from 2007 that saw a second disc of more of the material from the film soundtrack that was AWOL from the 1994 release. On both of these releases, the track 'Blade Runner (Main Titles)' has a duration of 3'42" – much shorter than the version found here. This CD crucially includes the actual opening titles music from the film – you know, the incredibly minimal synth and 'booms' music that was inexplicably missing from the 1994 and 2007 versions. So, if you are as enthusiastic about the 'Blade Runner' soundtrack, well worth finding this compilation. (The 'Blade Runner' soundtrack has quite a history to it and is well worth a deep-dive all on its own… some day.)
The other point of interest on this CD at the time of release was the closing track, 'Remembering', a new composition making its debut here. The compilation itself seems to have been timed to coincide with the 2012 Olympic Games in London, judging by comments from the sleeve notes – which would explain the sleeve styling – not the most attractive of sleeve designs, but the music within – difficult to find fault with… Farewell, Vangelis.