With a post-Ultravox solo career now into its 43rd year, John Foxx has a rich back catalogue to his name and along the way there has been many a compilation that gathered up his work and sliced and diced it salted with tasty, unreleased or hard to come-by morsels. This series of posts will examine each of these compilations in detail and summarise what each one has going for it and therefore worth your time seeking out.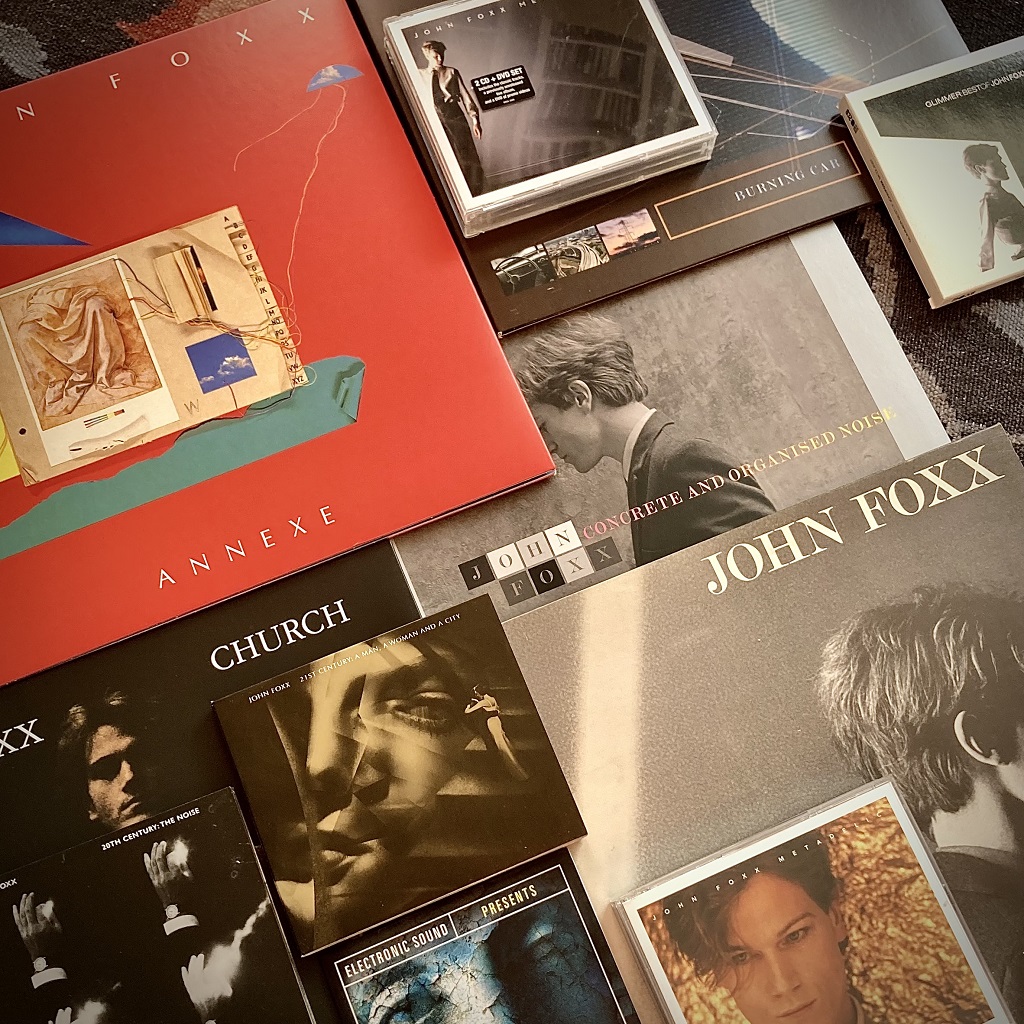 Starting with two releases dating from 1981…
John Foxx 'Burning Car' Japanese 'Pic Label' series 12″ single (Virgin, VIP-5903, 1981)
Taking the usual cavalier attitude to track selection and sleeve design that many Japanese releases of this period had, this little beauty gathers together a selection of tracks from three of John Foxx's 1980 singles ('Miles Away', 'Burning Car' and the extra single from the 'No-One's Driving' double-pack 7 inch) in a sleeve/label design unlike any other Foxx release. (It was part of series of Virgin acts that had a similar format release, some of which the site has featured before such as The Flying Lizards and The Human League – also XTC, Mike Oldfield, and Gillan)
What is / was unique to this compilation?
On its original release it included a different mix of 'Miles Away', the same one as used in the promo video for the single, I believe. All of the other tracks had appeared across the 1980 singles.
Where can the exclusives be sourced now?
Subsequently, the alternative mix of 'Miles Away' finally made it on to CD with the late-2008 2-disc re-issue of 'The Garden'.
Tracklisting;
Side One
Burning Car
20th Century
This City
Side Two
Miles Away (Alternative Version)
A Long Time
Mr No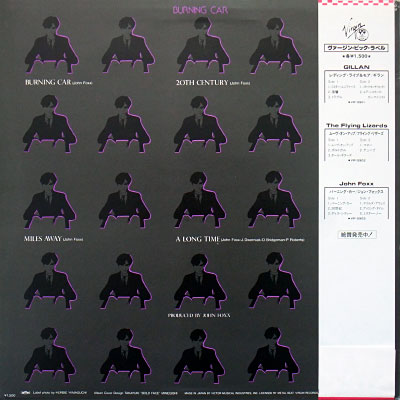 The sleeve has a large die-cut hole on the front for the label design to be seen through plus an obi strip. The large picture label design is the same on both sides of the disc, except for the different A/B side track titles in small type. It comes with an additional one-sided black and white insert sheet with info, lyrics and photo plus a small text-only (record company?) card.
Until the 2008 'The Garden' 2 CD re-issue  this was the only place to find the alternative mix of 'Miles Away' on disc, as far as I'm aware.
Even so, its nowadays still a very nice item for any Foxx collection, regardless. Quite what John would have made of the whole aesthetic of the release is a moot point however, given the particular air that he strove for with his own fantastic designs for the 'Metamatic' era sleeves.
Also hailing from 1981 is the Canadian only self-titled compilation album.
'John Foxx' Canadian LP (Metal Beat / Virgin /Polygram, META 1101, 1981)
A Canadian-only release, it's a very nice single LP compilation that rounded up a number of non-album A and B sides plus the flexi-disc only 'My Face' in a much better sound quality than scratchy flexidisc original.
What is / was unique to this compilation?
Not an exclusive, since it was already available, but… on its original release this compilation was the only place for quite a long time to find 'My Face' in decent sound quality – previously it was only available on a flexi disc given away free with Smash Hits magazine in the 2nd to 15th October 1980 edition.
Where can the exclusives be sourced now?
'My Face' has since been included on the following CD re-releases:
'Modern Art – The Best Of John Foxx' (Music Club MCCD 454, 2001)
'Metamatic' 2 CD re-issue (Edsel Records EDSD 2013, 2007)
'The Virgin Years 1980-1985' 5 CD Box Set (Metamatic META52BX, 2014)
'Metamatic' 3 CD Box Set re-issue (Metamatic META63BX, 2018)
It has also been re-issued on vinyl:
'Burning Car' LP (Metamatic META59LP, 2016)
Tracklist:
Side 1:
'A New Kind Of Man'
'Touch and Go'
'No One Driving' (Single Version)
'Mr No'
'Miles Away'
Side 2:
'My Face'
'Underpass'
'Glimmer'
'This City'
'Metal Beat'
As a whole, the album was a curious alternative to 'Metamatic' by way of including four of the album tracks, all four tracks, (including the re-recorded single version of the title track) from the 'No-One's Driving' double-pack 7" single, both sides of the 'Miles Away' single, the B side '20th Century' and aforementioned 'My Face'. (No space for 'Burning Car', which seems like an obvious ommission.)
The sleeve design was a scaled-up version of the gatefold sleeve design to the 'No-One's Driving' double-pack 7", very nicely done. As well as the LP, it was also issued on cassette format too.