To this day, Kraftwerk remain an act that does things its own unique way and more often that not flies in the face of the norms of the music business. If you expect to be able to find the band's back catalogue re-issued every few years with a multitude of bonus tracks added, you will be very mistaken. For the most part, the albums come as the album's were originally released, with no extra tracks such as remixes, alternative versions, etc. In some cases, you simply cannot find official releases at all – e.g. the bands first three albums ('Kraftwerk', 'Kraftwerk 2', 'Ralf and Florian') have never received any official re-release since 1980 and never on CD/digitally. One exception to Kraftwerk's otherwise strict behaviour however is this CD dating from January 1997, a Japanese CD edition of 'Computer World' that contains… hold your breath… a bonus track!
The bonus track in question is 'Dentaku', the Japanese language version of the lead single and album track, 'Pocket Calculator'. No great shakes you might think and considering what other bonus tracks might have been selected to add to 'Computer World' a pretty meagre addition. But, that this CD ever saw the light of day with even one bonus track really is something. To this day, it remains the only release officially where you can find the original version of 'Denatku'.
What is even more intriguing is that when it was first announced and listed for release it was also going to contain two further bonus tracks – these being 'Tour de France' and 'Tour de France' (Instrumental). Back in August of 1996 I was excited to learn from a couple of mail order outlets of the time ('Esprit Mail Order', still going strong and 'Revolution') that they were listing this forthcoming Kraftwerk CD re-release with three bonus tracks. By the time it finally appeared in January 1997, the two versions of 'Tour de France' that had been advertised as being included were nowhere to be found.
As for what other bonus tracks you might have added to a CD re-issue of 'Computer World' – and which any other band might have delivered on years ago with such a release – well, take your pick from;
the 'Computer Welt' 12″ remix version of the album's title track issued as a single in West Germany in late 1981,
the edited 7″ and 12″ single / remix versions of 'Computer Love' issued as a single in the UK in May 1981,
the US 7″ edit of 'Numbers' issued on 7″ in 1981,
the French language version of 'Pocket Calculator', 'Mini Calculateur', issued as a single and also included on the original French 'Computer World' album releases.
the UK 7″ remix of 'Numbers' (that also incorporates elements from 'Computer World 2') issued on the B side of the 1982 'Showroom Dummies' single re-release in the UK.
…and the 7″ edits of 'Pocket Calculator' (UK and US ones differ) / 'Dentaku' / 'Mini Calculateur' if you want to get into the fine detail…
and I am not even touching on the German language versions which would need a release all of their own with bonus tracks.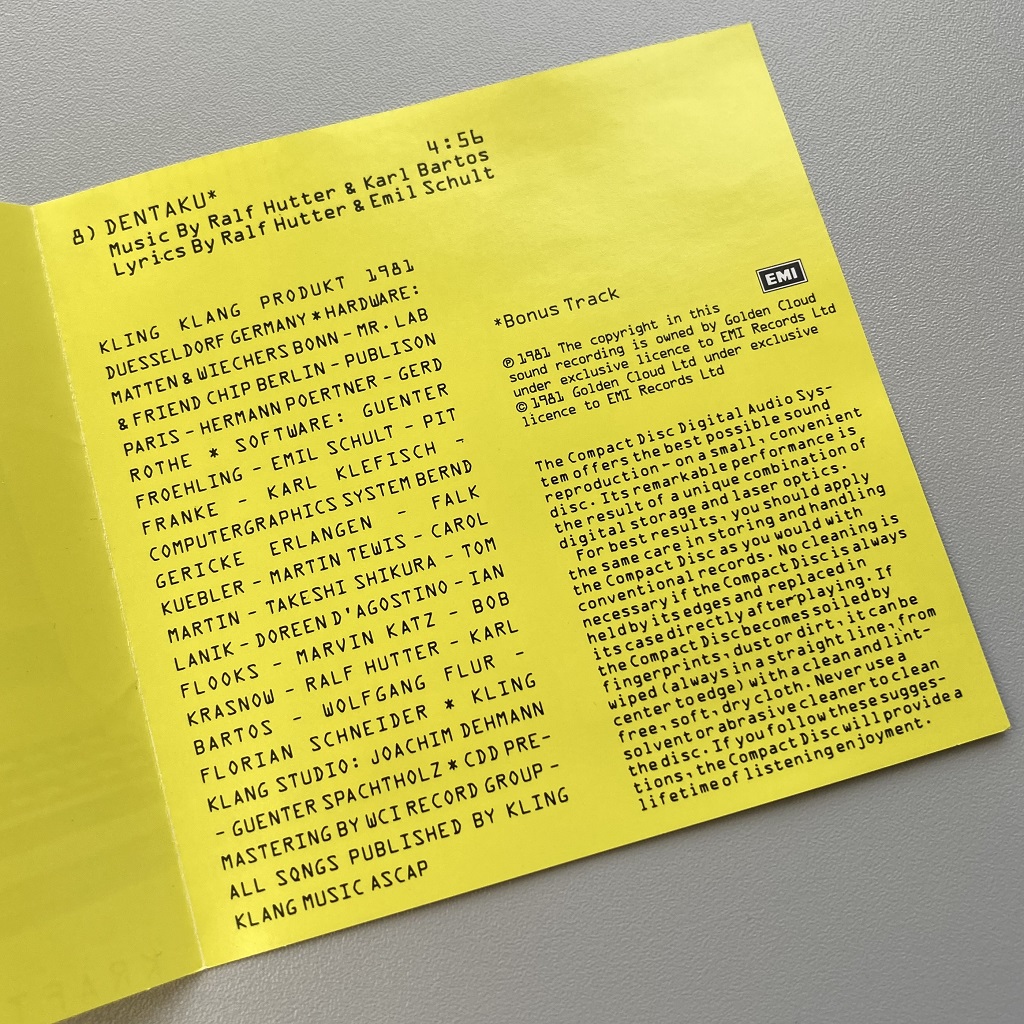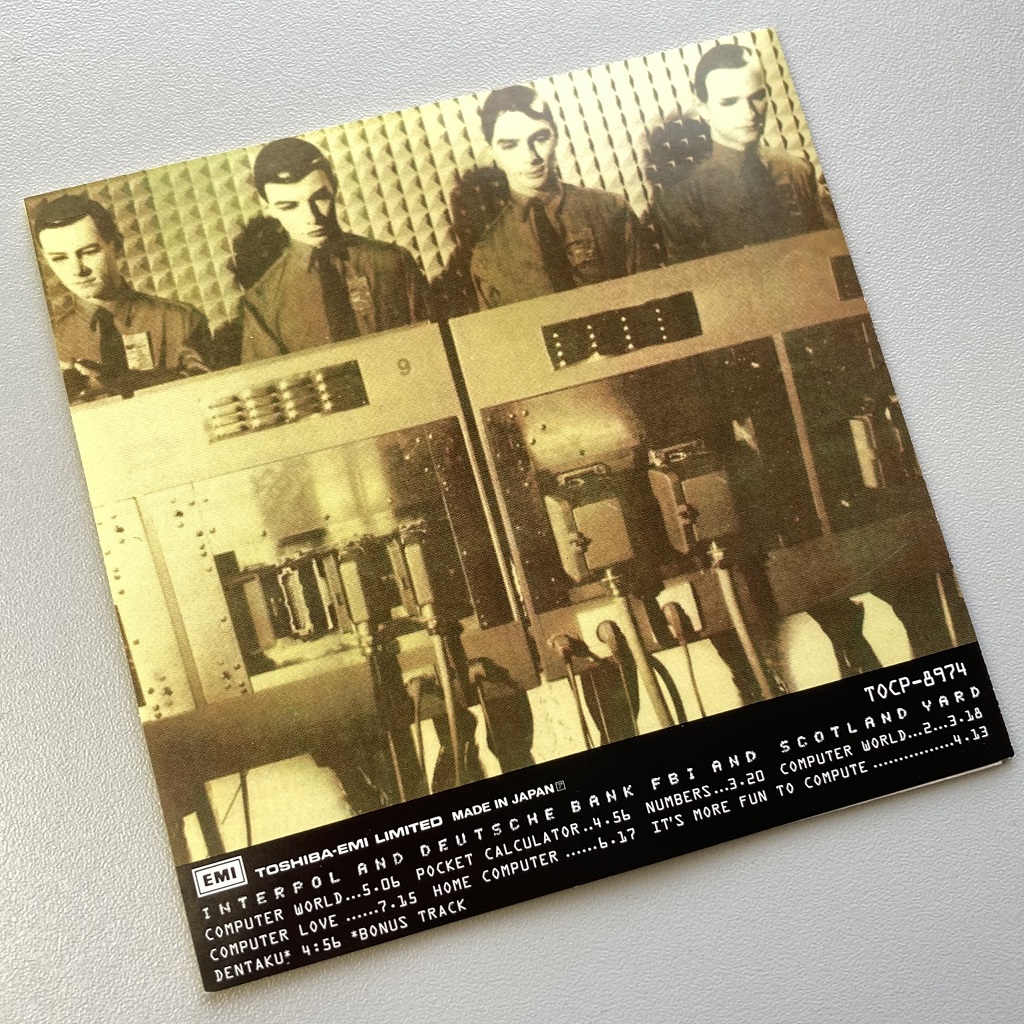 Quite a lot to choose from really, depending on how you slice and dice it. As it happens though, the tracklist for this CD as it ended up was as follows
'Computer World' (5'06")
'Pocket Calculator' (4'56")
'Numbers' (3'20")
'Computer World 2' (3'18")
'Computer Love' (7'15")
'Home Computer' (6'17")
'It's More Fun To Compute' (4'13")
'Dentaku' (4'56")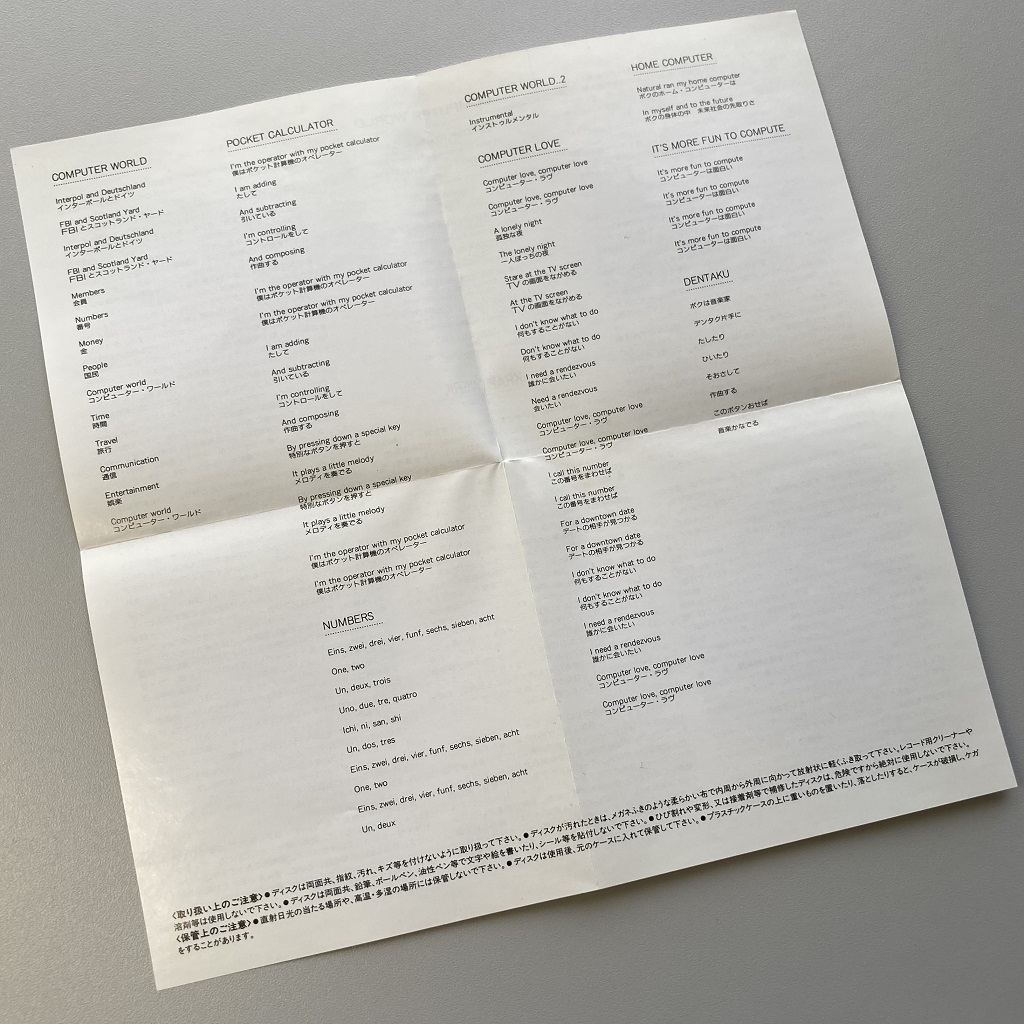 Some final thoughts – this remains a classic album by any standards, absolutely one of the most influential ever since its original release. I much prefer this mastering to the later Kraftwerk approved remasters that currently do the rounds because they absolutely kill the subtle beauty of the title tracks graceful, elongated tones with over-aggressive compression that ends up with audible pumping instead. Packaging-wise, this is modelled after the US Elektra sleeve graphics and fonts, so it is quite a bit different compared to the original 1981 look and feel – and it comes with an extra Japanese text / lyric sheet insert too for good measure. All in all, well worth coming by should you see a copy – although not cheap, it doesn't command stupidly high three-figure price tags these days.