A week ago I posted about the 2017 MusikExpress magazine exclusive of 'Die Roboter' (3-D edit) 7″ single and trailed the release of another addition to the ongoing series of exclusives, 'Heimcomputer', due for release with the June 2021 issue of the magazine. A week on and I now have a copy of that arrived to hand…
Once again, this is a one-sided 7″ single, pressed up on a bright yellow vinyl and with a sleeve design that is in keeping with the whole 1981 'Computer World' era and in particular riffing on the design adopted for the original issue of the 'Computer Love' single, what with its green screen on the computer terminal. The only previous issues of 'Home Computer' on single were quite obscure – a Brazilian 7″ single from 1981 that featured two basic edits and a UK promo-only 12″ single from 1997. This time round, the single gets a brand new edit based on the original 1981 recording that now also incorporates some elements from 'It's More Fun To Compute' as well.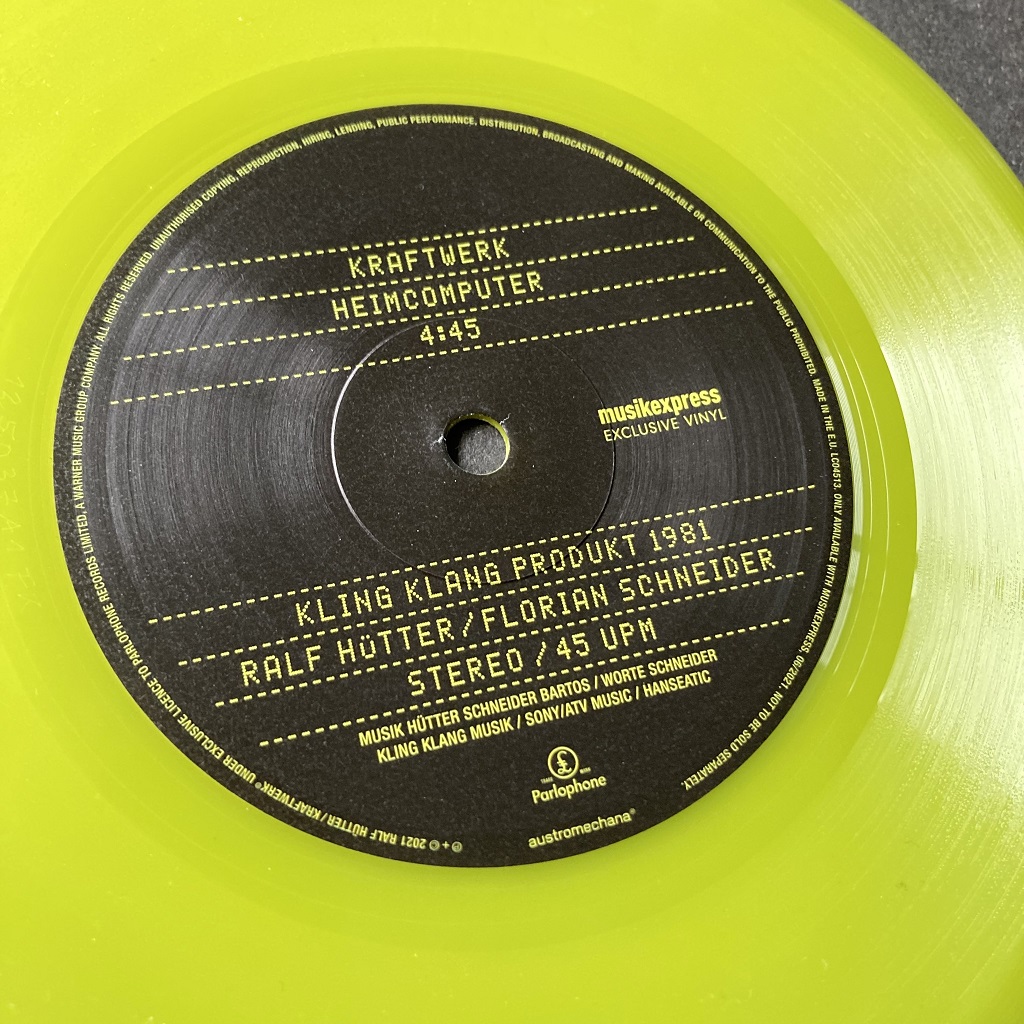 As for the vinyl artefact, the flipside is completely blank, neither any grove nor etching and just a plain black label.
While this is a nice item for the vinyl collector, being released only in Germany, it may prove difficult to come by, so the good news is that it can also be bought digitally to download – and as well as the German language edit the digital versions also come complete with the same edit but for the English language 'Home Computer' as well. Try qobuz.com for example.
If this yellow vinyl 7″ edit of 'Heimcomputer' remains a must-have then the good news for worldwide Kraftwerk fans is that this edition can still be bought online (at time of writing) – check it out NOW if you are interested in adding this to your collection…