What is it? A one-sided 7″ single with a 3 minute 33 seconds edit of the '3-D' re-recording of 'Die Roboter' given away exclusively with the German magazine MusikExpress in its August 2017 issue. The flipside, rather than completely blank, still has a red label design with the pixelated band members logo and has an etched artwork design on the vinyl, with 'KRAFTWERK' (top) and '12345678' (bottom) in the familiar pixelated font so beloved of many a Kraftwerk release from 1981 onwards.
This is the first of what now appears to be something of a biennial series of 7″ releases for Kraftwerk in MusikExpress magazine. It was followed in 2019 with a new edit of 'Autobahn' on blue vinyl 7″, which was featured in a previous post.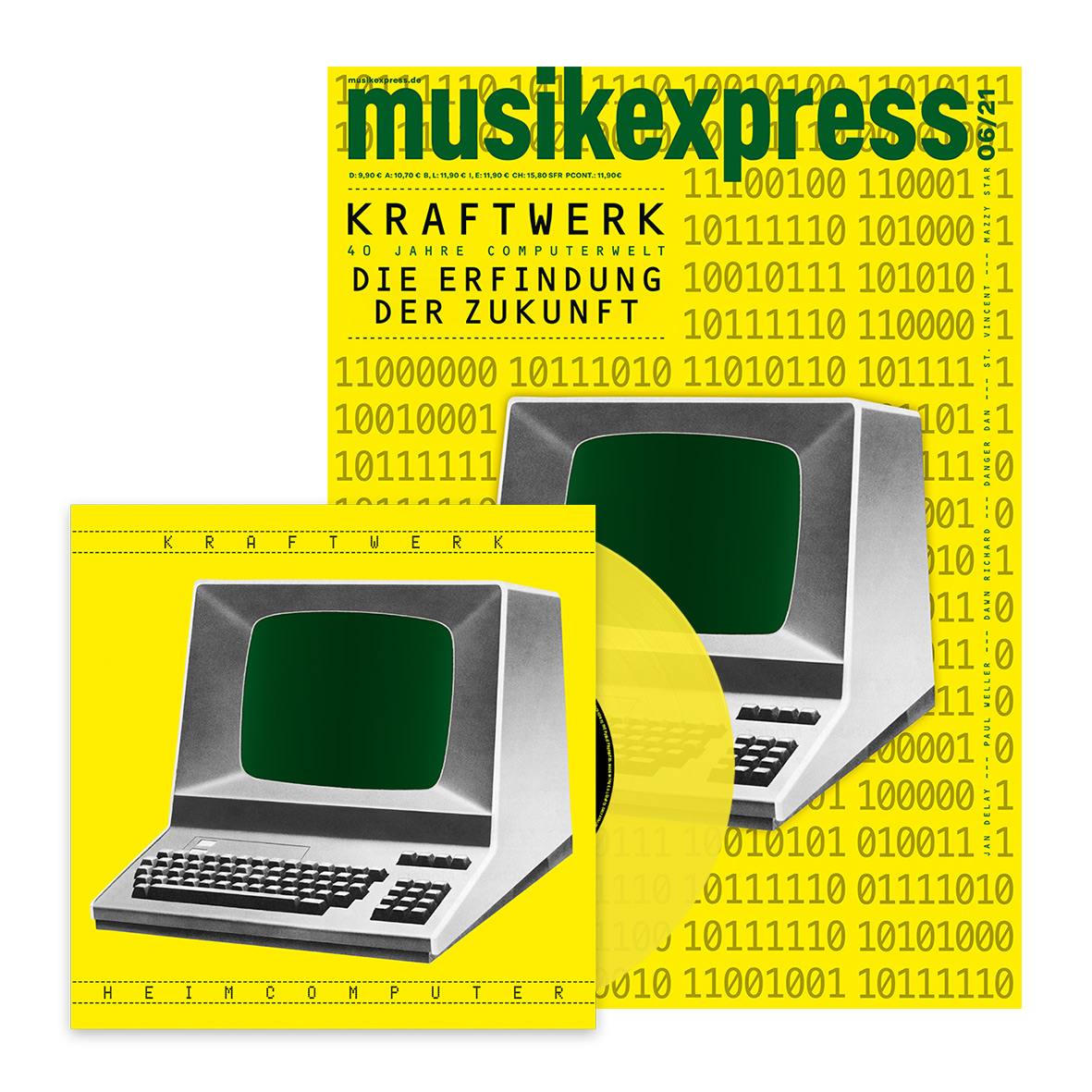 And now, as of May 2021, the series will be joined by a yellow vinyl 7″ edit of 'Heimcomputer' released on 12th of May – the good news for worldwide Kraftwerk fans is that this edition can be bought online – check it out NOW if you are interested in adding this to your collection…
Meanwhile, the music on our featured 7″… discogs.com lists it also as a digital release, but I haven't come across it on my usual haunts of iTunes or Qobuz.com – possibly a regional exclusive in digital form? At a running time of 3'33", it doesn't linger and gets down to business without the abstract intro sounds of the '3-D (Der Katalog)' album version – in general, it blends the original 1978 arrangement a bit more with the 1991 'The Mix' overhaul.
When it comes to 'The Robots'/'Die Roboter' and its various versions on single releases, there's quite a bit of variation. Of the 1978 original 7″ single release the version craziness starts with the UK edits, with one edit for the standard 7″ (the same 3'43" approx single edit used in most countries) and different edit altogether for a promo 7″ version (4'03" approx). Meantime, the West German 7″ single had a longer edit altogether (as well as the obvious language variation) at 4'20" approx… then all the various 1991 'The Mix' era single remixes – at least two of these ('Robotnik' and 'Robotronik') saw a new lease of life late last year on the digital only 'Remixes' album release.
I feel sure that I'll be covering much of these in a future post… until then, enjoy this 7″ oddity.