1986 CD re-issue series
Released in early July 1986 (mostly?), 4AD issued all of the Cocteau Twins albums to date on CD format, in some cases compiling and enhancing or combining some of the releases along the way in the same way that some of the cassette editions had been released before.
---
CD: 'Garlands' (4AD, CAD 211 CD)
Released in early July 1986, this initial CD version ran with the enhanced track listing that the 1983 cassette release introduced, by way of including the band's second John Peel session of January 1983 as bonus tracks – and then went a step beyond the cassette by also including a further two tracks. These were the tracks intended to be the band's very first single release, 'See No Evil' and 'Perhaps Some Other Aeon', which until that point were only ever released on i) a giveaway flexidisc with 'Vinyl' magazine in Holland for 'See No Evil', and ii) the 'An Hour Of Eloquent Sounds' compilation cassette, respectively, although in a very different recording – the version of 'Perhaps Some Other Aeon' on this CD is quite different by comparison to that earlier cassette release version.
The main image on the front cover is retained from the vinyl version, but the rest of the design is different and incorporates the additional photographic image that was first used on the 1983 cassette edition.
---
CD: 'Head Over Heels'/'Sunburst and Snowblind' (4AD, CAD 313 CD)
The pairing of late 1983's 'Head Over Heels' LP and 'Sunburst and Snowblind' EP first combined as a cassette in 1983 would be repeated years later this first CD issue was produced – and remained in print in that form up until the Robin Guthrie remastered CD of 'Head Over Heels' in 2003 divorced them.
With this CD being another format and size, it provided another opportunity to subtly change the cover design. Released in various territories – the UK, Japan, Canada, Germany and (later and in yet another cover variation) France.
NB: Pictured here is a later pressing – the original did not have a bar code on the rear case.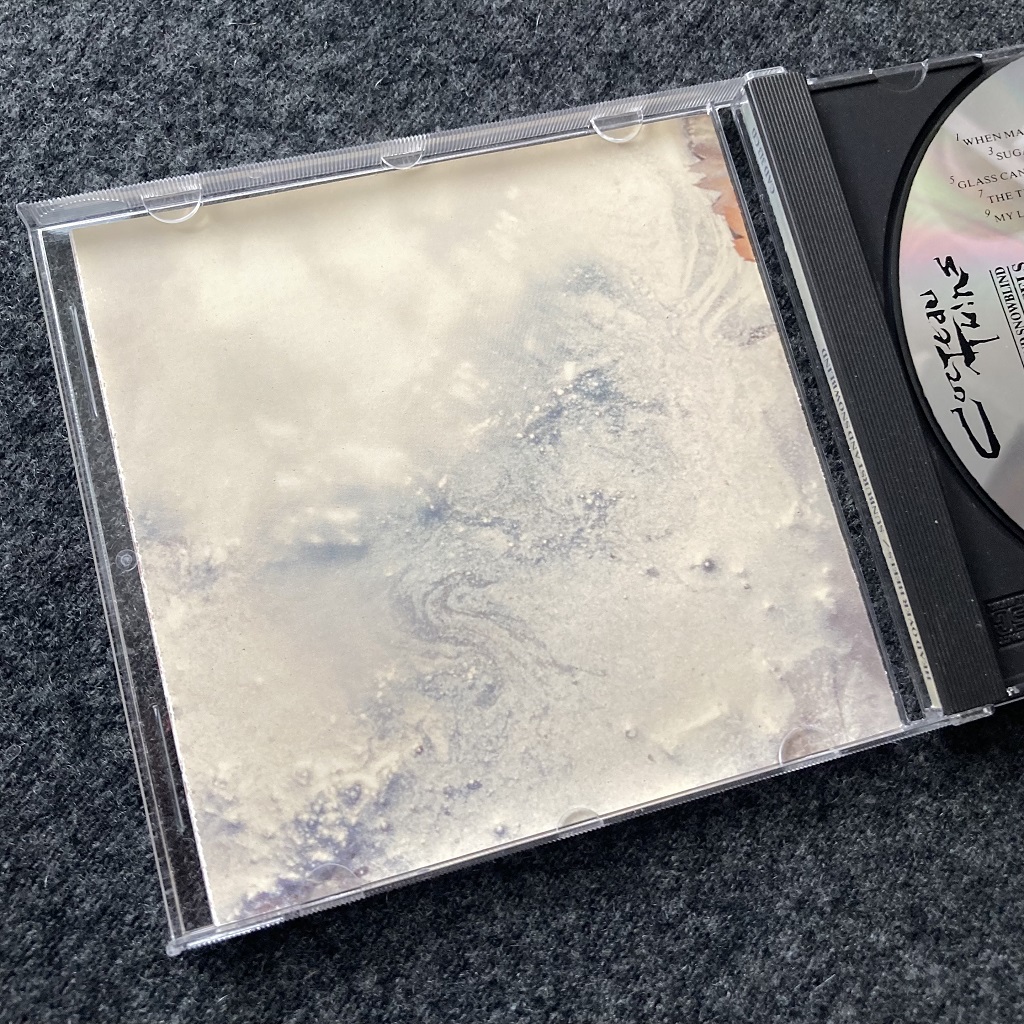 ---
CD: 'Treasure' (4AD, CAD 412 CD)
The 'Treasure' CD is the most straightforward of this set of 1986 re-issues – you just get the original album tracklisting, no extras at all. But the cover design comes in for quite an overhaul to the original vinyl and cassette covers. (NB: Pictured here is a later pressing – the original did not have a bar code on the rear case.)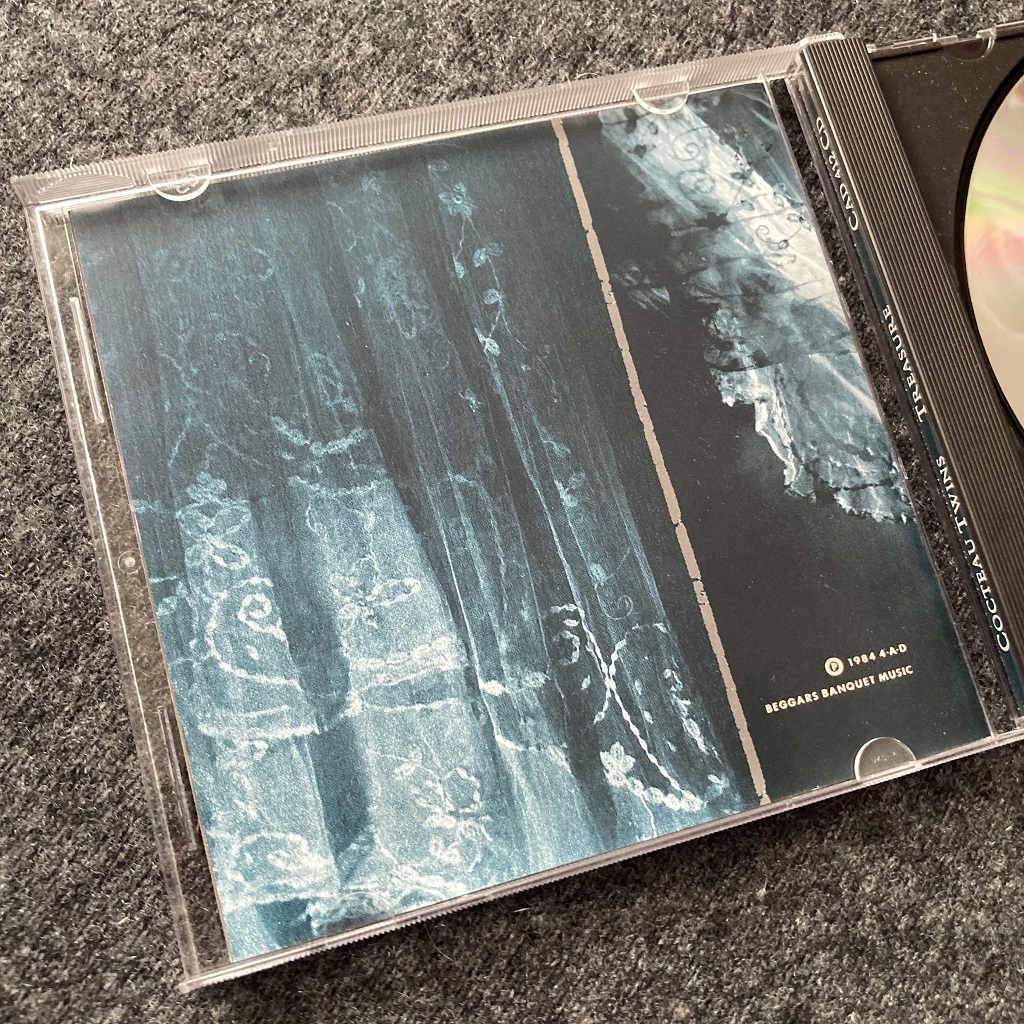 ---
CD: 'Tiny Dynamine' / 'Echoes In A Shallow Bay' (4AD, BAD 510 / 511 CD)
Despite much having been made at the time in discussion of the original releases of the two separate EPs that these were not just a different way to present an album, both were combined here onto the one release after all and it has pretty much stayed that way ever since with subsequent re-issues (the exception being 1991's singles boxed set that presented them once again as separate four track EPs on a  CD each).
It's always a struggle to convert full size 12" artwork into a CD sized equivalent and beauty of these original sleeves and label designs does rather get lost in translation a bit.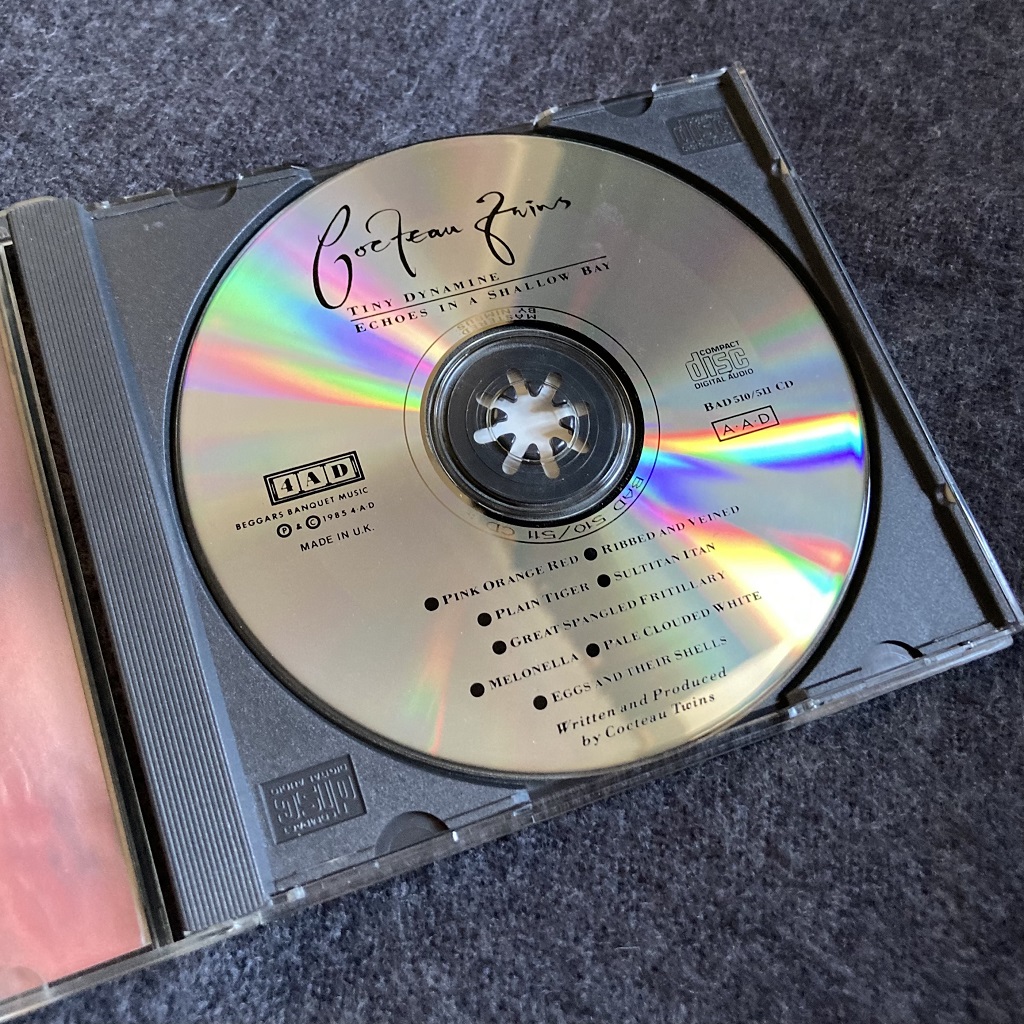 ---
CD: 'Victorialand' (4AD, CAD 602 CD)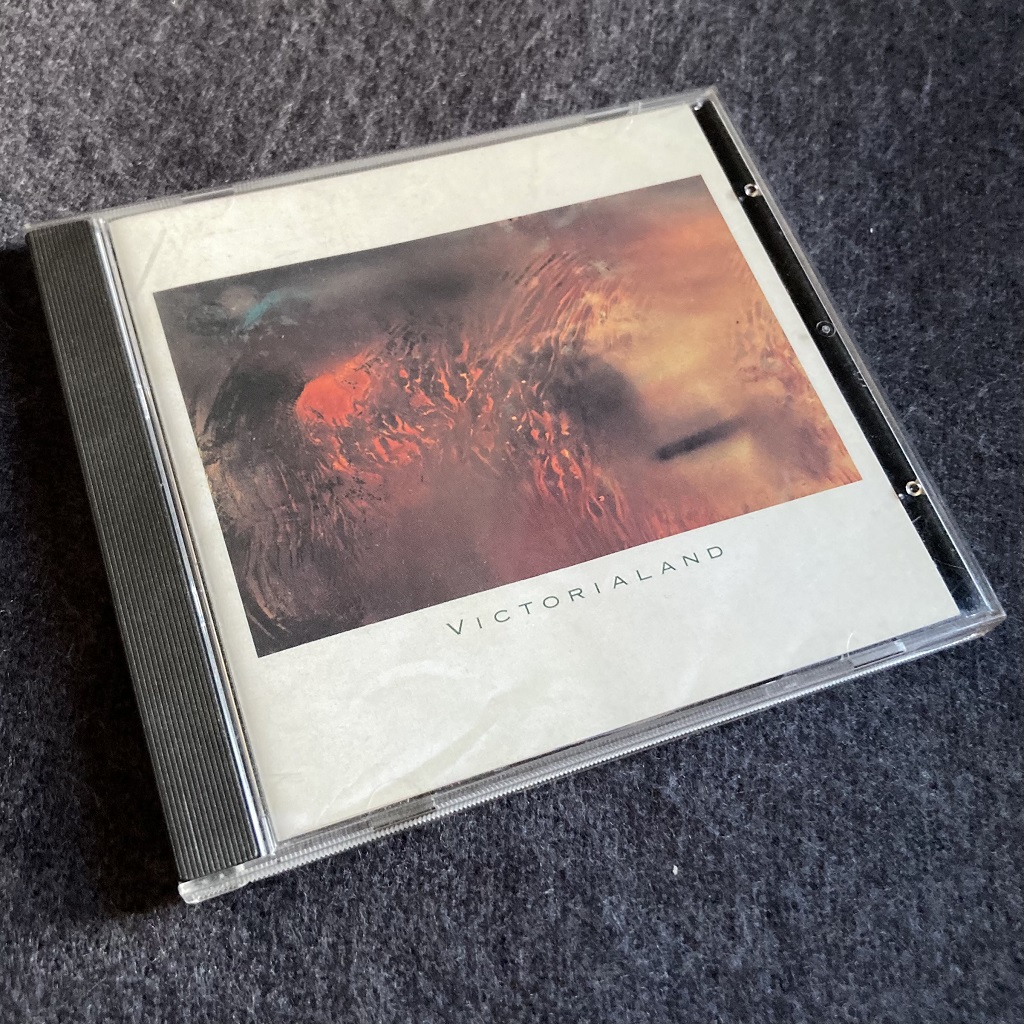 Despite being a 1986 release, seems like the CD issue came slightly later on than the LP/cassette issue, music is otherwise unaltered however. (NB: Picture here is a later pressing – the original did not have a bar code on the rear case.)