1985 was a year in which Cocteau Twins played around with expectations a good bit, perhaps randomly, but perhaps also a reaction to how close they had sailed to the mainstream the year before with the successes of 'Pearly Dewdrops' Drops' and 'Treasure'. Starting off their main releases for the year with a single/EP release, by year's end the band released what most likely would have ordinarily been issued as an album as two separate 12″ EPs instead. Meanwhile, exclusive versions of existing tracks would keep on coming on compilation releases. Plus, the band's first ever compilation of choice cuts from their back catalogue – albeit one that was intended to gather up single tracks, obscurities and album tracks rather than anything as obvious as a singles or 'best of' collection.
---
Electronic Soundmaker and Computer Music – magazine and compilation cassette – February 1985 issue
A real obscurity this one – since the magazine contained an interview with the band, somewhat reluctantly mulling over the previous year's 'Treasure' album, the accompanying cover-mounted cassette contained one of the band's tracks, 'Otterley' – a different, more basic version compared to the album mix by the sound of it – this text is from the magazine;
Featured on our cassette this month is an original version of Otterley, the second to last track on the album. I wondered whether that too began with a drum track.
Simon: "No, that one didn't. There was a click. It was an open tuning that began it."
Robin: "All there is on it, in fact I think this might illustrate what I mean by treating and mucking about with instruments, when you hear this particular version, all there is on it is two tracks of guitar, one track of bass and one track of percussion. We only used four tracks. I like to create a sort of space, but not through sort a' not playing a lot…"
Sadly, I have yet to come by this cassette – anyone out there with a copy?
Thanks, as ever, to Lieutenant030 and his treasure trove of a collection for some photos of this item and a tape of the version, which is indeed another take – closer to the John Peel session version in its minimal style – it is noticeably more of an electric guitar take rather than acoustic guitar, to my ears – and, again, no voice from Elizabeth.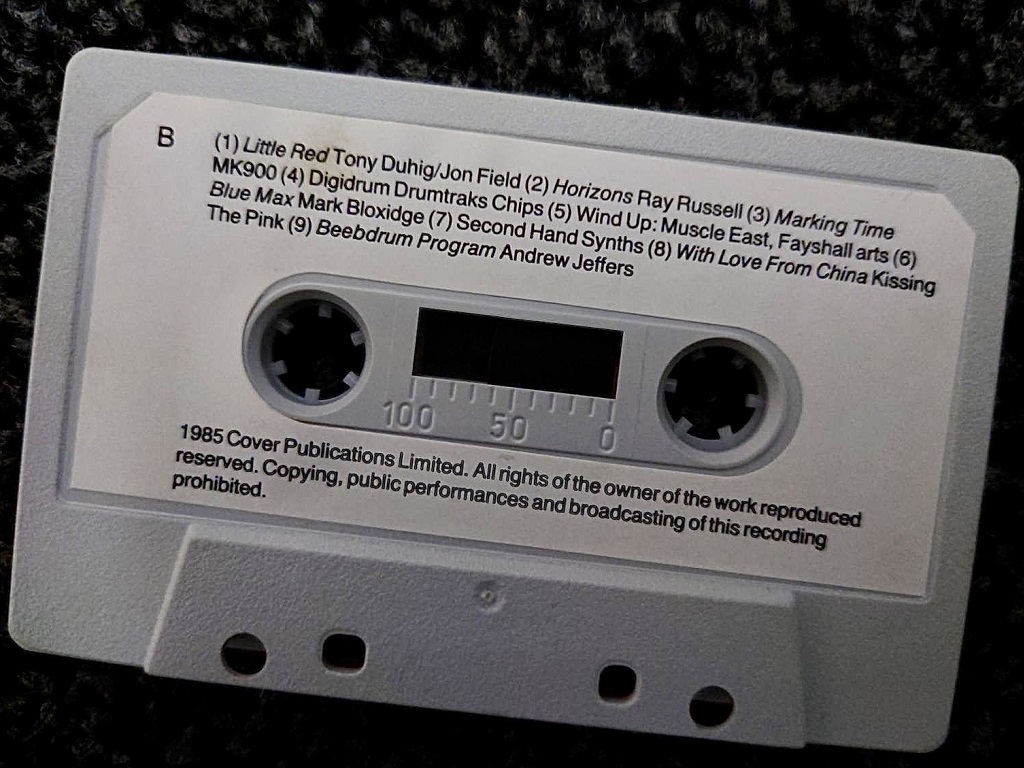 ---
NME Readers' Poll Winners '84 7″ EP (NME, GIV 1)
Side One:
Bronski Beat: 'Hard Rain'
Cocteau Twins: 'Ivo' (New Version)
Side Two:
The Smiths: 'What She Said' (Live Version)
U2: 'Wire' (Dub Mix)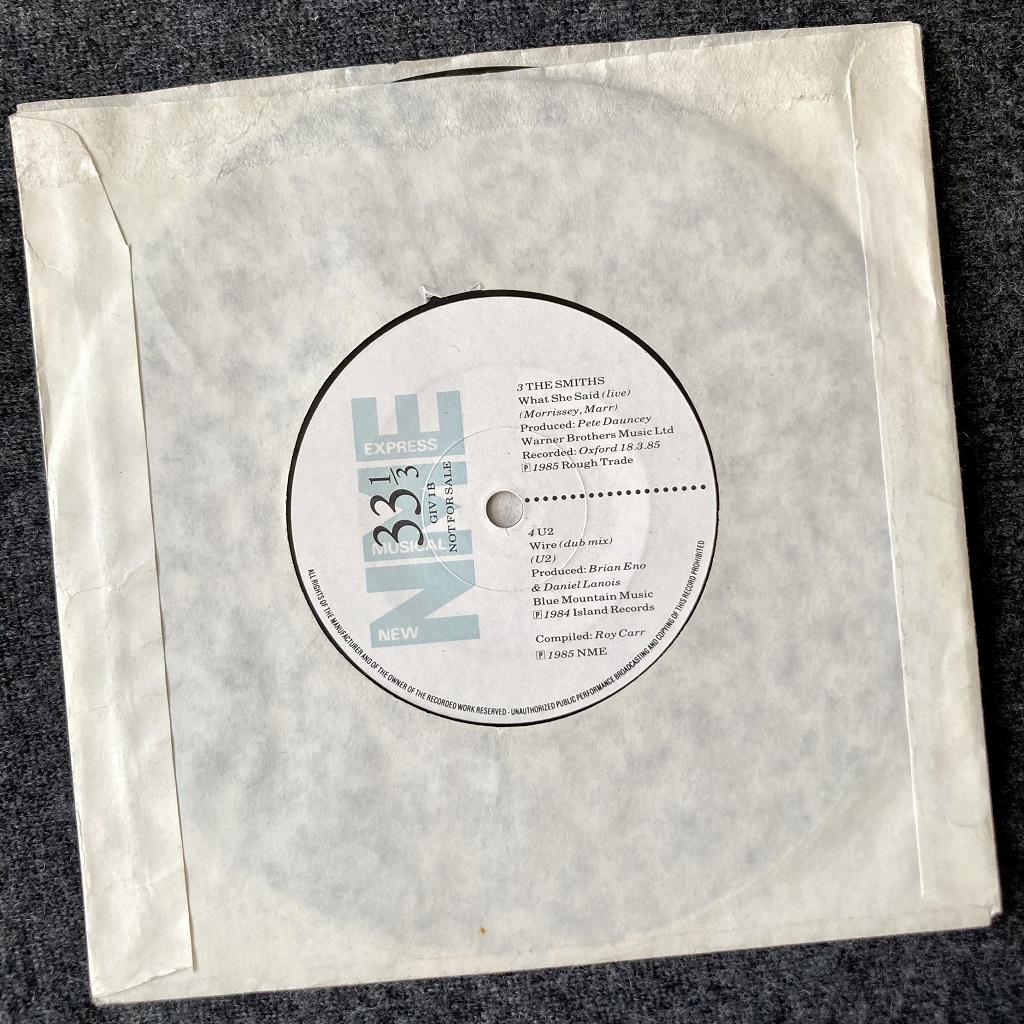 To mark their 1984 annual readers poll results reveal, the NME chose to give away a hard copy 7″ vinyl EP with the issue dated 25 May 1985, which contained one exclusive Cocteau Twins track in the form of 'Ivo' (New Version) – not a million miles away from the LP mix, but different enough to be noticeable, it's probably fair to say. I don't believe that this version has ever resurfaced officially on CD at any point.
---
Aikea-Guinea 7″ (4AD, AD 501) and 12″ EP (4AD, BAD 501)
The band's first proper release of the year, released on Monday 18th March 1985 – it followed a trend started with 'Pearly Dewdrops' Drops' of 12″ EP and shorter, two tracks 7″m with a promo video produced for the 7″ A side track, 'Aikea-Guinea'.
The 1980s was a high water mark for bands to release non-album EPs and mini-albums and Cocteau Twins were enthusiastic devotees of this approach – and in 1985 in particular they would positively bloom with the 12″ EP. Their label, 4AD, had a rich vein of such releases – think Dif Juz, Birthday Party, In Camera, to name but a few. It seemed by now an almost predictable event – album released, followed some while after by an EP of new, non-album material – it happened with 'Garlands' and with 'Head Over Heels' and now this EP followed, the band's first of the year, and its where the sound subtly progresses on even from the glorious sound of 'Treasure'.
This EP saw another new recording venue for the band, recorded at Jacobs Studios, which was situated near Farnham, in Surrey, England. It wasn't noted at the time of the single/EP's original release on the sleeve/label credits, but the session was engineered by Ken Thomas, famous of course for his production duties alongside David Bowie and Queen, amongst many others. There's a richness to the sound across all four tracks, a definite maturing. Still rocking out though – the ferocious instrumental 'Rococo' had been previewed live on the late 1984 dates – I vividly remembered its quiet, vintage drum box intro before Guthrie and Raymonde gave a full-blooded assault along with the fierce steam-hammer drum machine driving it all.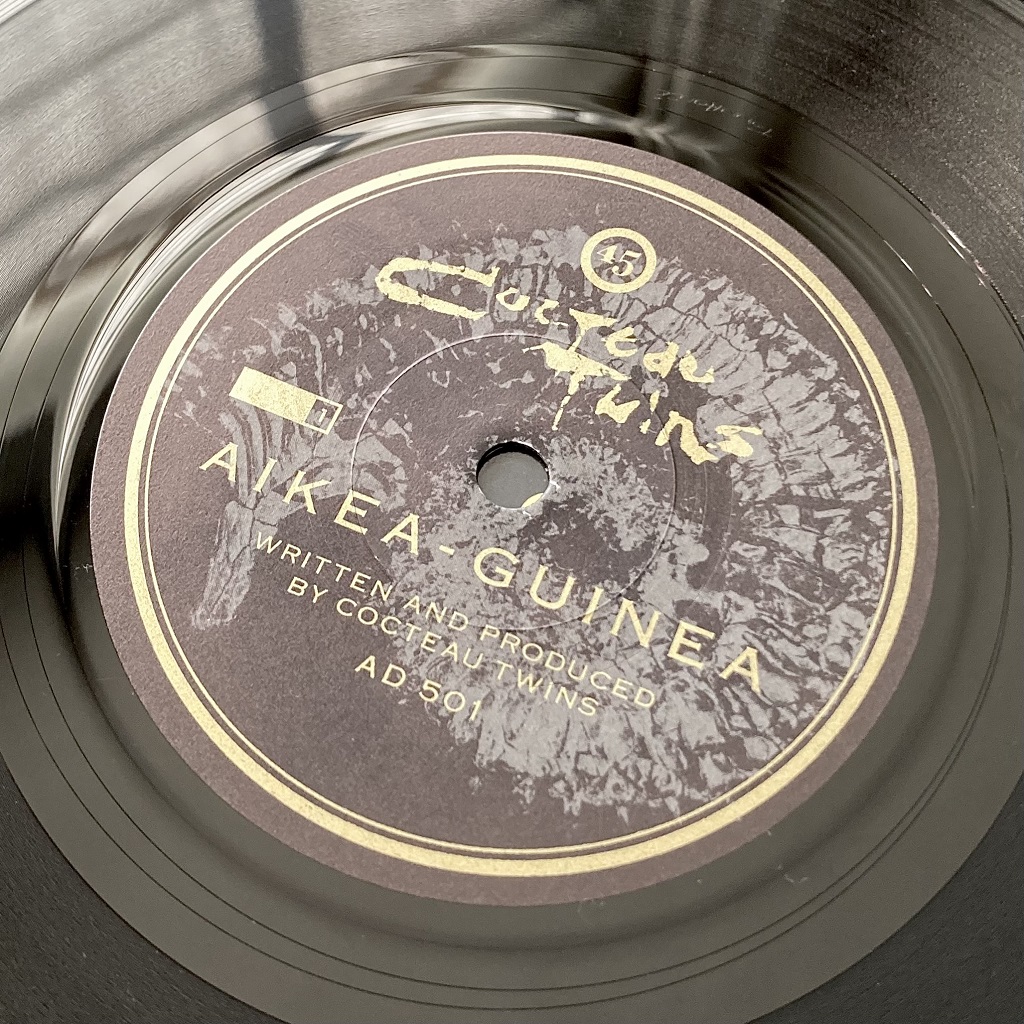 Curiously, this must be one of those extremely unlikely cases where the 7″ mix of a song is actually longer than the 12″ mix, in the case of 'Kookaburra' – take a close comparison and you'll find that the 7″ mix has an extra rhythmic drum machine count-in before the huge, crashing opening guitar chords roar in – the 12″ mix just starts with the chords.
In an interview in the July 1989 'Sound On Sound' magazine, Simon Raymonde had opined:
"Well, we spent a month doing the album Treasure and, because we never really spent any time properly in each other's company, we were still getting to know each other. We'd only been friends for a little while, you see. We just sort of recorded loads of things and then the album came out. It's like an unfinished record with probably two good pieces in there somewhere. It's our worst album by a mile."
Somehow, you can hear in the sound here that it has taken a step onwards. Simon Raymonde has also noted, much later via Twitter in 2021 while celebrating the broadcast of 'Quisquose' on BBC Radio 6Music a little titbit about the song's curious instrumentation:
What is unique about this is that Robin and I both played 6 string basses, me an Ibanez, he a Fender.
It is worth noting that when re-issued as part of the 'Lullabies to Violaine' compilation in 2005 an alternate mix of 'Aikea-Guinea' was used in preference to the original mix issued in 1985.
---
'Treasure' + 'Aikea-Guinea' LP/12″ (4AD / Vertigo VOG 1 3350 / COCT 5)
Not a record that I own, but in Canada this combination of 1984's 'Treasure' LP and the first of 1985's various 12″ EPs, 'Aikea-Guinea', were combined for this set.
---
'The Pink Opaque' LP and Cassette (4AD / Relativity, EMC 8040 / EMCT 8040)
Originally an American release, intended as an introduction to the band on the commencement of a licensing deal for the US market – up till this point UK copies of the band's releases were being imported.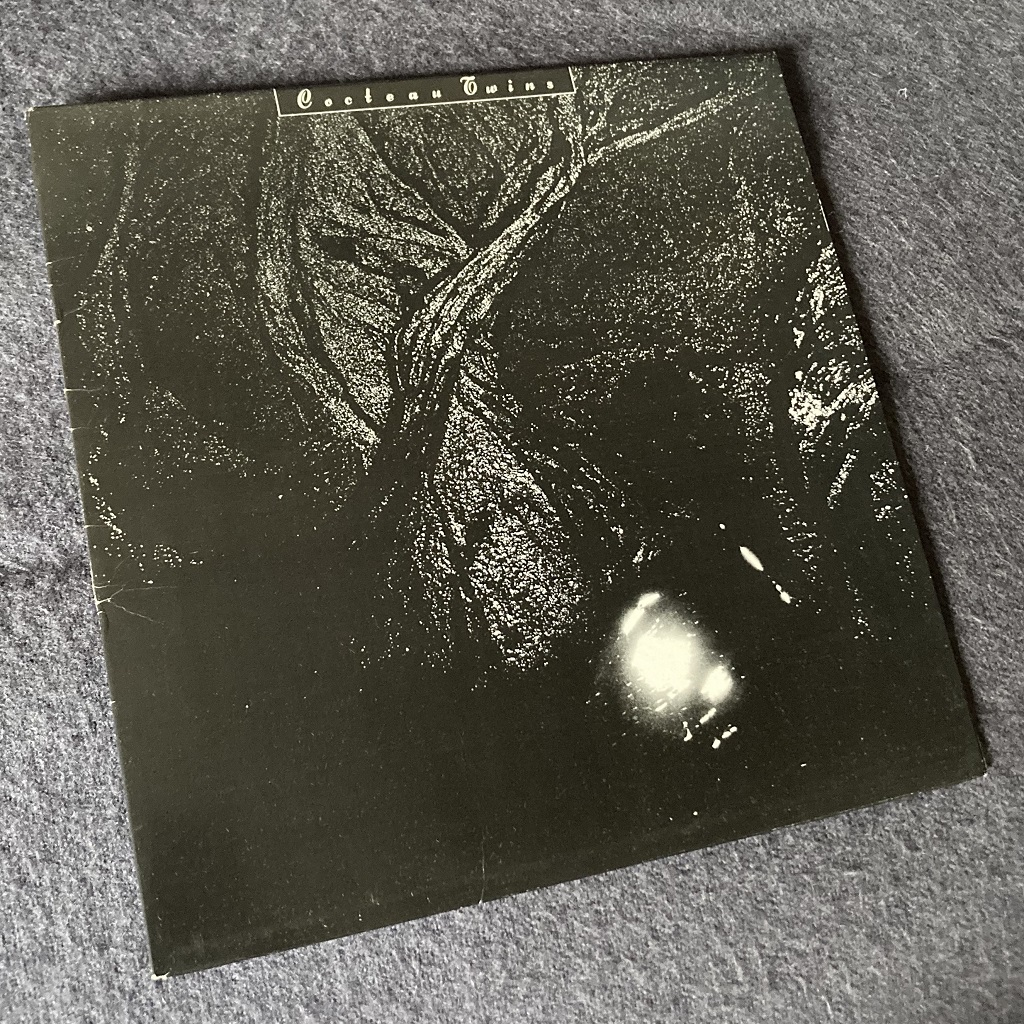 Amongst the selection of tracks is a new version of 'Wax and Wane', noticeable from the off due to the very different drum machine employed – far more weighty than the spindly original from 'Garlands'. The other principal draw on this album is the appearance of 'Millimillenary'. I'm not sure of when it was first released in the US, but in the UK the LP was listed as a new release in Music Week magazine issue dated 21 September 1985.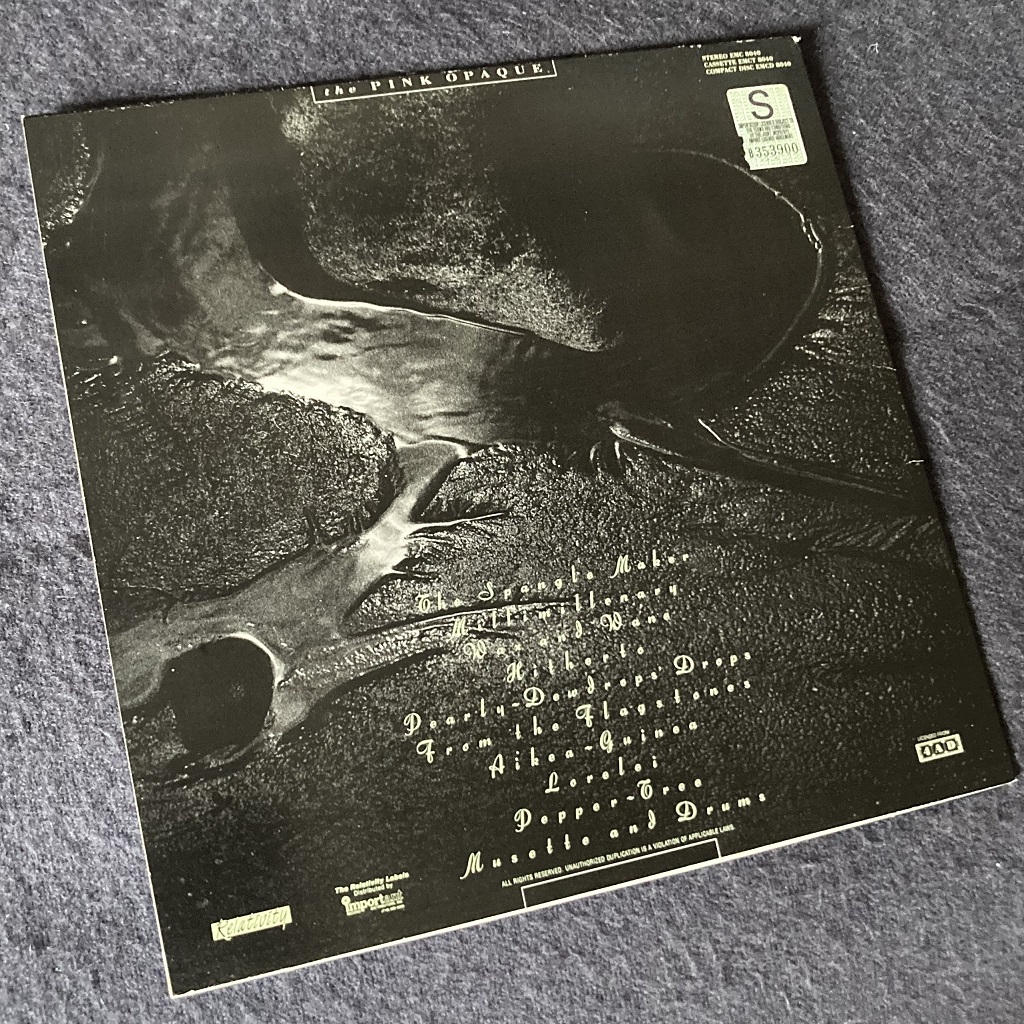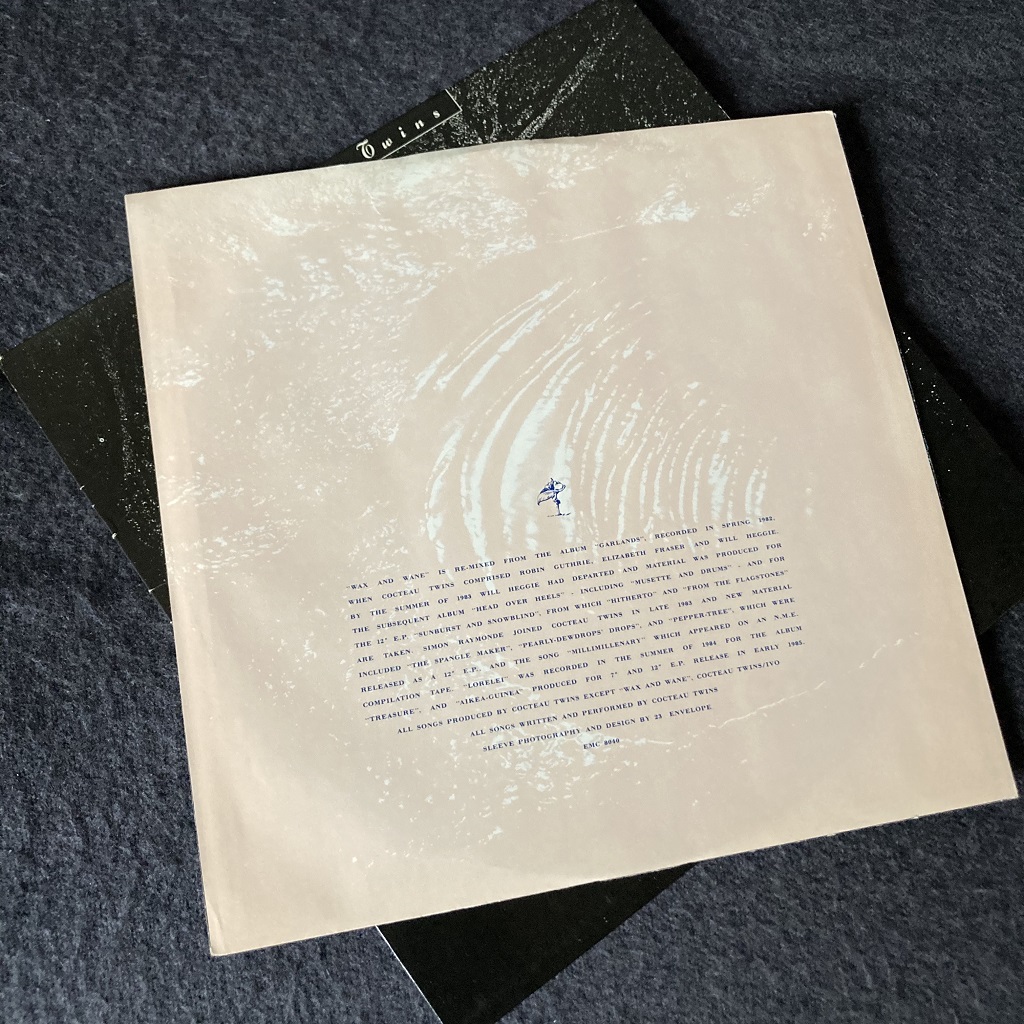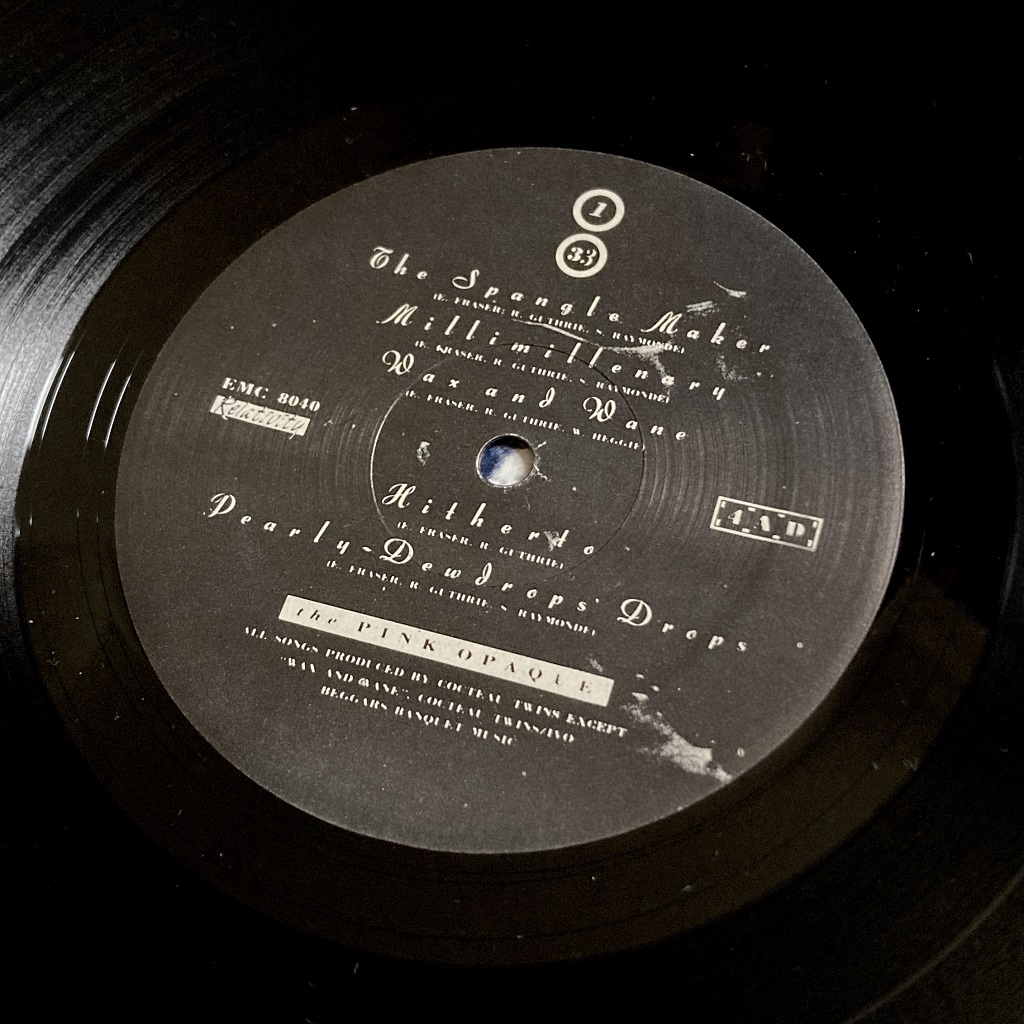 ---
'Tiny Dynamine' 12″ EP (4AD, BAD 510)
The first of two 12″ four track EPs released two weeks apart during November was 'Tiny Dynamine', released on Friday 15th November 1985.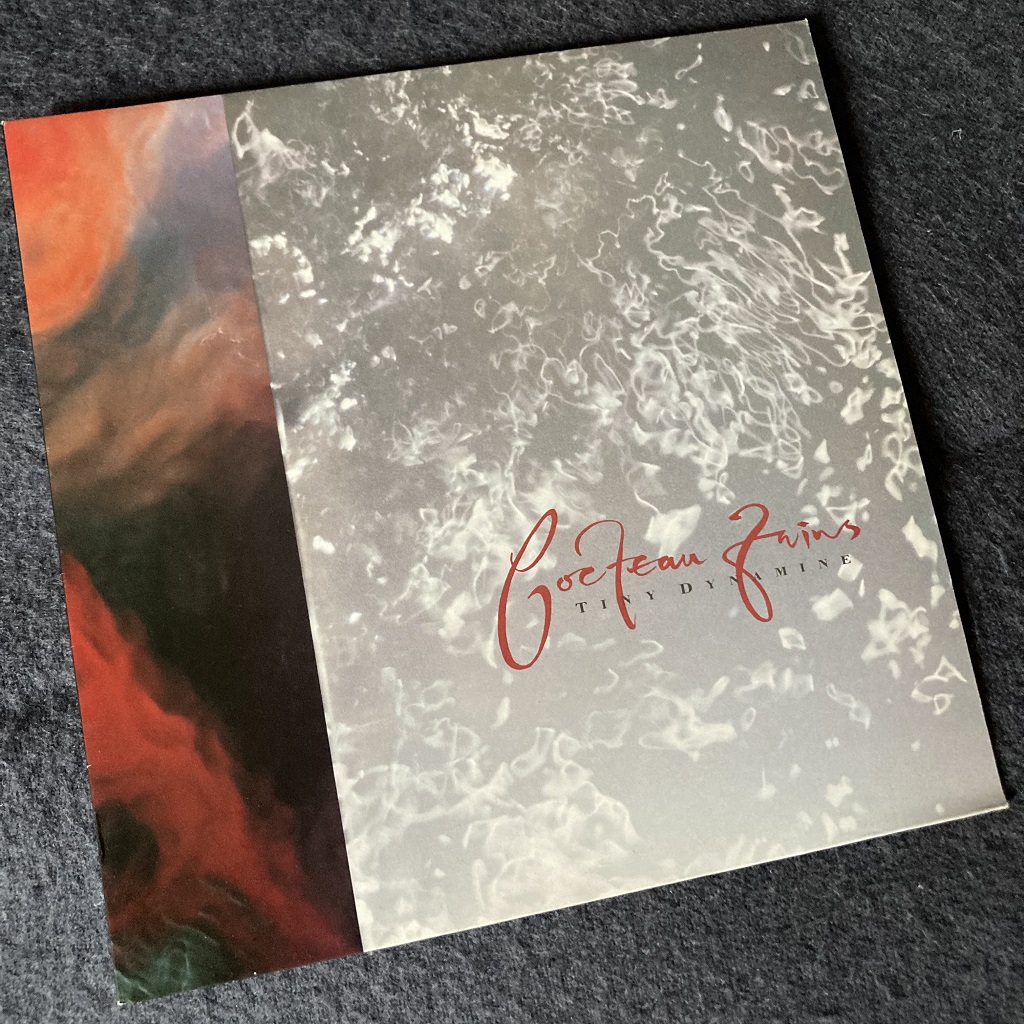 Side One:
Pink Orange Red
Ribbed and Veined
Side Two:
Plain Tiger
Sultitan Itan
Opening with the rich and beautiful strummed guitar chords of 'Pink Orange Red', joined by Elizabeth Fraser's ever enigmatic vocal – it is then bolstered by heavy duty drum machine and bass, continuing with the big sound that was present and correct on 'Treasure'. The EPs three other tracks are equally opulent in their sound and atmosphere, though none of them you'd really earmark as single material in the way that 'Sugar Hiccup' or 'Pearly Dewdrops' Drops' were.
The band made it known at the time that it was a deliberate move to release their work as two separate, though related (brother and sister, perhaps) EPs and this was not merely some ploy to release what would otherwise have been a regular LP. (As soon as the following year however that intent would go out the window with the release of both EPs combined on one CD, of course.)
'Pink Orange Red' would see a couple of other notable outings and versions in due course, courtesy of an appearance filmed for the UK music TV show 'The Tube' and on a WOMAD compilation album.
---
'Echoes In A Shallow Bay' 12″ EP (4AD, BAD 511)
The second 12″ was released two weeks later, on Monday 25th November 1985. Another four track EP and largely similar in sound and atmosphere, though opening with the slower, more unusual 'Great Spangled Fritillary'.
Side One:
Great Spangled Fritillary
Melonnella
Side Two:
Pale Clouded White
Eggs And Their Shells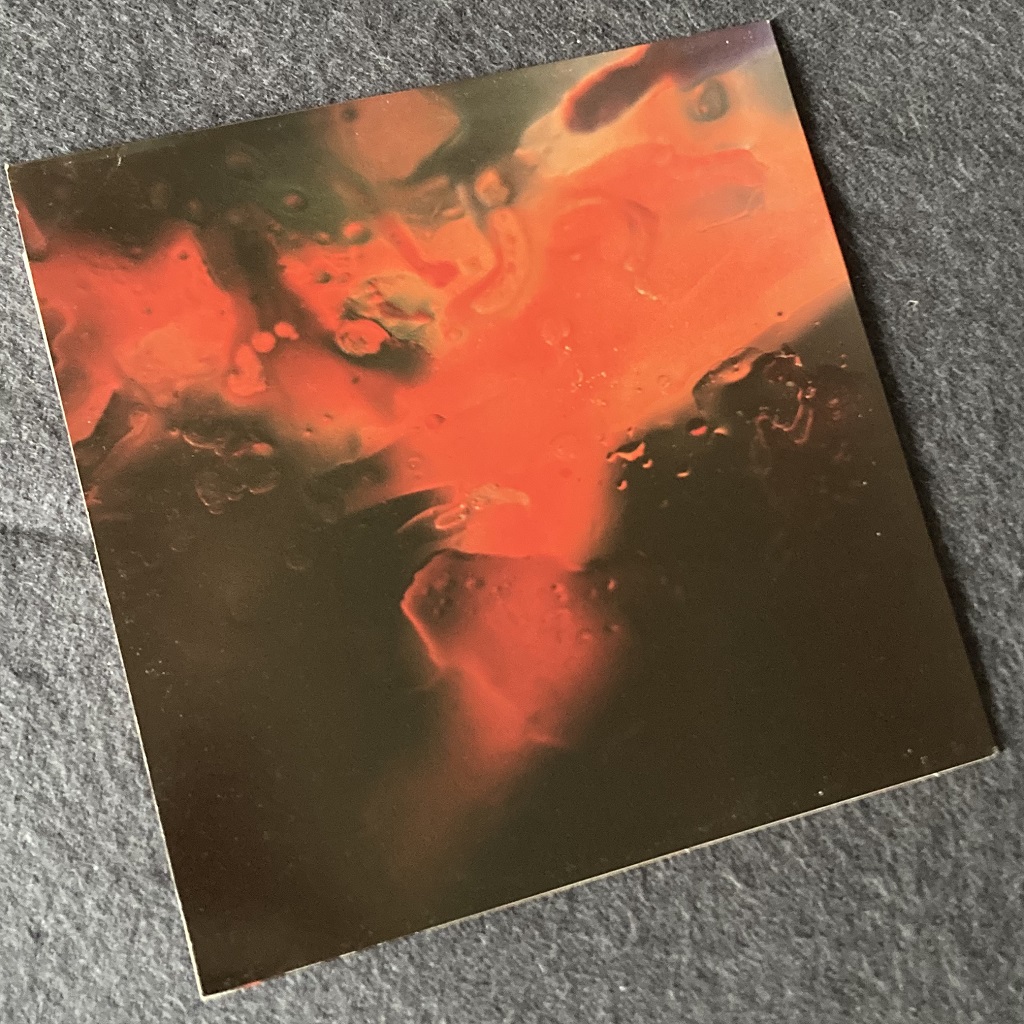 Both EPs were recorded at another studio to add to the growing list the band had used, this time round at Guerilla Studios, Little Venice, London, the stamping ground of William Orbit, no less, while mixed at Aosis Studios in Camden, London. Simon Raymonde has later mentioned, in a podcast, that they had rented a room in William Orbit's studio but they wanted their own studio 'they had their own door/key to' and so they would subsequently set up the North Acton studio where 'The Moon and the Melodies' and 'Blue Bell Knoll' would be recorded in… more on that in the entry for 1986.
---
Various artists – 'Discreet Campaigns' cassette (Rorschach Testing, ROR1)
A final outing for Cocteau Twins in 1985, on cassette compilation from the Rorschach Testing label, 'Pale Clouded White' in edited form (3'20" as opposed to the original EP version which is around 5'01") – it's not massively different, does sound like the mix is a little different, the arrangement is unchanged and it fades out swiftly from about the 3 minute mark as it heads into the extended instrumental break.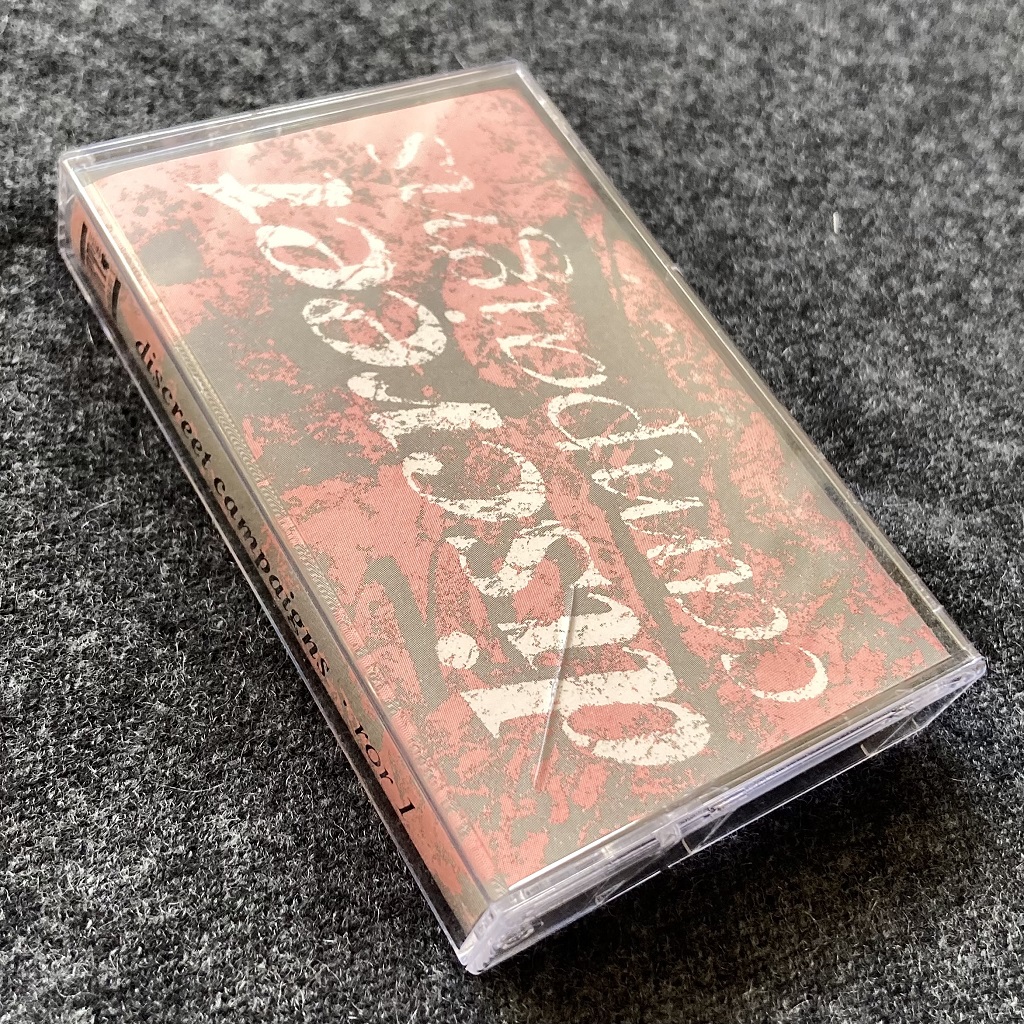 The original release came with the cassette and its paper inlay card inside a plastic wallet with printed artwork and a 20 page booklet with info about each of the acts featured – unfortunately I only have original cassette these days.
---
Other
15th January 1985 saw the band appear on UK channel BBC 2 playing a version of 'Lorelei' on 'Whistle Test' – view on YouTube.