An opening post in a long-running series that will be appear periodically, the aim is to document one of my long-standing, enduring favourites – Cocteau Twins. This is a band where I bought their records from the very first release, 'Garlands', shortly after its release, and onwards. Much like another of my favourites, Durutti Column, the Cocteau Twins have an interesting discography to examine since they were very much an act where you found fine quality work not only on albums but on 12″ EPs (a Cocteau Twins speciality) as well as gifted to obscure compilations (more often than not exclusive tracks or versions).
Year by year, the plan is to document when a primary release first made an appearance and to highlight the obscurities that can be found here and there on compilations and the like. Like other post-punk acts of the era, there have been re-issues over the year, in some cases where bonus tracks have ended up removed so as to restore original album running orders to match the original vinyl releases. (Wire also spring to mind here…)
There are three main releases covered in Parts 1, 2 and 3:
Lets start then with the wonderful darkness of 'Garlands', a sound that would introduce us to the band, but from which they would move on very quickly indeed as the band line-up changed and the dreampop sound would start to emerge.

---
1982: 'Garlands' LP
The debut album by the band – no messing about with singles or the like beforehand, just straight into it all with a full-length album that documented that original Cocteau Twins sound. Words can't do it justice, but can at least map the constituent parts of the time: starkly economical and precise rhythm machine, Will Heggie's rhythmic and intricate bass guitar, filling in the spaces the drum machine pins, Robin Guthrie's effects-laden guitar figures (more often two parts, panned left and right) and the wholly unique vocals of Elizabeth Fraser. No keyboards at all at this early stage.
'Garlands' is documented on the current 4AD website noting its original release date as 1st September 1982 – that's not right though, as it was released in July. (For example, a shared 4AD full-page music press advert along with releases by Lydia Lunch, Birthday Party and Lydia Lunch/Rowland S Howard was in 'Sounds' magazine, issue dated 24 July.) The history goes that the band were somewhat fascinated with the Birthday Party as fans, travelling some way away from home to see them play live, and therefore fastened on to 4AD as a kindred spirit label to send a demo tape to (as well as John Peel). 4AD's label head, Ivo, was so taken with the uniqueness of the band's sound that the first release ended up being the album, instead of a mooted single, with him at the producers chair along with the band. Recorded over seven days in December 1981 at London's Blackwing Studios, birthplace of so many wonderful records, not least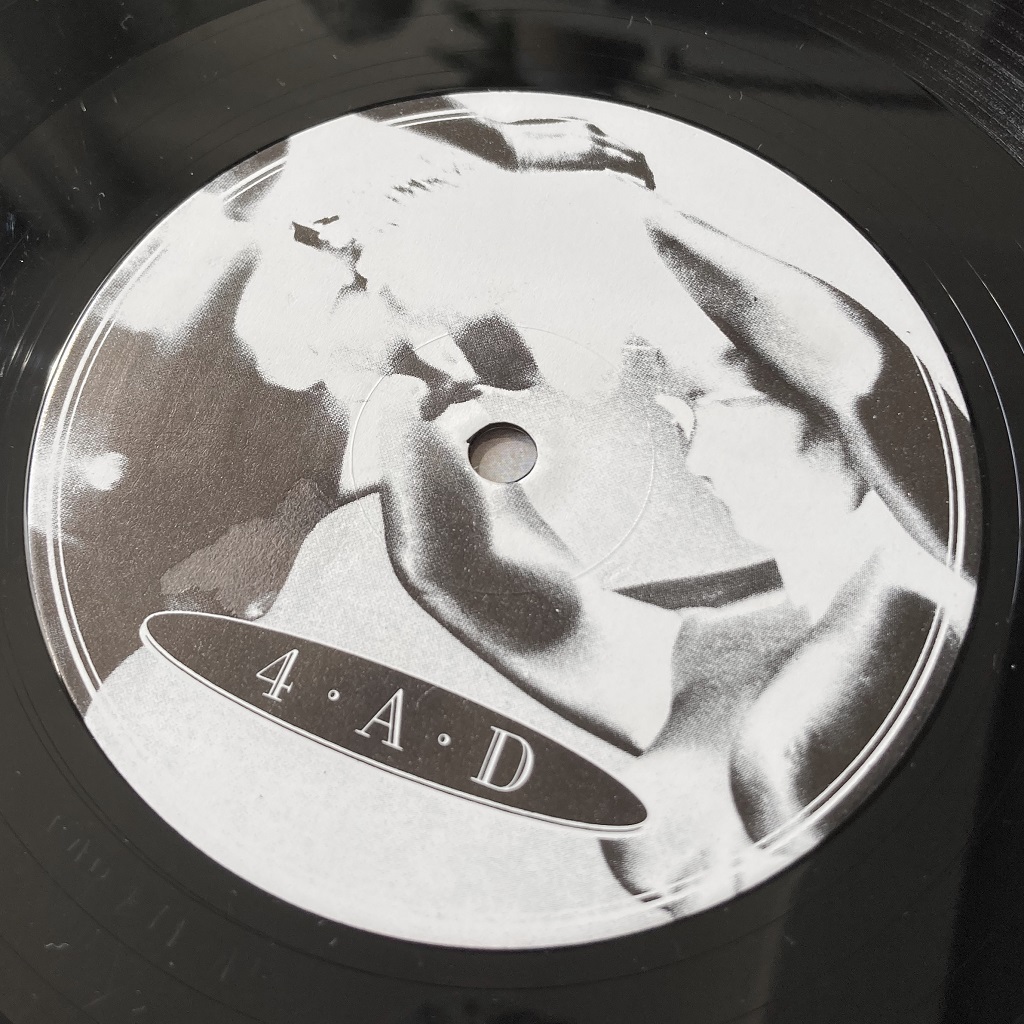 The single was a re-recording of two tracks from the primitive demo tape he had been handed originally (more on that in due course). Not without controversy, in subsequent years from Robin Guthrie, particularly around the drum machines employed. Without getting too muso about it, by the description of it from Robin, they originally made use of some Soundmaster Memory Rhythm SR-88's (which I've waxed lyrical about before with regard to Tones On Tail) with the sound scrunched up with a good bit of dirt. On the album, drum machine duties are noted by Robin as having been supplied by a Roland TR-808 (borrowed from Vince Clarke, no less, hence the credit on the record sleeve) and is a good deal cleaner and precise than what Robin envisioned, much to his disappointment on reflection, with Blackwing Studio engineers Eric Radcliffe and John Fryer behind the taming of the rhythm.
How many ears were pricked up to quibble over the primitive rhythmic timekeeping when there was Elizabeth Fraser's voice front and centre though? This was marvellous stuff. Fragments of the lyrics scrawled on the back cover hinted at all kinds of darkly weird, darkly wonderful. Comparisons with Siouxsie and the Banshees were inevitable but were of more trouble to the brittle black shards of Robin Guthrie's guitar than anything else – if even that – and too lazy an aim.
Oddly enough, where there was a Banshees connection though, somewhat removed though – the front cover image. Turns out that it was an photo by Nigel Grierson as his own alternate take on the Banshees LP 'The Scream', originally for a college project.
If you are looking for details of the first CD release of the album… that came along in 1986.
---
1982: 'Lullabies' 12″ EP
Following the debut album came the 'Lullabies' EP and it was even more breathtaking an experience than the album had been. Two of its tracks had already been previewed courtesy of the band's first John Peel session back in the summer months of 1982. The opening track, 'Feathers Oar Blades' is much longer and more fleshed out on the EP take compared to the session.
'Lullabies' is documented on the current 4AD website noting its original release date as 1st November 1982. Again, that's not quite right – news items in the music press indicate a mid-September release, though it entered the indie charts mid October and a joint advert for the EP along with the first single release by Colourbox ran in October too.
Sonically, a different production team from 'Garlands', producer duties are credited to Ivo alone and the engineer is noted as John Madden. It was recorded at Palladium Studios in Edinburgh though 'finished off' in London (most likely at the now familiar Blackwing studio). If we're talking early Cocteau Twins then we're talking drum machines too, and in a significant technology upgrade from the album, it's a Linn LM-1 responsible for the percussion barrage on this EP. And it is in the rhythm department you hear a change, right enough compared to the style of 'Garlands', with the rich kick drum and tom-tom sounds in particular bringing it on these tracks.
When it comes to matters of artwork, this was another beautiful 23 Envelope production – and more significantly, was the debut of the dancer/cartwheel and lily images that were to be repeated on other releases and act as something of a Cocteau Twins identity/emblem. The images themselves originally hail from a publication titled 'Lilliput Pocket Omnibus 1937/3' produced by photojournalist, author, and filmmaker Stefan Lorant. The photo of the dancer was taken by Dr. Krohn from Praha (Prague), while the 'lily' photo was taken by Felix Man. (Source: Post-Punk.com)
---
1982: 'An Hour of Eloquent Sounds' compilation cassette
While 'Garlands' was the bands first proper release, there had in fact been plans for an initial 7″ single on 4AD, but that plan was abandoned. Of the two tracks that had been earmarked for the single, a demo version of one of them ended up on this cassette-only compilation instead, 'Perhaps Some Other Aeon'. Franticly propelled by a chattering rhythm box and swirling guitars, its not too far removed from the sound of 'Garlands' at all and you could easily imagine it fitting in on the album. The intended single version would later be re-released in 1987 on the first CD edition of 'Garlands', though has since fallen out of circulation after later 'Garlands' CD re-releases excised all bonus tracks and stuck with the original vinyl LP tracklisting alone.
---
John Peel Session #1 – first transmitted 15th July 1982
It's worth mentioning too that the band recorded their first John Peel session in 1982 (21st June 1982 at Maida Vale 4 studio, according to the Keeping It Peel website) – I think this was actually the first time I heard the band, the version of 'Garlands' anyway, as I always recall its distinctive, more gradual intro that the Peel session version has. Fortunately, all of the John Peel sessions were compiled and released on CD in 1999. For this session, the four tracks recorded were;
Wax And Wane
Garlands
Alas Dies Laughing
Feathers Oar-Blades