The Strange Fruit label series of John Peel Sessions was a real godsend… so much good stuff made available from a fate of home recorded cassettes taped from (at best) occasionally hissy FM or dull and crackly medium wave radio broadcasts. This particular release of Xmal Deutschland and their spring 1985 John Peel session is an interesting one in a number of respects.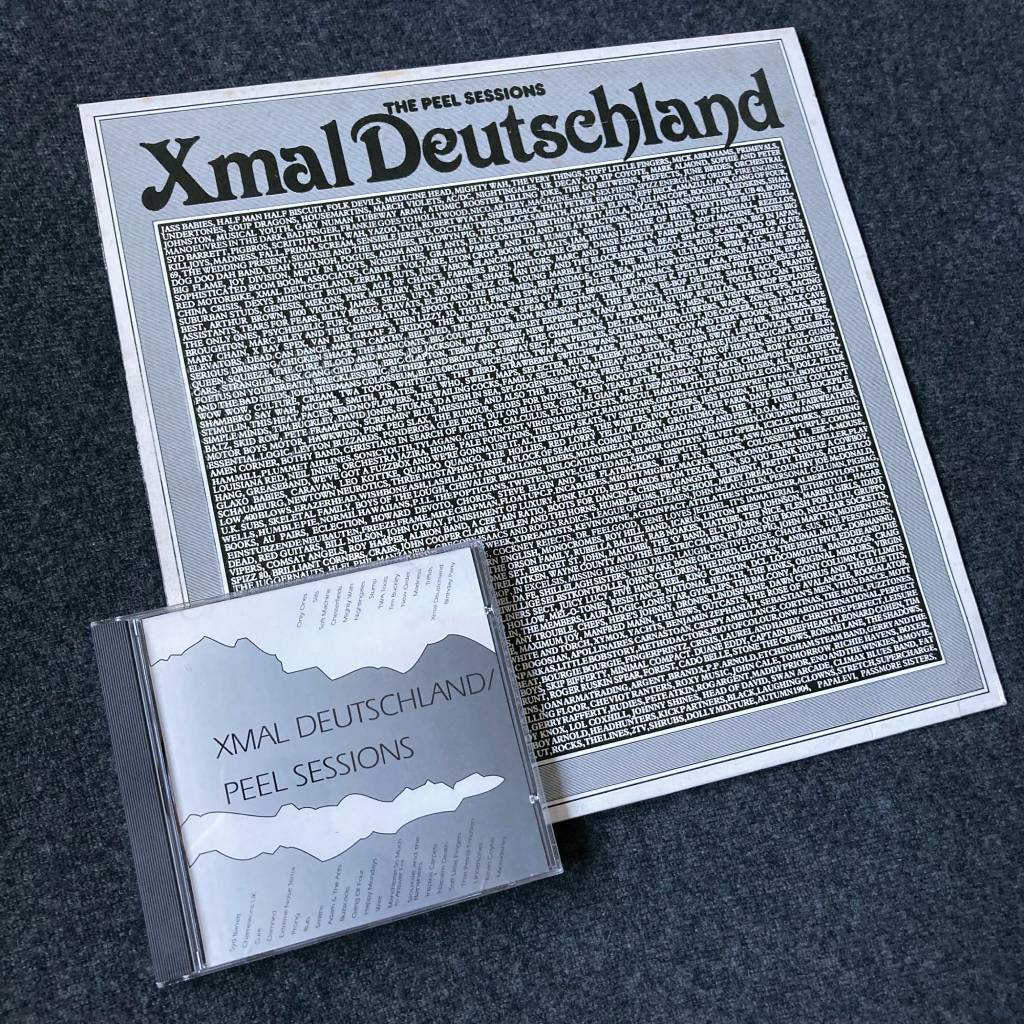 1985 would prove to be a curiously low-key year for the band. They made use of the John Peel session to debut four new tracks that continued in the same muscular yet melodic style that 1984's wonderful 'Tocsin' album was spun from. As it transpires, three of the new tracks would be re-recorded in August 1985 (with the experienced producer Mick Glossop returning to the control desk following his successful work on the previous album) and released on 7" and 12" formats as the 'Sequenz' EP later that autumn. (The one track from the session that wouldn't make it to the EP was 'Der Wind'.)
John Peel Session – Recorded: April 30, 1985, first transmission: May 13, 1985 – Tracklist:
Polarlicht

[3'35"]

Der Wind

[3'49"]

Jahr Um Jahr

[2'58"]
Autumn [4'23"]
It was exciting times to hear four brand new tracks that continued the good work as had been heard on 'Tocsin' – I made my own tape of the session and it became a firm favourite. When the 'Sequenz' EP was released later in the year it was a surprise to see it on another label and realise that the band's time with 4AD had come to an end – but in all other respects it was largely business as usual.
'Polarlicht' was a real fast-paced belter with a sense of urgency to it – it would have the longest life of the session tracks, ending up on 1987's 'Viva' LP. 'Autumn' is a gorgeous, moody, slow paced burner, the likes of which that Xmal did so well. 'Jahr um Jahr' is a tough and punchy short, sharp shock of a song – no wonder it would be the lead track of the subsequent EP. Meanwhile, 'Der Wind' is uptempo and deceptively gentle in its nature, starting off with dual pretty and melodic keyboard lines before Manuela Rickers' guitar brings some steel to the song.
Comparing the recordings from the session and the later EP re-recordings, as you might imagine there is a good deal more polish, extra instrumentation overdubs and general 'finishing touches' to be heard. 'Polarlicht' and 'Autumn' are largely pretty similar arrangements (though the opening keyboards on 'Autumn' are in a different key from the later version). 'Jahr um Jahr' is shorter than even the later 7" mix – it gets its teeth into the meat of the track swiftly and doesn't let go – you can hear the separation between the guitar and keyboards a lot more on this take than the later 7" mix though. (The 7" mix is something of an aural battering ram when it comes to how it's mixed – the considerably longer 12" mix is much more stretched out and verging on the dub style in its use of tricksy effects and echoes, to varying degrees of success – but you sure do get to hear a hell of a lot more of Fiona Sangster's keyboards on it.)
This EP first got a release in 1986, being amongst the earliest of the Strange Fruit series, on 12" vinyl in the UK, packaged in the standard, utilitarian, production-line style that had been adopted for all releases. If you were lucky, the design might incorporate a band's recognisable logo – not so here though, with the ban's name rendered in a florid, display font instead. There was also a 12" and a cassette version released in Canada, same design style as the UK. By 1990/1991, cassette and CD editions in new cover designs were issued in the US, which is where the featured CD hails from. (There are several label design variations for the CD edition.)
Surprisingly, the versions of the tracks as recorded for the 'Sequenz' EP have never been re-released anywhere, as far as I know, so they remain a vinyl only delicacy for now – though 'Polarlicht' would be included on 1987's 'Viva' album but in a heavily remixed form with extra overdubs aplenty.
As for, 'Der Wind' – this is the only release to feature it – as noted, it didn't join the other three tracks later on the EP and it did not appear on 'Viva' either.