'Live In London 1986' is a curious yet appealing release I spotted amongst the racks way back in the day, styled to fit in with the UK single releases of 'Left Of Center' and 'Marlene On The Wall' (1986 re-release) by the looks of it. Turns out that it was only issued in Australia, New Zealand and Japan and it is made up of a variety of live recordings that in some cases found themselves spread across various B side and 12″ singles in the UK – but also a couple that look to be exclusive to this release. My copy is the Australian vinyl mini-album, picked up on import.
Tracklist:
Side One:
Left Of Center (3'17")
Neighborhood Girls (3'22")
Straight Lines (3'54")
Side Two:
Black Widow Station (3'38")
Knight Moves (3'37")
Cracking (2'47")
Timings aren't listed on the record – I have take the timings as listed on discogs.com for the later CD re-issue, just as a rough guide for reference.
The credits don't list where it was recorded – but it does credit it as being mixed by Jo Julian. So, that's a giveaway that the recordings hail from the 27 April 1986 London gig recorded at the Piccadilly Theatre for Capital Radio. This is because the credits on the UK single of 'Gypsy' contain 'Cracking' recorded from that gig, and which credits Jo Julian, while the UK 12″ of 'Luka' from early 1987 contains both 'Straight Lines' and  'Neighborhood Girls' from the same gig and once again credit Jo Julian. Lastly, the UK 10"/12" of 'Left Of Center' included a live version of the track, again with clear credits on it being from the Piccadilly Theatre show recording.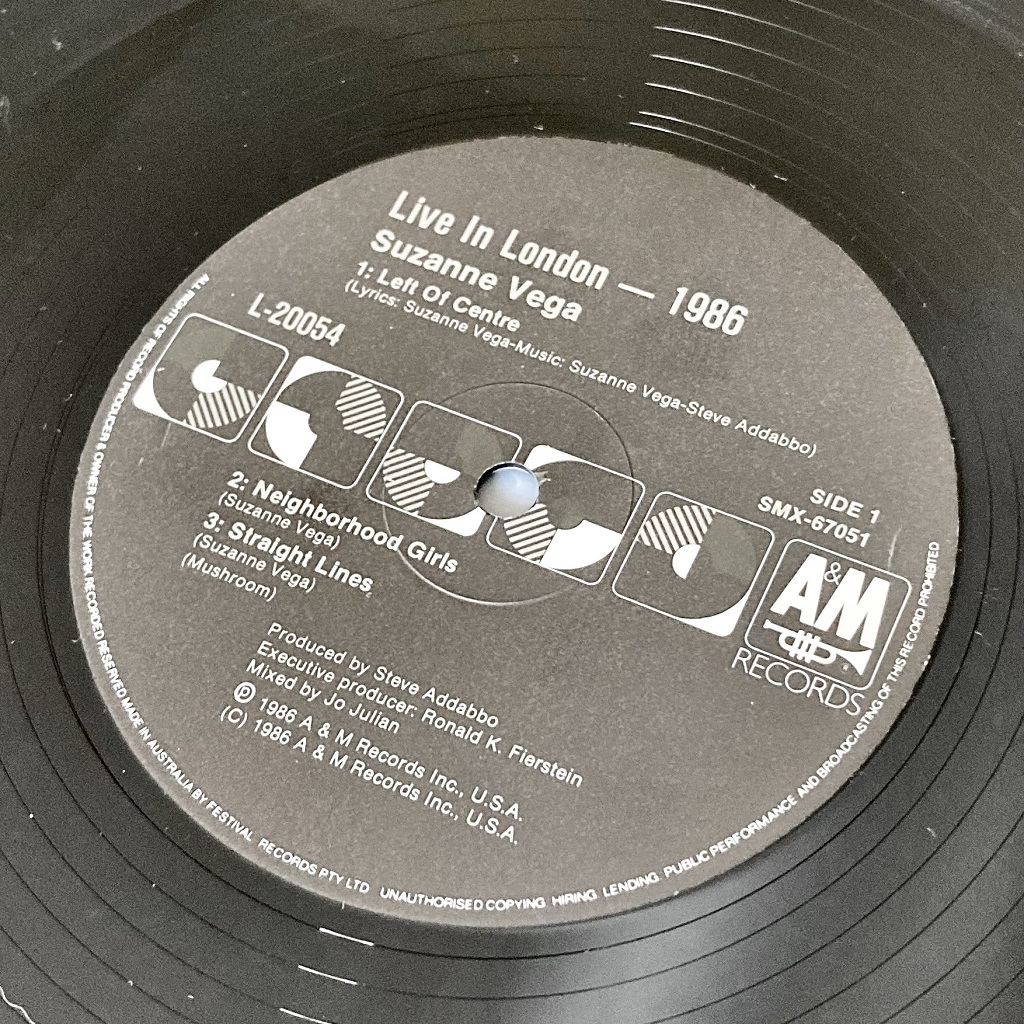 This leaves two recordings not accounted for on the various UK singles and presumably exclusive to this mini-album – 'Knight Moves' and 'Black Widow Station'. Both of these were issued in live form on some of the B sides/12″ extra tracks – but they don't appear to be the versions from this release.
'Black Widow Station' is an oddity of a track – its never been issued in studio recorded form. There are two other officially released live versions of the track – one dates from 1985 as an extra track on the double-pack UK 7″ single of 'Small Blue Thing'. That version credits it as being engineered and produced by John and Ted de Bono and recorded at the London School of Economics for BBC Radio London, a gig that took place on 24 October 1985. The other official live version was recorded in Berlin and can be found on this West German 12″ single (and also a promo-only 7″ EP) and is credited as being recorded for Sender Freies Berlin, but otherwise no details of recordings date/venue.
Meanwhile, the live version 'Knight Moves' that was featured on the UK 12" of 'Gypsy' was from the 1985 LSE show recording for BBC Radio London.
The Australian and New Zealand issues came on cassette as well as vinyl. As far as I know, it is an album that has never gotten a release anywhere else except for a later CD re-issue in Australia only, which commands a hefty price tag when it comes up for sale.
Finally, the vinyl copy here also comes with an additional insert publicising Suzanne's first two albums – so this does raise as question about when the mini-album actually dates from – all the dates on the packaging state 1986, but obviously a promo insert listing 'Solitude Standing' must be a pointer towards a release date in 1987 – but perhaps the insert an addition to later pressings, who knows?