In a comment on my previous Danielle Dax post about the 'Yummer Yummer Man'/'Fizzing Human Bomb' single, PostPunkMonk absolutely nailed it about Dax with his customary pinpoint accuracy and brevity – "a talent with no fear and ideas to spare". No better example of that than this curious release, 'The Chemical Wedding', which was a mini-album release in Japan only (mini-album I presume, based on its duration) at the tail end of 1987 at The Venue, in Aberdeen. A curio in that it features various tracks that were originally unique and later would re-appear in re-recorded/remixed form over the next couple of years, making this a desirable item to track down for the version crazy completist Dax fans amongst you. (Assuming that's not just me then!)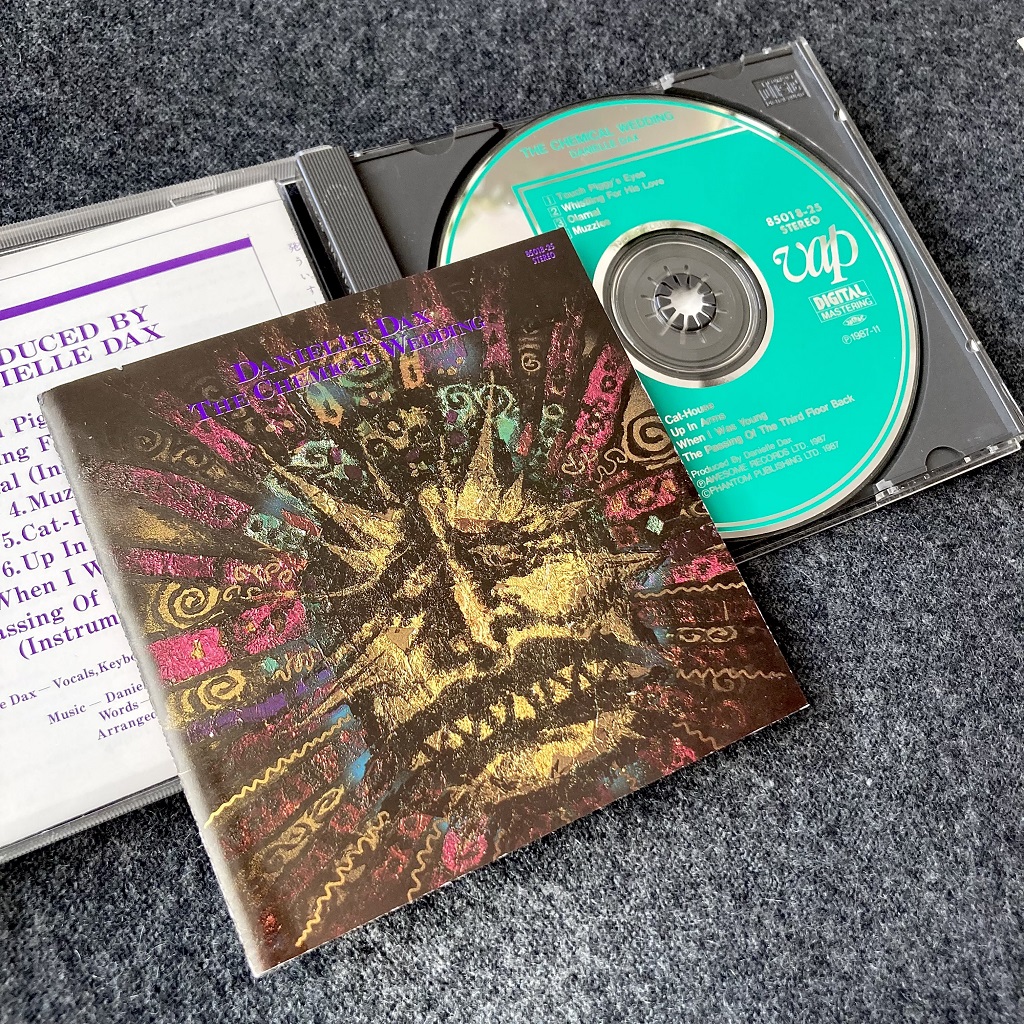 I didn't come by this release at the time though, only much later. I had been able to see Danielle Dax live in November 1987 on a brief UK tour, a great show it was too, the experience something else altogether. Earlier in 1987 was when the 'Inky Bloaters' album came out, to some degree of celebration in the music press, it's fair to say – so, subsequently getting a chance to see the live show in due course, even better.
This release passed by my radar though – perhaps no surprise, as it had no UK equivalent. Seems to have been released in November of that year and when I did find out about it, much later, I assumed it was a straightforward singles A and B sides mopping-up compilation from foreign climes, just the type I like… There was no discogs.com nor eBay to easily find out details back then. But this release was much more than that, as it turns out… a treat for Danielle's fan base in Japan, since it contains unique versions of 'Cat-House' and 'Whistling For His Love' and early dibs on 'Touch Piggy's Eyes' and 'Olamal', which wouldn't get releases elsewhere until 1988 and 1995 respectively. And let's get one thing clear from the off – Dax B sides contain some incredible songs. That 1987 gig at The Venue in Aberdeen and the transformed version of 'Up In Arms' a good example – a sonic juggernaut when taking flight in live performance.
Tracklisting:
Touch Piggy's Eyes (4:47)
Whistling For His Love (3:35)
Olamal (1:29)
Muzzles (3:22)
Cat-House (4:01)
Up In Arms (3:03)
When I Was Young (4:0)
The Passing Of The Third Floor Back (2:53)
First off, 'Cat-House' was not released as a single until 1988 in the UK, with 'Touch Piggy's Eyes' as an extra track on the 12" single B side. Both of these tracks also appeared on the Sire Records LP 'Dark Adapted Eye' – a album of Dax material compiled from almost all of the 'Inky Bloaters' album tracks and single releases plus even earlier album tracks – and issued in the US, Canada and various European territories. The single and album mix of 'Cat-House' is quite a bit different to the version on 'The Chemical Wedding', an earlier stab at the track perhaps. 'Cat-House' also got a US single release in 1989, by which time it was given a remix – that one is not radically different to the 1988 single/album mix, but a few tweaks here and there, such as a bit more flange effect on one of the guitars noticeable – I don't think this remix has appeared on CD though.
Similarly, 'Whistling For His Love'. It also made an appearance on the 'Dark Adapted Eye' album, by which time it had clearly had a lot more attention paid to it and sounded a good deal more polished. The version on 'The Chemical Wedding' sounds like a different recording altogether, it's a good bit more synthy all round. The track was given further attention by way of some Razormaid remixes and issued as a 12" promo-only single with four mixes originally unique to that release in 1988. The UK would have to wait until 1989 when it finally surfaced as the B side of the 'White Knuckle Ride' 45 – and the US would see it as a B side on the 1989 'Cat-House' remix single. I sense a separate post will follow about these releases…
'Touch Piggy's Eyes' plays back slightly slower pitch than the versions found on 'Dark Adapted Eye' and 'Comatose-Non-Reaction' for some reason – but other than that differences seem minimal, if any? Slightly slower playback is also found on 'When I Was Young' – doesn't seem to be the case for the other tracks making a reappearance from the earlier singles though.
'Olamal' is the last of the four tracks that were originally unique to this Japanese album. It wouldn't be until many years later it would see a release elsewhere, as part of the 'Comatose-Non-Reaction' CD album in 1995.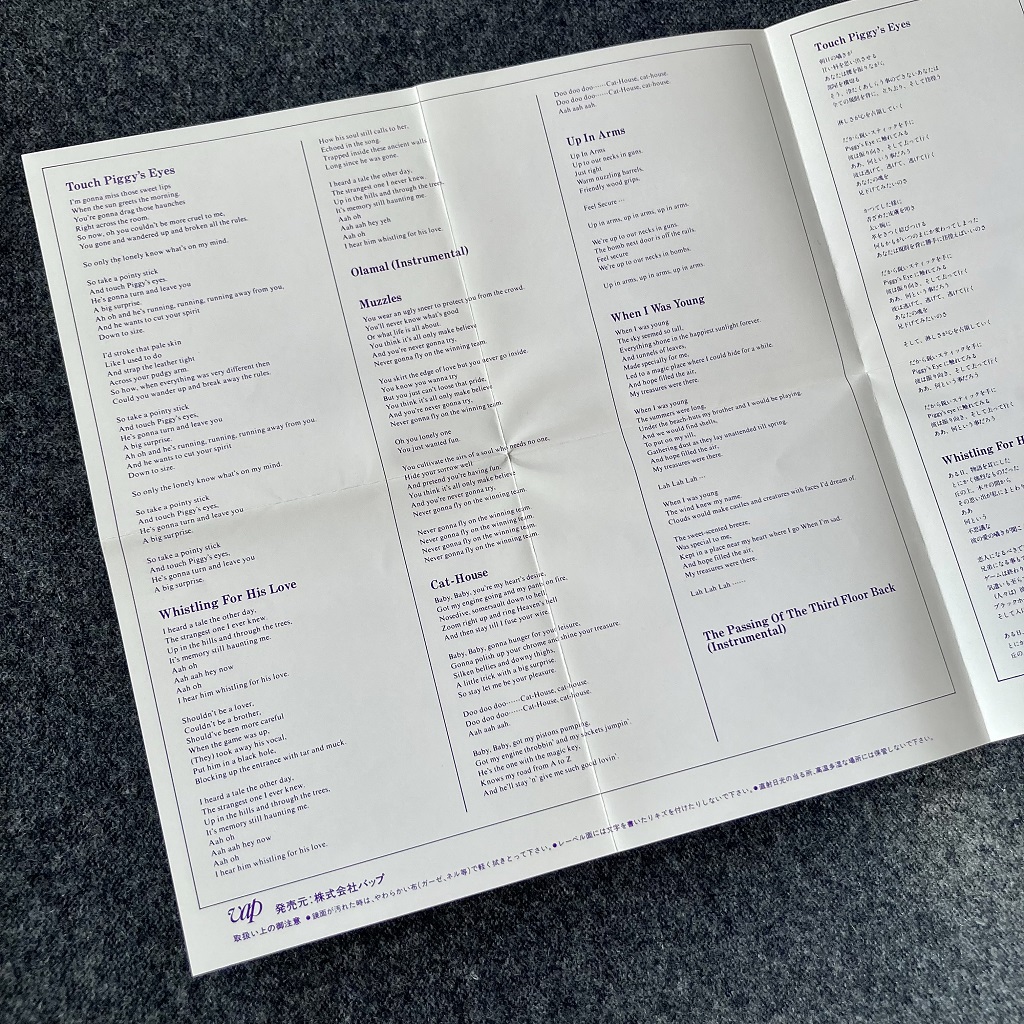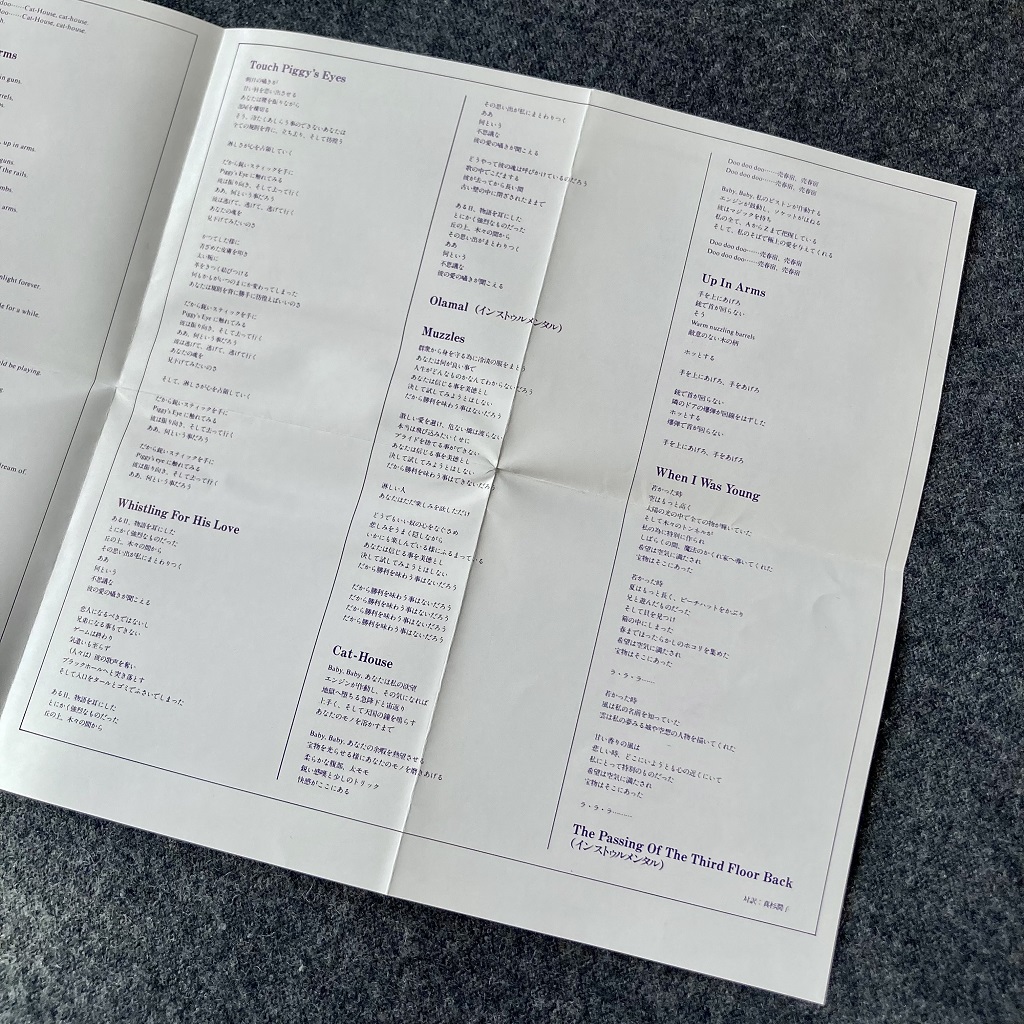 It's the CD edition I have, but it also came out on vinyl too. Finally, the cover artwork… from Danielle herself, the eagle-eyed may note that it is to be found on at least one of Danielle's stage outfits too.